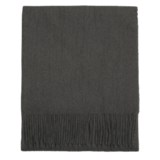 Closeouts. Fashioned of the highest-quality wool, Moon's long, slim lambswool scarf creates a cozy barrier between you and chilly winds.
Average Rating based on
49
reviews
4.428571
0
5
Verified Buyer

Reviewed by Always Comfortable from California on Saturday, March 19, 2016

completely unfinished... and not a nice color.

Verified Buyer

Reviewed by Tony B from Out in the desert on Wednesday, March 2, 2016

This was a random act of kindness for a friend, it is very well liked.

Verified Buyer

Reviewed by Robin from Rochester, NY on Thursday, January 28, 2016

Found this was a little rough texture for Lambswool.

Verified Buyer

Reviewed by Hejhog100 from AZ on Saturday, January 23, 2016

This scarf is short and looks unfinished. The edges looked frayed.

Verified Buyer

Reviewed by Momochan from Portland OR on Wednesday, January 13, 2016

I ordered Moon merino scarf before, but this one is thinner than previous purchases. Little bit disappointed.

Verified Buyer

Reviewed by Sue from California on Monday, January 11, 2016

Purchased TEN as gifts. Thankfully ordered one extra to try ....soft, nice length, very attractive.

Reviewed by Scott C. from Centennial, CO on Thursday, January 7, 2016

Nice scarf that will go with any color scheme. As some reviewers have mentioned it is soft but not too much so which I don't really care about. It won't be going around a bare neck. Length is good, generous even. Perfect width in my opinion, don't like those that are so long, wide and bulky you can't tuck them under your buttoned or zipped jacket without the scarf looking like it's trying to make a break for it. Very cool patch that is sewn onto the scarf that states it's from Moon and made in England, and it's Merino Lambswool. And they've been around since 1837....this scarf is way classier than the rest of my wardrobe! Probably won't even talk to my STP gloves and hats in the closet over the summer!

Verified Buyer

Reviewed by tejana from ny on Tuesday, December 22, 2015

Purchased a neutral color. Scarf is good weight to wear with coat in winter.

Verified Buyer

Reviewed by Vinnie from Annapolis, Maryland on Sunday, December 20, 2015

Great quality, sharp looking, and warm!

Verified Buyer

Reviewed by Clearance Queen from Illinois on Tuesday, December 15, 2015

I am looking forward to my son's reaction when he receives this exquisite scarf. This is one article of clothing that will be in his wardrobe for a very long time.

Verified Buyer

Reviewed by student mom from California on Thursday, October 29, 2015

My son requested another scarf for the cold winter approaching. He already has one of these in another color, and this one is just a s beautiful.

Verified Buyer

Reviewed by Better Call Paul from Seattle, WA on Thursday, October 8, 2015

It's not the softest wool in the world, but it's pretty good. The most annoying part is the tag that they sew on to the scarf is very tough to get off - make sure to have a seam ripper or a small pair of scissors handy,

Reviewed by NoelSavage from New Mexico on Sunday, August 23, 2015

Have never had a lambswool scarf be this scratchy. Truly surprised. But I have a weakness for Dress Gordon and will tough it out this winter and see how it "breaks in."

Verified Buyer

Reviewed by Elenan from San Francisco on Sunday, August 16, 2015

So often scarves and too long and bulky for my taste and size, but this one is a nice length, not overly wide, and very soft and warm. I'll enjoy wearing it this winter.

Verified Buyer

Reviewed by Carol Ann in the BlueRidge from North Carolina on Monday, March 16, 2015

Just got these in about 4 more colors! Love them! Half my Christmas is about done now.....but I keep buying the scarves for gifts and keeping them for myself! Just an fyi, the purple heather is quite dark, the parchment a beautiful buttery rich looking color, and the medium blue....air force, I think, really, really pretty! Also have several of the plaids and they're gorgeous too!

Verified Buyer

Reviewed by Principia from New Jersey on Wednesday, March 11, 2015

A first-rate product in all respects.

Verified Buyer

Reviewed by Carol Ann in the BlueRidge from North Carolina on Sunday, March 8, 2015

It was so cold here this winter that I bought about 16 scarves from STP and loved them all. this particular scarf is very pretty and very warm and very soft. When I received the first batch I decided to order more as gifts for next Christmas because the price was awesome. it's an elegant utilitarian gift that I think anyone would appreciate. they really dress up a sweater, blazer or a pair of jeans and you can't go wrong at this price!

Verified Buyer

Reviewed by Pyewacket from New England on Wednesday, February 18, 2015

I purchased three of these - two as gifts and one for myself. I thought the plaids were beautiful, and they're a nice length.

Reviewed by Margaret from Boston, MA on Friday, February 13, 2015

Got this in the purple color, which is subdued and heathered, very pretty. Nice length, weight, and warmth, but not quite as soft as it could be; not scratchy, per se, but just not as nice as some. (For instance, the Johnstons of Elgin scarves on STP, which are amazing). Still, great price, and happy with it!

Verified Buyer

Reviewed by Mrs. S from Washington on Monday, February 9, 2015

I love lambswool products from Abraham Moon. They are consistently high quality. Vibrant colors, softness and warmth without bulk.

Verified Buyer

Reviewed by sarge from new york on Monday, February 9, 2015

great quality and plenty long and a very fair price

Verified Buyer

Reviewed by HikeTeach from missouri on Wednesday, January 28, 2015

Excellent quality. Nice balance between warmth and bulk. Would definitely purchase again.

Verified Buyer

Reviewed by John from South Dakota on Tuesday, January 27, 2015

Warm, soft, plenty long. I got the Air Force Blue, it was more muted than I thought it would be, which I was glad for.

Verified Buyer

Reviewed by Vickie the loving wife from Denver 'burbs on Wednesday, January 21, 2015

Soft and warm and perfect. My husband loves it.

Verified Buyer

Reviewed by RuralGrl from San Francisco on Wednesday, January 14, 2015

Purchased this for a gift. He says it's very soft and doesn't scratch his neck. Wears it to work with his wool overcoat and likes how stylish that looks too. Now he wants another one in a different color!

Verified Buyer

Reviewed by ML from Nj on Monday, January 5, 2015

Nice goods with no itch. Nice patterns, also.

Verified Buyer

Reviewed by Tricia M. from NC on Monday, December 29, 2014

I like this scarf. It isn't too heavy, so you can wear it indoors without looking weird. The only complaint that I have about it is that it is not as soft as I thought it would be and a little itchy. I have to say that I have sensitive skin, and it will probably not bother most people.

Verified Buyer

Reviewed by Quality Bargain Shopper from Northern California Wine Country on Monday, December 22, 2014

This scarf will enhance your wardrobe while keeping you warm. I purchased the purple heather and the silver and they're comfortable and warm. I liked them so much, I just ordered the grey.

Verified Buyer

Reviewed by Andie from Silicon Valley on Tuesday, December 9, 2014

I'm a big fan of Moreno wool, however, this scarf is not soft; it's a bit itchy. I bought the Grey Thompson color and it is attractive, but not enough to keep it. Sorry it's going back even if it was a bargain.

Verified Buyer

Reviewed by NOT COLD ANYMORE! from USA on Friday, December 5, 2014

Bought for gift - soft, great pattern, well made.