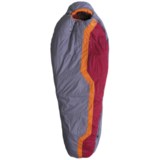 Closeouts. Designed for extreme cold, Mountain Hardwear's -15°F Lamina sleeping bag features toasty Thermic Micro insulation, an internal draft collar and a slightly wider winter mummy cut.
Average Rating based on
14
reviews
4.642857
0
5
Reviewed by Catalina from Montana on Thursday, September 18, 2014

I was super excited to get this bag since I am perpetually cold. It didn't quite live up to my expectations. The first time I used it in SW Montana we were winter camping in the mountains and the temp probably dropped to around 10ºF. I certainly didn't freeze to death but got very little sleep. Despite wearing wool baselayers, a fleece, puffy, gloves, hat, wool socks, etc. I still shivered half the night. However, I know I sleep cold and that was clearly pushing the limit. It being a -15ºF bag I had hoped to be able to sleep comfortably down to around 0º, but 15º-20º is probably more appropriate for myself. I used a sleeping pad but maybe a better one and better clothing choices would make a difference. Something to try in the future.

I'm not really letting this affect my rating since I know women typically sleep colder than men and that I, in particular, sleep cold. The previous is mostly just a warning to other cold blooded people. That said, I still use this sleeping bag a lot. At the moment it's my only bag and I have used it camping, backpacking (I don't recommend since it's bulky and heavy), and sleeping on a sailboat. The hood and baffle are great. The little pocket is handy. The zipper has a tendency to snag when trying to zip it quickly or in the dark when you can't see it clearly. Leaving it unzipped to certain length has let me use this in any kinds of warmer temperatures. The stuff sack is nice and the storage sack is a good addition.

I'm sure this would be a great winter bag for a warm blooded person, but it's still a good shoulder season bag as well. Comfy and good for car camping.

Verified Buyer

Reviewed by AK Hobie from Alaska on Thursday, August 14, 2014

This was a gift for a sister who is always cold. She has not had the opportunity to provide feedback but her initial reaction was one of excitement. I did think it was a little heavy, but Im a gear junkie and so would hate to pack it into the backcountry.

Verified Buyer

Reviewed by oldcoot from NH on Monday, June 2, 2014

I had followed this product for some time, haven't used it yet but is well made.

Reviewed by nickje from Ohio on Thursday, March 13, 2014

I got to use the new bag last weekend and I was impressed! First of all, it stuffs down smaller than I thought it would-smaller than my 0 degree bag. I also like that you get the stuff sack and the mesh storage bag.

I am 5'11'', and 215 pounds. I had plenty of room head to toe, and I could turn over inside the bag-something I can't do in my old bag. Both nights of camping were below 0, and I was very warm in this bag, even just wearing a light layer. I can tell that the MH would be good for much colder camping.

With the warmth, weight and wider cut, this is a great bag that I would definitely recommend. Seems typical of all of the MH equipment I have used or seen so far.

Reviewed by Mtn man from Gig harbor WA on Friday, February 14, 2014

These bags performed incredibly. We originally purchased a couple of 30° Big Agnes bags with inflatable pads under them. In short, we froze our butts off in 30° weather in those. Found these on STP for a great price and also noted that they had right-hand and left-hand zips. So I purchased them with hopes that they would zip together and "Wahoo they do zip together nicely" which offered even more warmth. My wife and I test drove these on top of Mount Kimball in Tucson at 7,300 feet in 30° weather with 30 to 40 mile-per-hour winds last weekend. We did not bring the inflatable mattresses and went with only the server asked foam pads beneath them. We were exceptionally impressed with the warmth and I could see these bags being used even in 0° weather. Also the zippers are truly exceptional quality. They do not snag and have a fabric runner that's a thicker canvas type material between your body and the zipper so that you don't feel cold from the zipper. The bags are a bit bulky at 5 pounds and though we found it very hard to get them into the sleeping bag compartment of our backpacks while compressed, we figured out that if we put them inside ways to get them into the pack and then turn them on and we could get them into the appropriate compartment. They are big. But there will worth the money and the weight.

Reviewed by Indy runner from Indiana on Thursday, January 23, 2014

As with all my Mountain Hardware pieces, the lamina materials are very durable and lightweight. This fits the bill for size, weight, pack-ability, and effect. The roomy interior of the bag will allow for the hiker to wear in extra layers or store the days hiking clothing (keeping it warm). The weight of the bag is excellent for its purpose. MH includes a compression sack, which helps work the bag to an appropriate small watermelon size within the pack. I have tried out this bag in +5F temps and it has kept me warm (on a thermorest pad). The cut of the bag includes a draft-stopper near the neck which is very effective. For the price this is an excellent buy.

Good luck hikers! Enjoy the views!

Reviewed by taylorgeo from Idaho on Tuesday, December 31, 2013

This bag kept me warm in 10 degree weather.

Reviewed by Trophy Kings Outfitters from Chilliwack on Monday, December 9, 2013

Very nice comfortable and warm in the cold

Reviewed by North Country Scott from Wisconsin on Saturday, November 30, 2013

I've used this sleeping bag 3 times now, and on all nights I never needed to cinch the hood. The coldest night got down to 14° and I was almost too warm. This is amazing because I'm 57-yrs old and a cold sleeper. The thermic micro insulation heats very quickly and must reflect as well as insulate, because it's warmer than my down bag that has more loft. Much warmer! The only gripe is the zipper that likes to snag rounding the shoulders on the strips of material that are supposed to prevent snagging the draft tube. Otherwise I'd give this bag 5 stars. I don't stuff this bag as I usually use my car to pull up to winter campsites, so the bag should last years and years. At home I hang it.
Video review here: http://bit.ly/18Qq72a

Reviewed by Bob S from Long Island, NY on Wednesday, November 13, 2013

Used this on a backpacking trip to Harriman State Park in NY in November when the temperature at night was in the upper 20s and was very warm. In fact had to unzip a bit in the middle of the night due to the warmth but should be expected as the bag is rated at negative 15 degrees F. I'm 6 foot, 200 pounds and I fit very comfortably in the bag. Stuffs very nicely as compared to other non-down sub zero sleeping bags that I've seen. Not crazy about the color but for the price and performance you can't beat it. Quality I would expect from Mountain Hardware as I own several other pieces of equipment from this company. Taking it on a trip in December and January so I will test it even further then. Delivered on time in perfect condition.