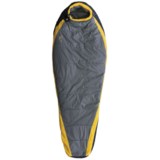 Closeouts. Mountain Hardwear's 20°F Pinole sleeping bag features offset quilt construction and Thermic MX insulation to maximize loft, compressibility and warmth in a lightweight package that's fit for the backcountry.
Average Rating based on
4
reviews
4.750000
0
5
Reviewed by middle aged engineer from NC on Friday, April 12, 2013

Nice bag at a great price, light and compact, excellent for backpacking.

Reviewed by SciFy Mom from Upstate NY on Wednesday, April 10, 2013

Sierra Trading Post is giving me a coupon that expires in a week if I review this bag we got a week ago. Good weight but the best thing was the price. I had this recommended to me at Campmor but I wanted to research it more. After researching it I decided it was a great bag for my son but Campmor does not carry the long which my son will need. Found it here for a steal! And free shipping. Can't beat it. I will have to come back and report on it once it has some use. Stuff sack can be inverted to use as pillow cover and inside has soft side for this use. Neat touch.

Reviewed by Carol from California on Tuesday, April 2, 2013

This bag was roomy (I ordered the long even though i'm only 5'8") and perfectly comfortable for a great backpacking trip. It was a little heavier than the down ones my friends had but it was worth it for the comfortable nights sleep. I wished it came with a compression sack but that was easy enough to create with a couple of straps.

Reviewed by dubyam from Huntsville, AL on Friday, March 1, 2013

I picked this bag up for southeastern US fall/winter/early spring camping and packing, for hunting and for Scout Troop outings. I bought my son an identical bag in the "regular" length. We received them just after Christmas. We've had a few opportunities to use them now, and I believe this is easily one of the best values in synthetic bags out there. I've camped with temps ranging from mid-40s at night down to mid-20s, and I've yet to be cold in this bag. The last outing we went on was rainy the first night, then turned bitter cold the second night. I stayed warm and dry, but my son got a little water in his tent. He stayed warm, though, despite the wetness on the lower part of the bag, and the bag dried during the day before the colder night. We spent the day hiking around an historic site, leaving our camp set up as a basecamp. Needless to say, it was cold, muddy, and wet all day. We returned to camp ready for a hot meal and some warmth. After dinner I crawled into my bag, with frozen feet. The temp outside was quickly passing freezing on the way down to a mid-20s low for the night. Wind was moving pretty good to make it even colder feeling. After about 5min in the bag, my feet finally felt good again, and I was able to drift out to sleep, warm and cozy. I woke at 6a still warm, and not wanting to get out of my bag! My son had the same story to tell at breakfast. I can highly recommend these bags, based on my experience so far.

Some key points I noticed:

1. Try these out at home first, so you learn which of the two draw cords in the opening controls the chin cinch versus the hood cinch. Learning it in the dark when you're cold and wet is not as easy. I figured it out and it made a 15-20deg difference in how I felt almost immediately.

2. Get a compression sack for backpacking. The sack shipped with these is a good stuff sack for front-country camping (truck camping) but it's a little bulky for packing very far. These bags will compress down to about 6-7" across and around a foot long if you have a good sack.

3. The zipper is great, and rarely gets hung. Once I learned there's a sweet spot in the angle you pull it, I am able to get in and out quickly without hassle.

4. This bag is light (<3.5lbs for the long version and around 3lbs for the regular) but it's still very roomy. I am 6'2"/225lbs, with a 46" chest, and can easily roll over on my side in this bag. I don't feel pinned in the bag at all. The foot and leg room is almost extravagant. Just about the only place I felt a little confined was figuring out what to do with my arms, but even that was just a matter of finding comfort. I can put them by my sides or cross them over my chest without being tight in the bag.

Overall, with my coupon code, I paid around half what a 35-40deg synthetic bag from other makers would run me, and I think I got a better bag than many of those. There's not much else out there in this price and temp range that is under 3.5lbs, either. In fact, only the Slumberjack Lone Pine comes to mind. I've not used those so I can't compare, but at this point, I'm done bag shopping.