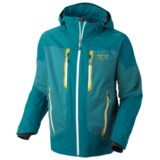 Closeouts. Mountain Hardwear's Alakazam jacket is the pinnacle in mountain protection with its Dry.Q Elite waterproof breathable membrane that starts breathing the instant you put it on and stretchy soft shell panels for increased mobility.
Average Rating based on
8
reviews
3.750000
0
5
Reviewed by BMW from Columbus Ohio on Sunday, February 23, 2014

Quality Ultralite Jacket. Highest Breathability ratings. Highest Waterproof ratings. Excellent Pocket Zips, Placement and Maximum Pocket depth. Fit and Finish is as advertised, nothing unusual. Nothing wrong with color choice either. It's as advertised. Two tone color is very subdue and material differences are designed to add breathability and stretch in areas like chest, back and sides while providing a little more durability and waterproofness in outer arms and shoulder areas. You can find a couple of good videos reviewing the jacket features on YouTube. I'm buying two to three new jackets from STP thanks to their wonderful closeout pricing, service staff and return policy which makes it easy for me to try on multiply jackets for fit and finish comparison to my body and purchase purpose.

This Jacket is ideal for Spring/Fall hiking and snow sports; backcountry skiers who like to trek up a mountain with skis on their back (and work up a sweat) to ski down and wet weather conditions. It runs true to size but since it doesn't have the extra loose material and broad shoulders fit ideal for aggressive skiing I'd advise anyone who's on the upper end of their size range to consider buying the next size up if you wish to layer. If you're only looking for a ultralite hiking rain or hiking spring/fall coat with no heavy layering underneath your normal size may be fine. I normally wear an XL in a ski jacket but found the 2XL much more suitable to layering especially with a down vest which then can make the jacket functional for skiing on moderately cold day. While my arms are only 34 inches and the extra length is excessive in the normal standing position it is a welcome addition when I'm aggressively skiing (constantly leaning and reaching forward). For those who like their hands covered hiking in the rain or wet spring snow fall it's ideal too. The only reason I gave it 4 Stars instead of 5 Stars is I'm an old school guy/skier who loves my 1990's extra strong and durable ballistic nylon North Face Steep Tech ski wear and todays $500+ retail price ultra thin soft shell Jackets are designed for excellent mountain hiking breathability, wind blocking and waterproofness' not heavy durability and skiing. If you're looking for an ultralite spring/fall mountain windproof and waterproof rain jacket for aggressive hiking and maximum breathability (and outstanding pocket space) this is a 5 Star Jacket. Since my purpose is primarily for skiing with hiking secondary I'm buying the Mountain Hardwear Snowtastic Jacket which is almost identical but the solid soft shell is more my preference for spring skiing along with the ability to buy rare "shorter" length in a hiking/ski pants. Thank You STP for having a buying system that allows me to try on alternatives in the comfort of my home to choose the best fit for me.

P.S. For years I refused to buy clothing and ski gear via the internet for fear of the normal difficulties with finding the right size and fit which is difficult in todays world where American brand names outsource every product for construction in multiply ultra low labor cost lands e.g. One manufacturers definition of a male XL Ski pant waist size is 40-42 another is 38-40. But STP's wonderful Phone Call Center Service Staff is such a delight to work with!! It's like you've got a friend helping you at your local retail mall store!! lol...I have no problems understanding their English and accents. American call centers are staffed with the Worlds Best Customer Service. Combine that with STP's wonderful VIP Promo Prices and self service dashboard and I find myself buying 4x more than I need!! e.g. I needed one pair of ski goggles, I ended up buying six pair of goggles.

Reviewed by The Buzz from Blue Ridge Virginia on Thursday, February 13, 2014

Got this last week and spent a week at Timberline. we got about a foot of freshie and this jacket rocked the house. Very dry. It is really only a shell so needed some layers beneath but that's good option for warmer days. Very breathable also. Overall a very nice jacket. I thought the lack of zipper flap would be cold or leaky but was very solid.

Reviewed by Paul from Bellingham on Wednesday, September 25, 2013

I just got this jacket and have worn it only once but it certainly did the job. In my case it does seem to run a little big but that is perfect for a ski shell where I will want to put a fleece under it. The cuffs are a little strange with the neoprene like material with the thumb hole. I get hot and that certainly heated up my wrists but I can see where it will be nice when just standing around. The thumb hole seems kind of strange to me but maybe with time I will come to like it. All the zippers seems to be in the right place and there seems to be plenty of pockets to stash things for your situation.

Verified Buyer

Reviewed by Chris from Boston,MA on Wednesday, February 13, 2013

This is a great jacket and another fantastic product from M.H. I have not put it to a big test as of yet, but plan on using when I head to Utah in a couple weeks. This product breathes very well. It works great with a mid layer when the temps drop and perfectly fine on its own when temps are on the warmer side. I would definitely recommend this jacket to anyone and you certainly can't beat this price STP offers....

Verified Buyer

Reviewed by Dzejms Bondski from Denver, Co on Thursday, January 24, 2013

I use it mostly for snow sports because of the bright color. Handcuffs and powder skirt insulate very well, it feels warmer then the Trice jacket I also use. It is another great product by Mountain Hard Wear.

Reviewed by Tony from San Francisco, CA on Thursday, January 10, 2013

I order a Medium and it fit like a small. I'm a 42" chest, 5-9", 175 lbs and this jacket would barely zip up and wouldnt fit around my shoulders. I had order a large from another website and that one fit loose in the shoulders and you could literally fit another person in the midsection as it ballooned out ridiculously. They are well constructed just poor sized and have are all over the map on sizes. I saw a similar comment on sizing, guess they were right. Mt Hardware missed on this production run bigtime. This one is going back and I'm switching to another brand as this is my second try. No fault of Sierra Trading Post, I love this site and have good deals. Thank you.

Reviewed by Ski 365 from CA on Saturday, January 5, 2013

I am 6'3" 200lbs athletic fit. Bought an XL to fit in the arms and shoulders, but the midsection of the jacket is made for a very big person. I love Mountain Hardware products...but this jacket was more than disappointing due to the sizing/fit...not what I have come to expect from this brand.

Verified Buyer

Reviewed by SnowMountainsRiversGuy from Jackson, WY on Saturday, December 29, 2012

Bought this for myself at same time I bought the MH Snowtastic jacket for my wife. The fit is just all WRONG on this one, at least for me. I'm 6'2" and 195, with a 44" chest and 33" waist. Got the Large. The shoulders were decent and the arms were long enough, which is unusual anyway. But, the torso barrel and waist were HUGE. I could easily zip the jacket closed over a full-sized bed pillow. That was ridiculous. It's a backcountry skier's jacket, and we tend to not be fat. Also, hoped the color would be darker than picture. Wrong. It is just a bad color scheme overall (tried the blue, and wanted something besides black. MH quality still seems to be good, but their sizing models are way off in Mens' stuff anymore. This one is going back.