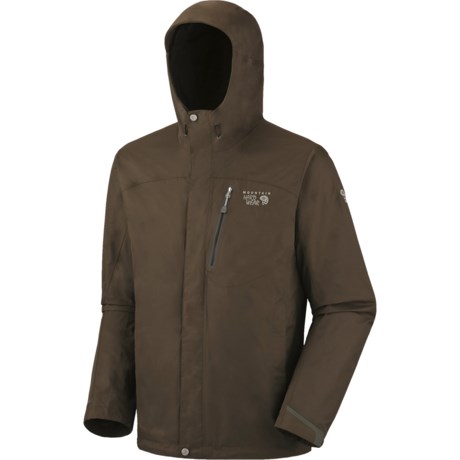 Greeetings. I am 6 ft 3 inches and 230 lbs. I purchased two ampato jackets size XXL. The XXL jackets were roomy on me, which is what I wanted so that I could layer under the jackets. The sleeves are long on me, which is what I wanted. I wear 36 inch long sleeves on my shirts and jackets. If you do not wear at least 36 inch long sleeves on your shirts and jackets, I would suggest size XL.

I bought this jacket a few months ago- so far it's great- it is a little big though- I'm 5'10" and about 215 and the XL is almost too big for me- I kept it because I like to layer- so I'm good with the extra room.

I believe the Mountain Hardware Ampato Dry.Q Elite Jacket will fit you well around your girth, and the length is probably just right. I am 5'10" and 240 lbs, and the coat fits me well, not too big, and not too tight. Length is a little long in the sleeves, but I would have added one more inch to the bottom edge. Fit is very good around the shoulders with good room to move, and there is room for a layer underneath allowing it to be worn in colder temperatures. Also, it has "pit-zips" to help the moisture escape in high humid conditions. Most importantly, the coat does great in what it was designed, keeping you dry in wet weather. I have worn it on wet hiking trails and trips to the mall, and never had a problem. MH is a great name in outdoor gear, and this maintains that reputation. I think it is worth ordering and trying it on. You can always return it.