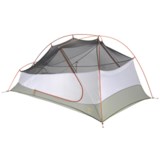 Closeouts. Boasting vertical sidewalls and a unique shape, Mountain Hardwear's Archer 2 tent combines lightweight, durable construction, a spacious interior and easy access with two side doors.
Average Rating based on
16
reviews
4.312500
0
5
Verified Buyer

Reviewed by John High Sierra from Davis California on Wednesday, April 15, 2015

I returned this tent and ordered a Marmot Ajax instead. I decided the lack of venting and the pole structure would be problematic for use as a solo backpacking tent. There are better pole designs and MH has actually recently adopted some of the simpler, better pole designs that were developed my Marmot for their Limelight tents. There is a good reason why the Archer 2 tent was discontinued. If you want a sturdy 2 person tent for car camping this tent might work for you. You do benefit from the MH lifetime guarantee. There are better options available from Marmot. Just saying...

Verified Buyer

Reviewed by William from Washington State on Thursday, March 19, 2015

Took this tent in its madden voyage to the Olympic Rain Forest in March. It's a perfect 2 person tent that actually holds 2 larger men. I worry about the clips... They could be a bit fragile but they help up so far.

Verified Buyer

Reviewed by Mark in Michigan from Michigan on Friday, February 20, 2015

Tent arrived OK. Sets up in living room. Know more in summer.

Verified Buyer

Reviewed by stompinmyboots from oregon on Tuesday, February 3, 2015

Pros : setup is quick, side walls are more vertical then alot of tents, good buildquality/materials,
Cons : only one storage pocket, Its not the lightest or smallest packed size tent on the market

I am very happy with my purchase and would recommend this product

Reviewed by hayrikki from NorCal on Tuesday, January 13, 2015

This tent was impossible for me to set up. The instructions were pictures of poor quality. I tried to figure it out but with no success. It has several poles, not the 3 I thought it had.I wanted to keep this but had to return. The poles were good quality as well as the tent fabric and fly. I did not call the manufacture so no knowledge of their customer service. STP was great with the return though!!

Reviewed by Just a beginner from Minnesota on Tuesday, January 6, 2015

Tent was delivered quickly even though there was no real rush for me to get it. I live in Minnesota and won't be doing any backpacking anytime real soon. I put the tent up in my living room to make sure everything was there and nothing was broken. Was not disappointed everything arrived in great condition and it took me about 10 minutes to put the tent up. I am not great at putting tents up so the setup up is really easy and will probably take about 5 minutes the next time I set it up. It is also nice because it has reflective markers to guide you through a night setup which will come in handy on a kayak trip I plan to take this summer and arriving at camp after dark on occasion. Does not come with a footprint but I just purchased a tarp that is much cheaper (about $5) probably more durable than most footprints. Will have to do some modifications to have it fit the tent properly but that should not be too difficult. Can't wait to use it this summer! Get this tent, it is a great price with the extra % off Sierra offers on a regular basis.

Reviewed by Terry from Virginia on Wednesday, December 31, 2014

I shopped REALLY hard for a backpacking tent that would suit my needs, and am so happy to have found this. My research included extensive reading of gear guides, product reviews and hiker trail journals as well as multiple trips to REI and Dick's. My requirements: Lightweight, freestanding, sturdy, the roomier end of 2 person sizing, easy to pitch, well ventilated, plenty of options for hanging gear inside, making room for gear via the fly, and having a 'quick pitch' option.
This has it all. It took me around 20 min to figure out how to get it up the first time, but after that it's a job that doesn't even take 5 min. The design is really clever- no threading poles or fighting with it to get it up. All the zippers and stitching look good, as do the stakes, which come with pre tied line. I love that it has 2 doors, loops inside for a little light or bag, and a huge mesh pocket. It took me some effort to track down a footprint, but I found a Tyvek one specifically made for this tent.
I have not had any terrible weather yet, but feel confident this would hold up- it's designed so that there's a lot of points to securely stake/guy it. I would even go so far as saying that this is a three and a half season, mainly because the fly is pretty substantial. I am surprised this tent is not better known, I feel like I stumbled onto one of the best kept secrets out there. For the price I got I almost wish I had bought two.
I will say this: my partner and I are not large people, and we travel with one big pack each- we are not ultralight, but we are getting close, as far as most of what we carry. With the two of us and our gear, we will be fairly tight in here. Comfy, but tight- so what I am saying is do not be a 6'+ guy with your wife or friend and a ton of stuff and expect to fit it all in here easily. You won't.
That said- the price vs quality vs weight vs space balance that we all try to achieve is pretty darned good with this tent.

Verified Buyer

Reviewed by Reel Ventures On the Fly from California on Thursday, September 11, 2014

This tent sets up nicely and has plenty of room for two people. You do need to buy or make a footprint, the tub looks a little weak.

Verified Buyer

Reviewed by LeaFaith from Virginia on Sunday, August 17, 2014

We used this tent 3 nights so far in Virginia summer, 50 F at night. This 2 person tent does fit my 6'6" husband and myself with room for a packs and boots in the vestibule. We would be dry in the blowing rain. I made a Tyvec ground cloth to just fit under the tent and 2 triangles for under the vestibules. We had some condensation on the inside of the fly and where our feet touched at the end our sleeping bags got a little damp. We should have scooted up, because we had ample room above our heads. The fly fits close to the ground so it can be stuffy if you don't have the flap open a little on a cool summer night. It packs small and is nice and light, which we like. First time assembly is tricky, but after that it went up in less than 5 minutes. I don't know if I could put it up quickly in the dark. Overall we like it.

Reviewed by Will from Colorado on Saturday, August 2, 2014

Just bought this tent and used it for the first time last weekend. It is a great buy! Very sturdy and easy to set up. There is plenty of room inside and a good amount of storage space. I am looking forward to taking it backpacking up here in Colorado next week!