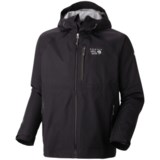 Closeouts. Rain and wind don't stand a chance against Mountain Hardwear's Beacon Dry.Q® Elite jacket. The rugged 70 denier shell resists abrasion and blowing wind, and a Dry.Q Elite waterproofing system with water-tight zippers makes sure water never sees your inner layers.
Average Rating based on
12
reviews
3.583333
0
5
Verified Buyer

Reviewed by Ski Demon from Tahoe on Sunday, January 3, 2016

Cuts the wind, repels the snow and rain, and reflects body heat back at you. Awesome!
I have used it with a light synthetic down jacket underneath in blowing snow and temps down to 10 degrees and it keeps you dry and warm. Quite sure that combo would work even another 10-20 degrees lower. Love it!

Verified Buyer

Reviewed by Jeff from kentucky on Thursday, July 30, 2015

I ordered this jacket because of the other positive reviews and because I have always wanted a MH jacket.

I really liked it. I returned it because of the sizing. I am 6 feet and 210 lbs and prefer shells to fit just baggy enough for a med fleece underneath. The large was skin-tight in the upper shoulders and neck when zipped up whereas the waist was enormous. I agree with other reviewers that found this sizing very weird. It is almost like the upper half of the jacket is a size smaller than normal and the lower half of the jacket is at least one size larger than normal. The problem with this is that you can't order in a different size to make it work. It either fits or it doesn't.

This jacket should work for you if you either have smaller shoulders or a larger waist. I still rated it as 4 stars because the quality is undeniable. Definitely worth ordering from STP!! I hope MH/columbia continues to make 70 denier DryQ elite jackets because they look like they can hold their own with the other big brands in the industry.

Pros
-The 70 denier is beasty; perfect if you want durability. looks more storm proof than comparable 40 denier jackets.
-The zippers/collars/colors all good.
-3 layer DryQ elite
-arm length okay, just a little short for me.
-Light enough.

Con
-Sizing. not going to work for everybody.



Reviewed by JK from Boston on Monday, March 16, 2015

I bought this jacket as a replacement for a Mountain Hardware raincoat that had been my faithful hiking companion for a decade. I made the fatal error of not testing my new coat before leaving to hike in New Zealand. I was in the rain and wet to the bone for two days! The jacket is simply NOT waterproof!

Verified Buyer

Reviewed by Rail Loader from Midwest Northern Indiana on Friday, November 21, 2014

This jacket has the best construction I've ever had from Mountsin Hardwear! This sizing is a little tight in the shoulders, probably from its Chinese origins! Those little fellows can wear this more comfortably? I'm 6', 200 lbs. I use this jacket at work in the winter while loading GM pickups on train cars. The job involves tight spacing and stretching! Other jackets usually get shredded from rubbing on steel inside of the train, but not the Beacon! The 70 denier fabric is thick enough to stave off tears! Great overall design!

Verified Buyer

Reviewed by Danielle from NY on Wednesday, May 28, 2014

This jacket is kind of a hybrid in the sense that it has the specs of a high end hard shell but the cut of an everyday multi-use rain shell. It doesn't have a helmet compatible hood with a large brim or pack compatible pockets or two way front zips and pit zips. but those aren't necessarily essential for everyday use. It's made of nice heavy duty fabric that seems pretty tough while still being very lightweight and not overly restrictive or noisy. With the right mid layer I'm expecting this will easily be a 3 season jacket that's superior to a thinner rain shell. It's looks and feels like a quality, high priced item. At the right STP discount, it's a steal especially compared to other hard/rain shells with similar or even lesser specs.

There are a couple of things to note though: the cut doesn't seem to work for everybody - you should probably stay away from this item if you have longer arms or if you have fairly broad shoulders and a narrower waist. Sizing up or down on this particular item to adjust the fit probably won't work the way you expect. Also note that the pit zips are NOT welded like all the other external zips, however they do have outside storm flaps and they work very smoothly.

Reviewed by Brian in the wind and cold from Fargo, ND on Thursday, January 23, 2014

I have had the jacket for about 2 week and have experienced -25f temps with -40f wind chill. Jacket has kept me warm and dry with lofty down underneath. The shoulder and sleeves are not quite big enough for a lofty down layer. The sleeves constrict the down. Also the shoulders and sleeves restrict your movement when you raise your arms.

Reviewed by Mountain Climber17 from ADK mountains. on Sunday, January 19, 2014

Dry-Q Elite is very breathable and waterproof but this jacket has issues.

1) The hood is too small. When I cinched it down too much of my face was exposed. The rain literally dripped into my ear at times!

2) Because the outer fabric is made to be more porous it does not keep the DWR well so the jacket wets out quickly. Once the cuffs wet out the water wicks up the arms all the way to my elbow, due to the inner fabric, . Same thing happens with the hood. I even applied seem tape around the inside of the cuffs like the Gore-Tex jackets the Armed Forces use, but the water wicked right underneath the tape and up the arm.

3) Breaking Point....................Inner fabric started peeling away from the membrane in numerous places.

I had to return it.

Reviewed by Montana Smoky from TN / NC on Saturday, December 14, 2013

I got this jacket in the hopes of finding a jacket to really enjoy a good hike in the rain. I live in the Appalachians, so most often when you do this, you're either going to be soaked or you're going to get steamy and a jacket full of sweat with Goretex. This jacket has allowed me to really get out and enjoy a good hike without getting wet from the driving rain or my own sweat. I'm pretty impressed with the DryQ Elite; it's definitely a step above Goretex. Don't get me wrong; when it's 80 degrees with a high dew point and humidity level, nothing is going to save you from sweat and heat, but this jacket has been fantastic. I took it out for a 3-hour hike in a pretty solid, southern rain and came out dry and comfortable.

It's not going to be perfect for wind, as the fabric breathes. You can't have it all. This will also be really nice for layering. But a fleece on underneath, and you've waterproof and warm.

I'm 6-feet tall, 175 pounds, with a 32 inch waist, and a large fit me well. There's enough room for layering. I didn't have a problem with short sleaves that others mentioned. The hood will not fit over a helmet, I'm comfortable in saying, which means it's perfect for hiking or wearing without a helmet. I can't stand huge hoods, so I'm happy to report this to be the case.

Reviewed by Brian B from Salt Lake City on Tuesday, November 26, 2013

Love the fabric but was very disappointed in the fit. Snug in the shoulders and a very boxy mid section.

Reviewed by Kendall the Skier from Ashburn, VA on Sunday, March 31, 2013

This jacket was excactly what I was looking for in a shell, thick 3 layer hardshell that was waterproof and totally windproof, well I didn't get to check the waterproofness, but the day it arrived in the mail we were having gusting cold winds and I tried it on and went outside and it was unbelievable, perfect, I thought this was the one, but it was two major problems; the sleeves are extremely short and it's very tight in the shoulder area, almost to the point of where it hurts, I ordered the large, I went to a local retailer and tried on the xl and it swallowed me. Mountain Hardwear needs to go back to the drawing board with this one, keep the quality and the style, but just extend the arms and shoulders just a hair. I'm 5'11" 200lbs average build, this jacket is designed for someone with a very small frame, if this is you buy it, the quality is excellent and this is true windproof, 25 degrees and 30mph winds and didn't feel a thing.