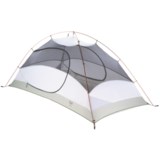 Closeouts. Mountain Hardwear's Drifter 3 tent has a simple two-pole, free-standing design for easy set-up and convenient entry and exit, plus the included footprint protects the floor and can be used to set up a superlight shelter.
Average Rating based on
11
reviews
4.545454
0
5
Reviewed by Sandstone from Rockies on Thursday, September 12, 2013

Even though it's rated for 3, unless you really want to get personal, 2 is a much comfortable fit. The vestibules are plenty big along with the canopy doors. It's as easy at looks to set it up. The rainfly is keyed with the footprint. It's first night i withstood the San Louis Valley winds which reach up to 50mph without even the rainfly tie downs. Couldn't have asked for a better intro tent.

Reviewed by Thunder Gun from NY on Friday, August 9, 2013

Easy to pitch. Solid construction. Great for any weekend trip. The included footprint is a nice touch.

Reviewed by Scott from Alaska on Tuesday, July 16, 2013

Purchased this to replace a hard-used MHW Room for 3. The Drifter 3 is a bit smaller, but still feels very roomy inside. Super easy pitching. Like the option to use only footprint and fly for fast shelter--plus the ability to pitch the tent AFTER the fly is up, for those wet situations. Love the additional door/vestibule on this design. Looking forward to many years of comfortable camping inside this tent.

Reviewed by Sarah from Pennsylvania on Monday, July 1, 2013

This tent has exceeded my expectations! I wanted a tent that could comfortably hold 2 people and that was easy to set up. This tent is both of those. Most importantly I wanted it to be dry in the rain. This tent stayed dry after being out in 3 days of rain. Defiantly happy with this purchase!

Reviewed by Charles Forbin from Tennessee on Wednesday, June 26, 2013

After doing a ton of research and consulting with friends who are serious outdoorsmen, I decided on this Mountain Hardwear tent. It's a highly respected brand which is obviously earned by years of producing quality products. Besides the build quality, I was attracted to this tent because it included features like the footprint, gear loft, dual doors, and 2-pole construction. Just having to purchase the footprint from a retailer would have added at least $40. Although I believe all versions of the Drifter come with a gear loft, most tents don't--so that's about another $30 value. I won't belabor the points about the quality or type of construction; there's ample testimony on the internet attesting to both this brand and this tent's virtues in these areas--my experience with the tent has been similarly positive--very well constructed...from taped seams, to dryness, to design...it's a solid tent. That said, here are some complaints. The tent has no real instructions included and it can be confusing. The manufacturer has an updated model with some changes that they have videos on hos to pitch, but the design changes render the video only partially helpful. Having watched the video before receiving the tent, I was able to figure everything out fairly quickly, but not including useful instructions is inexcusable. That said, on my second time practicing putting it up, I was able to do so in about 7 minutes (solo). On my first outing it went up even quicker, and the tear-down is similarly rapid. Kudos to STP for providing such a great value; I was able to pick up this tent at 1/3 the price I would have had to pay locally....plus they beat every other internet retailer in price & service too.

Reviewed by Little a from South Carolina on Thursday, June 20, 2013

Well sized. I am smaller in stature and so is my family. We can easily fit the 4 of us (2 are small children). Moreover, it is super light for a tent this size, and I would have no problem packing it with me for a solo hike. Living in the SE we get a lot of rain. I despise nothing more than sleeping in a wet tent. I have yet to personally experience the waterproofing but the specs and tests are promising. Bottom line, If it were stolen, I'd replace it with the same tent.

Reviewed by freesekevin from Alabama on Tuesday, June 4, 2013

I go on a yearly weekend long canoe trip with my brothers and a group of friends. I wanted a new tent that would be light and easy to set up. Our canoe trip is in a few weeks so I'll be able to test the tent to its fullest but right now I'm extremely pleased.

Reviewed by nickje from Ohio on Wednesday, May 1, 2013

I don't think you can beat this tent at the regular price, but the STP sale makes it the best. It's easy to set up, take down, and fold. It's roomy enough for 3 if 1 is a little smal, but is a good tent for 2 large hikers. I've used the Drifter 3 several times and now I'm buying another. I highly recommend this tent.

Reviewed by SP from Texas on Tuesday, April 23, 2013

I will be using this tent for myself during Boyscout campouts. I used it for the first time last weekend for a 2 night campout. The tent is easy to set up and it's nice that it comes with a footprint. The materials seem adequate. However, the first "oh that's a bummer" moment came when I realized that the footprint does not have a buckle system, and I was tricked into thinking it did by the pictures and the description on Sierra Trading Post's web site. The footprint only has a grommet system. Therefore, the tent poles go into the tent grommet, then into the footprint grommet. But when it comes time to put the rain fly on, you have to loop the corner straps of the rain fly under the footprint grommets, and the stick the tent pole through the rain fly grommet. The problem is that there is barely enough pole sticking through the 3 stacked grommets (tent grommet, footprint grommet, and rain fly grommet) to keep the rain fly straps in place - this is why buckle systems were created! The three grommet system is not a good system because the rain fly straps can easily come undone. This will invariably happen during a windy rain event, in the middle of the night.

The other design flaw is that the rain fly only has stake out loops on the vestibule sides. There are no stake out loops on the other two sides! So this allows the non-vestibule sides to remain slack and to touch against the tent walls. How hard is it to put two stake out loops on the rain fly?? Clearly the manufacturer (Mountain Hardwear) has cut some corners on these two design flaw issues. Some people might not care or even notice but these little details can make or break the tent's performance.

Reviewed by topshot from Maine on Monday, March 11, 2013

This tent is very roomy and sets up easily. Two caveats: the Drifter 3 tent I rec'd from STP is not the newest version of this tent, but rather a discontinued version. The older version has a different attachment system for the poles and clips, but it is fine and for me personally the older version meant I got it at a much more attractive price. The other downside is the instructions are pictoral only (no English language instructions), and while we had no trouble setting up this tent in less than 10 minutes, there were certain parts that came with the tent whose functions were not obvious, and they were not listed on the parts list or labeled in any way. A quick email to Mountain Hardware clarified my questions (a short, extra piece of pole material that is not quite the same size as the poles turns out to be a pole splint in case of needed repair of a bent or broken pole; a loop that came with the footprint turns out to be for the pitchlight option, etc.). The only real downside to this tent that I can see is that it seems rather heavy for backpacking purposes, but I know we'll get a lot of use out of it in any case.