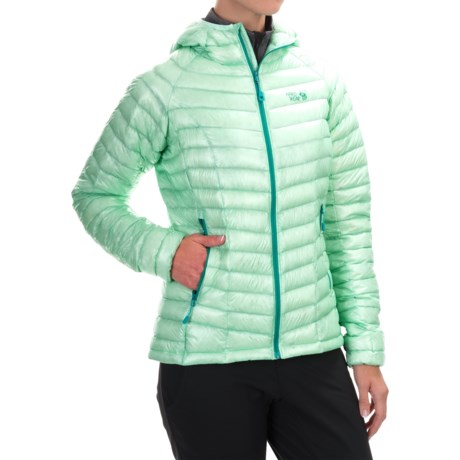 Light Backpacking
Verified Buyer
Reviewed by Hiking Hussy from Montana on Thursday, February 25, 2016
I did a whole lotta research on a whole lotta different ultra-lite packable down jackets for backpacking. I can say that this jacket kept coming out either as THE top choice or in the top three choices for reviews I read from multiple sources. The biggest complaint I read from women concerned the colors, biggest complaint from men concerned the pre-cursor to this jacket that did not contain any sort of climate shield; this newer version does, so problem solved.

Anyway, I ordered the bright orange with the pink zipper. Yes, my dear ladies, this does indeed resemble a slightly more neon-ish traffic cone. Yes, it is shiny, yes it crinkles a bit. But to be honest my Arc'teryx sidewinder goretex shell is WAY louder and I think that if you buy this jacket you need to buy it with the understanding that it is a technical layer, not one you would necessarily take to downtown Bellingham, WA, Seattle, San Luis Obispo, etc. However, let's be honest, you'll sort of look like a bas-[...] in your technical clothing so really it's a moot point.

So, the basics:

Fit: I am 5'7 and a fairly muscular and what some comment on as a 'lean' 170-180 lbs. I ordered a large, and it fits great. I did not find an issue with underarm fit as some have pointed out AND honestly my arms are not tiny by any stretch of the imagination. Long-live bat-wings, yo'.

Color: BRIGHT orange. But here's how I look at it: if I fall off a mountainside, I just upped my chances of rescue or my body being recovered for my family. Bonus!

Warmth: I live in Montana, y'all. This jacket is MADE for warmth in MOVEMENT. Move in this jacket and ye' shall be warm. Stand still......okay, don't stand still. It ain't made for thirty below windchill and light layers beneath it. It's just not made for that. Backpacking people, backpacking....focus.

Crinkleliness: I am apt to think maybe some people are being a bit dramatic about the noise because I have SUPER sensitive ears (I travel with earplugs to use in movie-theaters, motels, etc) and I don't think this thing is that bad. Again, we're backpacking here! Stay with me.

Weight: You'll question if you actually picked it up. Are your eyes lying to you? Are you truly holding a jacket in your hands?

Name: Ghost Whisperer. B***h you are a GHOST. Whisperer. 'Nuff said.

Conclusion: for the type of price you can pay for on STP, I say go for it: I picked up this bad boy (or girl) for a hundred and thirty smacker-oos. You can always return it, but who doesn't wanna own a BRIGHT orange GHOST whisperer jacket? Uncool people you don't need to hang out and drink a beer with in the wilderness. That's who.