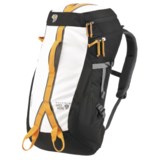 Closeouts. Mountain Hardwear's Hueco 34 backpack features a wide-mouth, zip-top access, CoolWave suspension system and an internal hydration sleeve making it perfect for days on the trail, sessions at the gym or weekend road trips.
Average Rating based on
13
reviews
4.384615
0
5
Verified Buyer

Reviewed by Kelly from North Carolina on Saturday, February 28, 2015

I've purchased this bag to be my kayak kit bag. It's still a little cold so I haven't had a chance to try it out.

I do like the bag. I've always liked top loading packs and they are very hard to find these days. It has plenty of room for a day hike and more. The construction seems to be good and sturdy. I am looking forward to getting back on the water with it.

Verified Buyer

Reviewed by Lisa from New Jersey on Tuesday, January 13, 2015

My son is in love with his new pack.

Verified Buyer

Reviewed by AZTradKid from Arizona on Monday, October 27, 2014

The Good Things About This Pack:
-This is a great little climbing pack. It has a super durable construction - Beefy zippers, daisy chain, straps, and buckles.
-It's pretty comfortable to carry a lot of weight. A climbing pack can get pretty heavy with the weight of shoes/harness, a full on rack (especially with older, heavier biners and pro), helmet, 3+ liters of water, and the day's food (and a rope, if you're just carrying it all).
-The pack has a big internal pouch for a hydration bladder (camelbak/platypuss), with a hole for the hose to come out over either shoulder.
-There are also two other, not as large, but pretty sizable interior pouches on the left and right of the inside of the main compartment - I don't really know what the intended purpose of these internal pouches is, but they're just the right size to fit one of those tall 2-Liter Nalgene bottles (not that you'd want to use them for that or anything though).
-The large main compartment also has a zipper pocket which is about the size of a 1-Liter Nalgene bottle (not that you'd want to use it for that) - this pocket's interior is made from soft material, probably intended to store phones, sunglasses, small cameras, or anything you don't want getting scratched.
-The top zipper compartment has an adjustable strap to sling a helmet in the top compartment - I usually have enough space in the main compartment for mine, so I don't really use this feature.
-There is also a separate internal zipper pouch in the top compartment to keep stuff you don't want falling out all over the place. This pocket also has a little plastic key ring clip, which is kinda handy I guess.
-This pack has plenty of straps for adjusting the waist belt, shoulder straps, and sides of the pack - comfy and distributes a lot of weight pretty well.
-The outside has top and bottom loops for trekking poles, ice axes, maybe even skis? I don't know, I just use this pack for rock climbing.

The Ways This Pack MAY Better Suit A Climber's Needs:
-The two exterior water bottle pouches are on the smaller side - Carrying 1-Liter Nalgene bottles can be iffy if they aren't also clipped to the pack somewhere.
-No manufacturer's method or system for securing a rope to the pack - However there are plenty of places on the outside to tie/clip the rope over the top or the back of the pack. I usually coil my rope (butterfly coil with mountaineer's finish) and use a Prusik loop and carabiner to clip it to the top of the pack, and use the pack's adjustable straps to sling each butterfly coil end to the sides. This works, but can feel pretty bulky with 70-meter or even sometimes 60-meter ropes. Other climbing packs have more practical and simple systems that help you carry a rope.
-No bottom access - I don't know if other competing climbing packs have bottom access to the main compartment, but my old climbing pack was an old Osprey pack with a bottom access zipper, and I'd usually pack my shoes on the bottom, knowing I'd be able to grab them quickly and easily without unpacking all my gear all over the place.
-No Waist Belt Pouches - The waist belt is a simple, thin strap with a buckle. It's not the kind that has little pouches on it. I don't really mind not having pouches on the waist belt, since I don't notice them not being there when they're just... not there, but some people might miss having them.

All in all, this is a great climbing pack. I use this it every time I go climbing. It's still fairly new, but it gets taken out and used a few times a week. Nothing broke on it right away, which is usually a good sign.
I've used it for other things too. 34-Liters makes it a good all-around pack. It would be great for ultra-lightweight backpacking or even an airline carry-on.

If some of this pack's missing features cause a deal-breaker, then I'd keep looking for a climbing pack that has everything you want it to have - there are plenty of different packs on the market.
I paid about $70-$75 for mine, (used a 25% off + free shipping coupon) and I feel like it was money well spent on something good that will last.

Verified Buyer

Reviewed by Tim Bui from Texas on Tuesday, August 26, 2014

Very durable. The top compartments fits my helmet. Has two internal and external side pockets. Perfect for my all sport gear and rope inside. If trad carry rope outside with all gear inside. Best crag bag I have had.

Verified Buyer

Reviewed by CO_OG from Colorado on Wednesday, July 30, 2014

This seems like a good durable pack that carries well. The idea that the top flap folds off the rear of the pack seems good--it keeps the zipper from getting upset by contact with the ground when the pack is laid down. The white material looks extremely abrasion resistant. I thought that the side straps would work for ski carry, but it looks like they won't. The bottom straps help out with the side lower water bottle pockets. Fine, that is useful as well. That's why I have called it a summer pack. The ice axe carry setups are great though.

Verified Buyer

Reviewed by Blaster Master from Lander, WY on Wednesday, July 23, 2014

I purchased this for trekking in India. Seems great so far; I've been using it for rock climbing. The white doesn't stay white very long, but it gets great reception from the climbing community. The reverse-zip top is a little tricky, but I can lock both zippers and it keeps everything safe and tidy. Great for travel, not bad for the crag. The water bottle sleeves are kind of small, and water bottles can fall out (I think MH fixed this with the newest Hueco 35). For the price, this thing is killer.

Verified Buyer

Reviewed by Wheelslbc from Long Beach on Thursday, June 26, 2014

I got this to carry my rack, helmet and jacket to the crag but it just didn't fit well. There was a large gap between my back and the top of the straps. I have the hueco 20 and love it for smaller loads. Time to try another climbing pack.

Verified Buyer

Reviewed by Bob from Central Colorado on Thursday, June 5, 2014

I have not actually used this pack yet....but I have used enough others to be able to say this appears to be a terrific pack and I can't wait to try it out. I bought it after returning another pack that I simply did not like (too many extraneous "features" for a pack of this size). This pack is typical Mountain Hardwear....lots of bang for the buck and not laden with unnecessary "features". It's a simple, well-designed, and well-made pack. I'm looking forward to seeing if it delivers the goods but I'm confident it will.

Verified Buyer

Reviewed by Sac.shopper from Sacramento, CA on Friday, May 30, 2014

I love this pack! I use it the most in the winter while skiing and hiking to the race course. I can hold all the extra food and clothing that I need for the day, including using the side straps to attach a folding camp chair. The top compartment is perfect for my camera and other things that I need to get quickly. I have used it in snow storms and everything stays dry. I purchased this one for my husband because I liked mine so much.

Verified Buyer

Reviewed by Powder Hound from Overland Park, ks on Wednesday, April 9, 2014

Going to use for hiking and skiing. Great features, lightweight for the size, can't wait to try it!