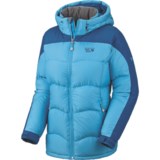 Closeouts. Your backcountry exertions just became infinitely more enjoyable thanks to Mountain Hardwear's Hunker down parka. Stuffed with 650 fill power goose down, reinforced with abrasion-resistant sleeves and equipped with a detachable hood, this versatile, ripstop layer is essential to any cold-weather outings.
Average Rating based on
27
reviews
4.370370
0
5
Reviewed by Happy marshmallow from NYC on Sunday, February 9, 2014

I don't know how I survived northeast winter without this jacket. I used to wear three peacoats on rotation trying to layer layer layer. Now that I have this parka, I can wear spring/fall outfits and throw on this parka on top. Because I work at a hospital, it is perfect for me since I can still wear "normal" clothes instead of sweating in sweaters and layers. I even get hot when I wear this indoors. Walking around in 30s weather, I keep the zippers open sometimes.
I am a size 6-8, 5'8 and a small is perfect. The hips are a bit tight- and I have straight hips!

Reviewed by Outdoor girl but still like style from CA on Monday, January 27, 2014

I ordered XS and it is a perfect, close fit on my 5'2" 108 lb frame.I can still wear a substantial fleece underneath it though. I got it for its heavier fill (warmer than a down sweater type jacket) and longer length. So far, I am happy with it but I have not tested it in temps below 35 degrees F. Have also not tested it in wet conditions. I plan to use it for travel to colder climates, hiking, adventure travel, and casual wear. The cut is straight up and down but the back is tapered to show some shape from waist to butt. If you're looking for a jacket with a nipped in waist, this is not it.

Reviewed by Tiner from Minnesota on Friday, November 22, 2013

So far, I am liking this jacket but it seems to be molting quite a bit so I am somewhat skeptical of how long it is going to last. I'm also waiting to see how it will handle the Minnesota winter- which is just getting started. So far, it has been keeping me warm. The fit is good and I like the length. It just covers my bum (but at 5'1'' I'm a shorty; I was expecting it to be a bit longer actually).

Reviewed by Mary from Sacramento on Thursday, November 21, 2013

Other people review this jacket's warmth, weight and style, so I will discuss the size.

I usually wear a Small, but STP only had an XS in this jacket and it looked so good in the reviews that I decided to take a chance. My measurements are bust 32", waist 26", hips 34" and I'm 115 lbs and 5' 2". I thought this might only be too tight in the hips since it's so long (and other XS's I've tried on a almost to tight there), but it fits perfectly and I have plenty of room for layers. I'm so glad I decided to get this one. I would have been swimming in the Small.

Two things I noticed: I bought the single color version (in lagoon) which does not have a removable hood. It is affixed to the jacket and now I can see that in the photos. It's fine though. I just prefer the hood to be removable.

Also, the down was completely bunched up in a couple places, leaving other places void of insulation, but it just needed to be rearranged (by a dextrous person) and fluffed. I pulled and fluffed for about five minutes and now it's just fine. This happens with all down items that aren't baffled.

Reviewed by sparkplug from Illinois on Thursday, October 10, 2013

Nice jacket, good pockets inside the coat. Could use a waist cinch and runs a little big.

Reviewed by sparkplug from Illinois on Thursday, October 10, 2013

Fits true to size, very nice looking coat! Waist-cinch is nice and cuffs seem warm. Looking forward to chilly winter evening strolls!

Reviewed by ParkaGirl from Alaska on Thursday, September 26, 2013

Looks quality. Warm. Long enough. I haven't worn it outside yet because it's not cold enough, but I'm excited. Good hood. I think this will be a good winter coat for interior Alaska. I've never had a down coat before. Great price. I got the purple - I really like it. Doesn't look cheap.

Reviewed by Jen S from North Carolina on Wednesday, March 20, 2013

I bought this jacket in anticipation of moving to a much colder environment. Currently I live in NC and this coat keeps me very warm but it isn't all that cold here. The fit is great, the down is very lofty and I love how the hood can cinch down tight and keep the cold out (or hopefully anyway)). I'm very happy with my purchase. I hope it continues to exceed my expectations next winter.

Reviewed by Maeg from Detroit, MI on Wednesday, January 23, 2013

I was a bit worried about the reviews that said this coat was the best fit for someone tall and lean. I am neither, but I bought my size in Bramble. Although it's fairly snug in the hips, I can still zip it with no problem. I LOVE it. I get so many compliments on it, even though I didn't buy it for looks (just for warmth). Believe me, it is so warm! It's amazing what a warm coat can do for your enjoyment of winter!

Reviewed by DogCentric from Upstate NY on Tuesday, January 22, 2013

Bought this parka for my first winter in upstate NY. I am outside a lot with dogs and used it today when it was gusting 20mph with a windchill of -10 degrees and I was toasty warm. Didn't feel drafty or chilled at all - The drawcords are in the right places to really customize the fit and lock in the warmth. There are two materials used on the exterior and both feel pretty durable - that I am not paranoid about dog tearing holes easily in the jacket if they jump up on me. A lot of down jackets use material that feel too delicate. Thisis not the case here. The only 2 things I wish this parka had would be a drawcord at the neck and inner cuffs at the sleeve openings (a fav feature in my other coats) instead of the the velcro wrist straps.