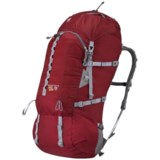 Closeouts. The stability-focused design of Mountain Hardwear's Kanza 55 backpack is ideal for long, rugged hikes thanks to the ventilating and supportive harness, strong compression strap system and a wide, load-bearing waistbelt.
Average Rating based on
8
reviews
4.000000
0
5
Reviewed by Susan and happy mountain hiker from California and Arizona on Thursday, April 10, 2014

Backpacks are a very personal choice. I have used this bag on 6 short trips (1-2 nights) and it has served me well. I appreciate the lightness and will sacrifice added features for this. It compresses well and adjusts easily. I usually carry "all inside" the bag, but have had my pad or tent on the outside, bottom on occasion. The straps worked well for this. Treking poles attach easily. It is not the most durable bag - I can see that some seams or the fabric is going to give in time, and more quickly than in a heavier Gregory option, but, when that happens to the extent that it must be replaced, I will again chose a lighter option such as this.

Reviewed by SoCalGal from Southern California on Sunday, October 6, 2013

I needed a fairly light pack that accommodates a bear canister (BV 500 size), and this fit the bill. Great for when you have bulky gear, and it has

Reviewed by NW Dave from Washington on Tuesday, September 24, 2013

Been on one trip so far with 35lbs in it, pack was stable and comfortable, seems well built and not too heavy.

Reviewed by Jason the Hiker from NJ on Sunday, August 4, 2013

This is a well-designed pack and very light-weight, but it's not built to withstand years of use, in my opinion. This pack had to be replaced after the first extended usage (5 days) in the Denali backcountry because the straps around both of the water-bottle pockets frayed and began to tear for no apparent reason--I suspect a design or materials flaw. Sierra Trading post replaced it at no charge, and so I'm willing to give it another go, but if it happens again, I will have to change to another pack. The nylon also isn't extremely durable and I managed to put a tear in it by setting the pack down too hard against rock when fully loaded--I'll have to remember to baby the new one a bit. However, it's a light-weight pack, comfortable pack with good carrying capacity, and expandability for larger loads and it carries weight well.

Reviewed by Jaymtb from Colorado Mountains on Saturday, July 13, 2013

This pack has excellent weight to service ratio. You can strip it down by removing top pocket and lining parts.

Waist belt comfortable and easily adjusted, unlike many that have hard edges or press too low.

At first the aluminum stay seemed to poke me in the lumbar area, but it is easily removed and bent to fit your back contour.


The back pocket is right for raingear and other essentials. No signs of strain with heavier loads.

It expands enough to carry more food for earlier parts of a trip, without needing a bigger pack.

The close carry position of the pack is stable for backcountry skiing.

Of course, you can't go wrong with STP guarantee and Mountain Hardware reputation.

Reviewed by pto892 from Maryland on Friday, July 12, 2013

I would love to be able to recommend this pack but can't do so. While it has an overall excellent design and many nice features mine is falling apart after only a few months of use. Good points-great harness and hip belt with a comfortable fit, can be broken down to reduce weight further (removable lid, back panel, and stay), and awesome water bottle pockets that are easily accessed while carrying the pack. It is reasonably lightweight and the right size for 3 day treks, and the extendable collar and floating lid allows one to pack extra food and gear quite easily. However-mine suffers from shoddy construction and is literally falling apart at the seams after some 20 trail days of use. I strive to keep my total pack weight under 30 pounds, and yet this pack has failing seams everywhere-around the collar, on the outside pocket, the lid, and the water bottle straps are ripping in half at the point where they are sewn to the pack body. The pack fabric is also shredding at the points of failure, making it impossible for me to simply resew the failing seams. I don't abuse my gear, yet I am afraid to tighten any strap on this pack for fear that it may simply pull out. Perhaps I simply got a lemon, but I believe hikers considering this pack should be aware of these issues and take them into account. I will attempt to return this pack since the build quality is unacceptable for serious backpacking.

Reviewed by Kaina from Montana on Wednesday, July 10, 2013

this pack is excellent and I am a hundred percent pleased with my purchase! It can be compacted down for a longer day hike and be used to for multiple night backpacking trips. I just returned from a two night trip this past weekend and i felt like the pack was made for me! It was stable, felt great on the hips, and held everything i needed and had room for more! there are a lot of features on the pack that make it easy to carry everything you may need out in the back country.

Reviewed by Happy Camper from Aspen on Friday, March 22, 2013

Awesome pack. Lots of straps, pockets and features and MH still managed to keep it Lightweight .
Super comfy to wear even fully loaded.