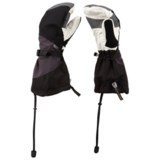 Closeouts. It won't turn cold weather to stone, but Mountain Hardwear's Medusa mittens can sure stare down incelement weather with a waterproof breathable OutDry® membrane and removable windproof liner.
Average Rating based on
24
reviews
4.375000
0
5
Verified Buyer

Reviewed by didee99 from Colorado on Wednesday, May 27, 2015

My husband and I own a previous model that is the same but a different color and they lasted so long that I jumped on buying another pair for my husband (only 1 pair left at the time of purchase). My husband is rough on gear and the fact that the previous pair lasted so long is a testament to this glove. The sizing is fairly roomy and some people aren't a fan of the trigger finger in the liner but my husband likes it ( I had trouble fitting an additional liner glove into the separate finger - doable but would have preferred just the mitten style liner). Color white will get filthy dirty but that is the only gripe.

Reviewed by Paul from NJ on Tuesday, January 6, 2015

Nice mitt, but it is really more of a shell than a mitten. There is very little insulation. I wore these recently in 20 degree weather and my hands were cold within 10 minutes. I will look for a warm liner, but the general idea is to have a light liner with a well-insulated mitt, not vice-versa.

Verified Buyer

Reviewed by Coach from Colorado on Tuesday, December 30, 2014

The liners are suitable for chilly days, but not cold ones. I used OR mitten shells for decades and replaced them with these. These shells are terrific. All the features you want for skiing or mountaineering (in Colorado). The liners are thin and strange. I use a pair of woolen mittens, and they work great in these. As to the velcro, it is the "soft" velcro that lines the mittens (the "hooks" are on the liners) so you'll have no problem adding your own liners.

Size was as expected. I wore a large OR and the large Mountain Hardwear fit the same.

Great mits.

Reviewed by Schweitzer Mt. Rocks! from Idaho on Saturday, December 20, 2014

I used these mittens every weekend skiing last year. By far the best mittens I've owned, warm and durable. Although the ones I bought last season are still in excellent shape, I just bought another pair to stash away as a replacement. Great price! Awesome mitten!

Verified Buyer

Reviewed by DKINY from Upstate, NY on Tuesday, November 11, 2014

These are high quality gauntlet mittens at a great price. I like the outer shell design and comfort. White leather could get dirty pretty fast, but
I can live with that. something minor, not sure if I want to get them replaced...sewing is not consistent on the right mitt.
I have to agree with an earlier reviewer mentioning 3 fingered design not to be his favorite, it is not mine either. I actually followed his advice and ordered Outdoor Research PL400 liners.
I must add, IMO, these seem to run slightly larger than a size suggest.


Verified Buyer

Reviewed by MNoutdoors from Minnesota on Wednesday, June 4, 2014

Very good quality outer mitts. Inner mitt is decent too, but not as warm as hoped for. I have been swapping the inner mitt with a warmer liner glove.

Reviewed by John the Skier from Connecticut on Tuesday, April 1, 2014

These mittens replace a pair of old Outdoor Research mittens that finally gave up their insulating properties after 15 years! These are equally well built, with the addition of reinforcements in the palm to avoid cuts and abrasions from ski or snowboard edges. It is not uncommon to see the ski lift team wearing these mittens, and no wonder given their warmth and their durability. All in all, these are strongly recommended.

Reviewed by mountain24x from Minnesota on Sunday, March 2, 2014

These are high quality guantlet mitts at an excellent price. I love the outer mitts. They have just enough insulation (extra insulation on the back of the hand where most needed), the right amount of articulation, and well-designed features. A minor complaint is that the white leather palms get dirty easily, but I can live with that.

I'm not a huge fan of the liners, however. The 3-fingered, windblocking design sacrifices warmth and breathability for dexterity and comfort when the outer mitts are removed. But if I'm forced to spend a lot of time with the outer mitts off, I'll use a softshell glove like the black diamond pilot (also available on STP) as my liner. If that combo is not warm enough, I use a pair of Outdoor Research PL400 mitts as the liner. My medium PL400s fit perfectly in my medium Medusas, and the combination is super warm and comfortable. It kept my hands warm on a Minnesota winter camping trip when overnight lows reached -17F.

Reviewed by Adam from Colorado on Tuesday, February 11, 2014

I worse these for the first time last weekend on my first winter ascent up a 14er in Colorado. The temps dipped down around 0 degrees with wind gusts up to 50+ MPH and plenty of blowing snow. They breathed very well, blocked the wind like a champ, and kept my hands super warm throughout the hike. I would highly recommend!

Reviewed by Dr J from Cedar Rapids on Saturday, December 14, 2013

I had surgery on my left wrist and ever since 3 of the fingers on that hand are always very sensitive to cold. I can actually put liner gloves on before putting these mittens on and it solved the problem. I love the little pull on strap attached to the liner. I also love the little tab you can grab with your teeth to tighten the cinch at the wrist.