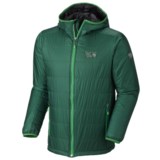 Closeouts. Mountain Hardwear's Thermostatic hooded jacket prevents damp days from dampening your outdoor spirits with a durable, weather-resistant ripstop shell that is insulated from hood to hem with lightweight, low-bulk and compressible Thermic Micro insulation.
Average Rating based on
21
reviews
4.190476
0
5
Reviewed by Cam from Killington on Wednesday, November 18, 2015

I treat this insolation jacket like a sweatshirt. Compared to most insulation layers this one gives me very minimal warmth. It is very comfy and I use it for general camping, winter hiking uphill and warmer weather layering situations. Nice hood, pockets and stuffs down real small.

Reviewed by RH from Maine on Sunday, September 27, 2015

Mine is XL and comes in several ounces <1 pound. True to size. Excellent weight/warmth ratio.

I have used mine quite a bit and have had no durability issues. Common sense tells me, eventually, such light-weight fabric/zipper will fail in one way or another. When mine dies, I will buy another (of course, by then, the same model probably will be cut differently and weigh two pounds).

Verified Buyer

Reviewed by Elliott from California on Friday, March 13, 2015

I bought the yellow one and it looks way better than the picture. It's brighter yellow, basically the same color as the Thermarest neoair xlite and it looks good. This is just as warm as a big mountain hardwear down jacket but it's much thinner.

Verified Buyer

Reviewed by gollwoods back country great smoky mountain 800 miler wanna be from ohio on Sunday, November 2, 2014

This jacket fits very well. I am 6:0 and the bottom is below my belt it has good elastic at the ends of the sleeves and they are long enough to put my gloves inside the arms making a draft proof seal around the wrist. The hood is well insulated and fits snug enough for general warmth but would bellow in the wind some what. I am replacing a down shirt with this and is warmer and just as light. Would recommend this with a base layer to around 35 degrees or with a fleece down into the upper 20's packing in the pocket works well and there is room for a hat and light gloves which I like as this will be my pillow in the sleeping bag.

Reviewed by Tahoe Hiking Guy from Truckee, CA on Monday, February 24, 2014

This is a great light weight jacket and fits the bill for what I needed it for which is snowshoeing. My only complaint is there is no breast pocket (inside or out) for a cell phone, etc... The hand pockets are really large so that somewhat makes up for it but I like having at least one breast pocket to store valuables as I like to stick my hands in my pockets.

Reviewed by surfdad from Mid-Atlantic on Tuesday, January 28, 2014

I purchased this compact insulated jacket as a mid layer for a Gore Tex shell for cool weather and a mid layer under a heavier jacket for super cold temps. I am please with how well this jacket regulates body heat in a variety of temps (even worn by itself). Also the jacket fits under the outer shells with ease and slides allowing freedom of movement. The jacket is not as slim fitting as the photo appears but does have draw strings at the waist line to keep heat in and drafts out. The hood is the perfect size to fit inside the hoods of my outer shells. This jacket was the missing link I needed to create insulation needed for my weather protection shells.

Reviewed by RH from Maine on Tuesday, January 28, 2014

This is a just-out-of-box comment.

I normally wear XL. I am 6'1", 210#, 45" chest, 38" waist. I bought an XL in January, 2014.

The fit is nearly perfect. I can comfortably wear the MH jacket over a t-shirt and heavy fleece jacket. The only qualifier: the arm holes are a bit too small. Not too small to limit movement or be uncomfortable, but still, too small. I am not tempted to return it for the arm hole issue...it's fine.

FWIW: I tried on Marmot's version of this jacket, in XL and XXL, and the arm holes were the problem there, too.

My XL weighs 12 ounces.

The only odd thing I have noticed so far: the hood has no draw cord...just a stretchy binding. Same for the cuffs, but the hood is more of an issue for me. The hem has a draw cord...I would rather have a hood draw cord than the one in the hem. There is a pretty good chance I'll add a draw cord to the hood eventually.

Reviewed by jense75 from North Carolina on Monday, January 27, 2014

I had mixed emotions about this jacket at first; loved everything except for the length. I'm 6'0", 200lb and the XL fit great everywhere except I felt like I was wearing a long parka. Got used to it, now I'm fine with it. Just messed with my expectations. Wanted an insulated, yet extremely lightweight layer mostly for backpacking, and this will fit the bill. Will also be my travel jacket for everything else; much lighter and more compact than fleece. SUPER warm, I wore it for several short walks last week when the temps were in the 20's (before winchill) and w/ just a t-shirt and thin long sleeve underneath, and it was toasty. In cooler temps it can be layered under another jacket because of its thinness. Great, 3-season jacket, if not 4 - especially if you're active and generating a little more heat.

Reviewed by jtb149 from Central PA on Tuesday, December 24, 2013

My husband loves this jacket. It's a really versatile piece and fits his stocky frame very nicely. The hood is a great added feature and the warmth to weight ratio is awesome. A nice jacket on its own for running errands around town, and a really warm mid layer under a hard shell for skiing or other outdoor activities.

Reviewed by Lisa from Missouri on Tuesday, December 3, 2013

This jacket fits exactly the way I wanted it to. I wear a large, ordered a large, and the jacket is over-sized perfectly to fit over a sweater or fleece yet my hard shell goes over it easily. The workmanship is excellent with no cold spots and no loose threads. The hood fits perfectly with just a beanie or balaclava underneath. The only shortcoming is no draw string in the hood. This jacket keeps me warm on nights down to 15-25 degrees. Below that I take a heaver down parka.