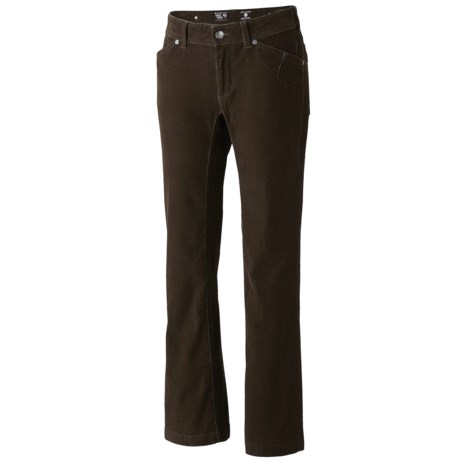 Weird pants that work for my weird body
Reviewed by OutdoorMom from Ithaca, NY on Friday, March 28, 2014
I have odd dimensions -- 5'5, 140 pounds. My hips are narrow (like 39") and my waist is very high and never very narrow, so the "waist" part of standard pants on me is some ridiculous circumference, like 32". (I bought size 8 in the short inseam.) I should add that I'm pretty fit overall but with some belly detritus in the front that I blame my children on.

These are pretty high-waisted for contemporary pants (I am usually a low-rise girl because of the above issue with body shape), but these actually fit well and others complained that the waist is too big. Well, I knew this was the weird shaped pant for me.

The pants themselves:
* Feel of the corduroy is a little stiff, not soft, but maybe that will work out in the wash. I wasn't blown away.
* Yes, the gusset is weird and I would have been excited if that feature would have made them swish a little less, but sadly, no. Not a deal breaker.
* I find them overall a little loose so the "freedom of movement" party in the description (who wrote that???) was moot.
* I do like picking an inseam. For cold weather pants, I like them not to drag in the snow/mud/salt/sn-alt-ud that I am walking through constantly, so the short inseam was a great option. I'm not built like a heron, but a leggy gal would like the other options.

I was hoping to be blown away by these pants but I'm impressed enough for me to invest in more Mountain Hardware gear since it seems to suit my cylindrical figure. I sincerely hope these pants are a poor fit for you, but if you're like me, you'll probably be happy.