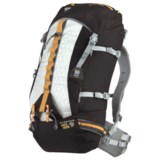 Closeouts. Mountain Hardwear's Via Rapida 35 backpack boasts a climber and skier-friendly design that's extra-versatile for use in alpine environments. By removing the waistbelt, framesheet and aluminum stays you have a stripped-down, lightweight pack for summit pushes.
Average Rating based on
10
reviews
4.100000
0
5
Verified Buyer

Reviewed by Owen H from USA on Monday, August 10, 2015

I was looking for a pack that I could use for day ski touring trips and peak bagging and this fits the bill nicely. It holds skis well in an A frame and the ice axe attachments are great. Compression is amazing and the frame is very supportive with heavy loads. It's actually larger than I thought as well, the total volume of the size large is 38 + 4 liters, plus there are numerous external attachment points. That should be big enough for overnight mountaineering and ski touring in many situations. Excellent quality and I love the removable frame, hip belt, and lid (you can strip this pack down to 2 lbs). Those options make it a really versatile pack for many different types of outings. Can't beat the price here too.

Verified Buyer

Reviewed by ple from mn on Monday, August 3, 2015

great price for a well made product. looking forward to its use

Verified Buyer

Reviewed by Bryan climber/backpacker from Ct on Monday, March 9, 2015

This is the third pack I own from Mountain Hardwear, fourth is you count the Via Rapida that I bought for my son. I won't waste my money on any other brand. Their quality is second to none. The ice tool attachments are very versatile and functional. There are so many things these packs do well I can't say enough good things about them. The hip belt can be removed (a must if you want to climb with it on) and they come with a webbing belt to use when climbing. The pack is nice enough to use as a day pack or lightweight overnight setup. This pack will not disappoint you!

Verified Buyer

Reviewed by Diverreb from Dover, DE on Monday, June 16, 2014

Very well designed and comfortable pack.... Fits well in between my full size and small packs. I needed something that was in the 35 Liter size range for holding my gear for short and medium range hikes... Pack can be lightened up if that's an issue. The padded waste, waffle board insert and metal stays are all removable. I prefer to leave the pack as is. Pocket for a water bag too...

Reviewed by Neil from North Carolina on Tuesday, January 7, 2014

The shape and fit of the pack are nice and more than adequate, but don't expect a Cadillac suspension. The organization is really smart, and I especially like the front shovel pocket since it's perfect for clothing. The top lid is super lightweight but it's big enough for food, phone, keys, etc. for a day's cragging. I like the material, it's light but feels sturdy.

But the fatal flaw of the pack, and the reason why I returned it was that it has too many straps. There is a bundle of extra webbing inside of the shovel pocket that interferes with whatever is inside, and there is also a bundle underneath the lid. While it may be nice every blue moon to strap something on the front, in reality, the pack would carry very poorly, unless it was a snowboard I guess. The webbing under the lid is completely unnecessary because the lid or the side straps are sufficient to hold a rope in place. The way the webbing is attached on the front is such that the side compression straps pulls the buckles out of the shovel pocket and they float awkwardly, and one never feels that the straps are compressed fully. Finally the top lid webbing has a tendency to pull through the buckles and flop around to and fro.


Had MH simplified this pack by removing all the unnecessary webbing, they would have had a real winner. But by trying to make a pack for a range of mountain sports, they limited its usefulness in each individual pursuit. Too bad.

Reviewed by Alex from Bellingham, WA on Friday, November 8, 2013

When I received this pack was I really excited. The hip belt looked like it would carry well, it had cool features, and looked good. Overall I was very let down though. First, the rear lid buckles have poor placement/design. When the front straps are tightened, the position of the rear buckles allows the webbing to slip through (lid just pulls forward). The rope strap under the lid is an interesting concept, but not very functional, and if the lid is removed you've lost your rope strap. I loaded up the pack with about 40 lbs and the first thing I noticed was the desire of the pack to lever over backwards. A significant amount of weight was transferred to the shoulders and chest. The pack failed to carry in the hips. The frame is a single 25-30mm support running top to bottom in the center of the pack (very nice actually). The plastic wave support (only in the top half of the pack) provided poor support for the load lifters, though, greatly reducing their effectiveness. The result was the pack crumpling forward to your shoulder, rather than maintaining shape and support. If the frame/carrying system of this pack were improved and the top lid buckles remedied, this would be amazing pack. I would not recommend this version though…

Reviewed by Carolina from Nc on Thursday, June 20, 2013

Nice backpack, goes back because it came without hip belt. It has lots of pockets though.

Reviewed by Mountain Medic from Montana on Tuesday, April 2, 2013

I needed a seond pack that I could use in inclement weather specific for holding a sleeping back, sleeping pad, change of clothing, basic medic gear, and a change of clothes for long days on the fire line when I need something besides my fire pack. I love that this pack has an internal frame but can also be stripped down for lighter hikes or climbs. The fabric is perfect for the abuse it will get!

Verified Buyer

Reviewed by Jswan from MN UT CO CA on Saturday, February 2, 2013

I'm using it primarily for back country skiing and day trips. Great size and nice features.

Verified Buyer

Reviewed by Running in Circles from Evans, Ga. on Tuesday, January 22, 2013

I have used my Rapida 35 for multiple trips. Whether it be hiking the Appalachian or simply traveling out of town. With the release of the frame (which takes about 10 seconds), creates a more universal use of the backpack. Very comfortable, even on long hikes. I rated the Rapida 35 4 stars, it would have been nice with just a little more room in the main body. Overall worth the money!