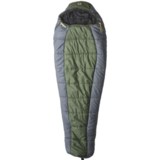 Closeouts. Whether the crescent moon rises on a clear night or a cold, unexpected storm rolls through, you'll be prepared with Mountainsmith Crestone sleeping bag. It's designed with exclusive Mountainloft Hollowfiber insulation for warmth in temps as low as 0°F.
Average Rating based on
63
reviews
4.333333
0
5
Verified Buyer

Reviewed by Kilimanjaro Bob from Missouri on Thursday, June 26, 2014

I needed a new sleeping bag for a climb of Mt Kilimanjaro and the Crestone seemed ideal. I have. Not yet checked it out at 0 degrees yet, but it is extremely comfortable. The hollow fiber insulation is a technology achievement.

Verified Buyer

Reviewed by Outdoor Girl from los angeles on Wednesday, April 9, 2014

haven't used it yet, but bought 2 based on reviews.

Reviewed by Haney from West Virginia on Monday, February 3, 2014

I bought this bag for my trip to Mt. Rainier coming up later this year. They recommend a 0 -15 degree rated bag when summiting in September. I had the perfect opportunity to try it out during the recent "Polar Vortex" so I put up my tent out back in the snow on a -2 degree night with a 10 - 15 mph. wind. I did not have my sleep pad so I had to throw down another lighter bag for insulation from the ground.
I wore a pair of non-insulated dry fit pants and top and a pair of smart wool socks. I did not have any issues other than my feet got a little bit cold in the middle of the night when the wind was hitting the foot side of my 1 man backpacking ten. Then again, they were thin socks and the wind was whipping up against the edge of the tent where my feet were resting. I thought it more than did the job especially given the ridiculously low sale price I got it for.

Reviewed by James from Minnesota on Friday, January 3, 2014

Field tested this just for a few hours at about 17 degrees and discovered no problems (and no zipper issues)... so I believe it will perform as expected in actual long term usage.

Reviewed by walt from nc from Smokie Mountains NC on Friday, January 3, 2014

Bought but not used in cold weather. Love the warmth and feel. Only drawback is the fit. I'm a big guy with 50" chest.. Bag was very tight and not use to it. Everything else was perfect. Great for day hikes long hikes or for car camping for added protection. Bag backs well and light. For a smaller person this would rate a Five star . I would give this a 4.5 star because of fit. 4 inches wider would have made this bag perfect for me. enjoy

Reviewed by Justin from North Carolina on Wednesday, October 30, 2013

I ordered the Mountainsmith 20 degree and 0 degree bags for my wife and myself. This was after I ordered the ALPS echo lake bags, but returned them because they could not pack down small enough for my liking. These bags pack down much smaller, and seem to be of better quality than the ALPS bag.

I opened up the 20 degree bag first, and it seemed great. I haven't been camping in it yet, but, after testing it out in the backyard for a while, it seems like it will be very warm. The zippers are nice, and I have plenty of room.

When I opened the 0 degree bag, I thought it was going to be great too. Once I looked at the bottom of the bag, though, I realized that there was a hole where the seam was coming loose and the fill was coming out of the bag. Not just a little hole either - Probably about 3-4 inches across.

I figured this would not be a problem and I could just exchange it for a different bag. But when I contacted STP about exchanging it for a new one, they said they were out, but I could look at a similar product such as the ALPS echo lake (see first paragraph). So, we have decided to try to stitch it up. I'm very disappointed in the customer service of Sierra Trading Post. I figured they would at least offer to refund some money or give me a discounted rate on another bag, but it doesn't look like that's going to happen. I doubt I will be buying from them again.

So, overall: the bag seems warm, packs down small, and is roomy enough to be comfortable. It would be great if I could get another one that wasn't damaged right out of the box. I would rate the bag itself at 4-stars, but STP customer service at 1 star.

Reviewed by New to Camping from Califfornia on Monday, October 28, 2013

Wasn't expecting much because it was so inexpensive, but what a great bag!! It was so warm. And I know with my other bag I would have been cold. Lots of padding. hard to put back in the compressed bag but not too bad.

Reviewed by A. Starr from Northern NY on Wednesday, October 16, 2013

This bag is warm. I wasn't expecting a bag of this price to be as warm as it is, but I found that I was taking layers off as everyone else I was with was piling the layers on. I haven't had a chance to use it at near 0 temps, but I did use it in below freezing temps and it held up well. The padding inside is nice enough to where you don't need a pillow for the most part. I am also on the shorter side of the bag's height range, so I was able to store extra gear in the foot of the bag to keep it warm without any problems.

My only complaint is that I wish this bag were easier to get back into the compression sack. I can roll most bags up and store them away pretty quickly, but this bag is always a fight to get back in the sack.

Overall, if you need an affordable bag that will keep you warm this is your best bet until you can afford a top of the line bag.

Reviewed by Western Gal from Telluride, CO on Wednesday, June 5, 2013

I am so glad I chose this bag. It was warm and comfortable, although I did not test it outside. I needed to sleep in a house without heat, where it was in the 30s and it worked great. I can see using this in the future for camping. It compresses nicely in the sack.

Reviewed by West Seattle Mom from Seattle on Tuesday, April 30, 2013

Got this bag for my 12 year old as he is growing like a weed and has camping trips planned. It keeps him warm without him overheating. He is even using it at home because he tends to kick off covers and wake up cold. He took on one trip already and it worked great. The compression bag works perfectly. Love everything about this bag.