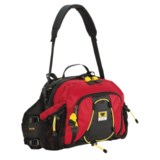 Closeouts. Great for day hikes, trips to the gym and travel, the versatile Mountainsmith Blaze II lumbar pack can also be carried as a shoulder bag, handbag or as an add on to your full-size pack.
Average Rating based on
36
reviews
3.916666
0
5
Reviewed by backcountry skier from Lake Tahoe on Friday, August 23, 2013

This is a nice bag but the water bottle pockets are way to shallow. I am not willing to risk having my water bottles topple out of the bag, so I am returning this and buying a different Mountainsmith lumbar pack.

Reviewed by Kayaker from Maryland on Monday, July 22, 2013

I bought this for hiking and wading in streams. I find it fits just fine. Right sized for me in the sense that I can put a small lunch, binoculars, and a field guide in it. I like the pocket designs as well. Has a snap for holding your keys in the small front pocket. Also has a number of straps to adjust the fit. Overall a very nice design with one glaring exception. The water bottle pockets are only 5 inches deep. So water bottles hang very loosely and may fall out. The one redeeming factor is that there is a bungee drawstring that allows tightening at the top of the water bottle pocket. In addition, there are a few loops on the pack that could be used to tie in the top of your bottle with a carabiner or something. Whoever designed those pockets at Mountainsmith needs to pay more attention. That said, the pack is roomy enough that I can carry a bottle in the pack as well.

Reviewed by GRAM Rocks & Minerals of Ga Hiker from Georgia on Sunday, July 14, 2013

I bought this bag on an impulse when I was ordering my hiking boots. My husband laughed at me saying "you bought a fanny pack" but it is a wonderful bag. I went on a 5 day hike of Georgia. The bag sat perfectly on my hips while the shoulder strap kept it completely balanced which allowed me to use my hands to navigating the terrane. Now I'm a teacher and if you know anything about teachers they can't hike without collecting samples. The two storage compartments were large enough to hold my hiking supplies along with many many pounds of rocks and minerals. I love this bag. I plan to use it during school field days and sporting events. The only problem was my water bottles didn't fit correctly...But not because the compartments weren't wide enough just maybe not very deep. I just used caribeners to keep them from falling out.

Reviewed by Cyclist from New York on Wednesday, July 10, 2013

I wanted a pack that I could wear while riding without covering the advertising on the back of my shirt and this fit the bill. It has plenty of room, including a spot for my Chromebook (or an iPad). I actually paid $75 (almost MSRP ) for this, too bad I didn't wait to get it from STP. Sometimes feels a bit off balance.

Reviewed by Anonymous from SW Virginia on Wednesday, July 10, 2013

I already have a DAY and TOUR pack, and love them. The DAY travels with me, well, every day. The Blaze II however, is not your grandfathers usual Mountainsmith. For the most part it is very good, with the great Mountainsmith quality that we know of, but this design stinks. I will agree with most other reviewers the the bottle pockets are way too short, but the worst part about them is that they are attached to the lumbar belt, NOT the bag itself. In most cases I will tuck the belt and use the shoulder strap. This will not work if you carry a bottle, as the weight of the bottle will immediately pull the tucked belt out of the pocket. So, if you are going to carry a beverage, either you have to use the belt, or else you are going to have a waist belt and straps flopping about you side like a big bird. Terrible design. It is obvious to see why this one is out of production.

Reviewed by WFS from arkansas on Sunday, May 19, 2013

I was worried that this pack was a bit large when I first received it. I got one for me and one for my wife. We just finished a week of day-hiking Yosemite, and these packs were absolutely fantastic. Carried two bottles of water, rain jacket, binoculars, small camera, snacks, bird identification guide, etc. Structurally extremely well made, handled rain and waterfalls without problem. IMPORTANT: the shoulder strap is great as a stabilizing strap along with the hip belt. Throw the pack over your shoulder, holding it on with the shoulder strap cross chest, and lock in the waist belt. Simple and very, very stabile. The shoulder strap can be tightened or loosened as needed. This set-up allowed me to hike steep trails with no load shift. Truly an excellent pack. Highly recommended.

Reviewed by RunnerTom from indiana on Monday, March 18, 2013

The bag is too big to carry on your waist and not big enough to carry much stuff. It is high quality so I will find an use for it.

Reviewed by VT from Chicago on Friday, March 15, 2013

It's good, but not excellent. Could use more belt padding.

Verified Buyer

Reviewed by Big T from Utah on Tuesday, January 22, 2013

I am 6' 5 and the shoulder strap is not quite long enough to make a truly comfortable fit. The waist belt is plenty adjustable and the compartments are large enough to provide the needed space for day trips or any other adventure not requiring a few overnighters. For it's intended purpose, this pack is great.

Verified Buyer

Reviewed by Kayaker from Frankfort, KY on Friday, January 4, 2013

I went on a day hike recently and didn't have any way to carry my stuff (notebook, maps, water bottle, lunch, etc.)except a floppy string bag. The other girl on the trip was wearing this lumbar pack and, when I admired it, she told me that she had bought it years ago so I didn't think I would be able to find the same product. I was so excited to find it at STP and bought it right away. The red one is pretty flashy--and I'm not the flashy type--but it is a great, comfortable bag with lots of places to stash stuff--the perfect size for a hike. I have been "breaking it in" by carrying it to the office but I can't wait to take it out in the field.