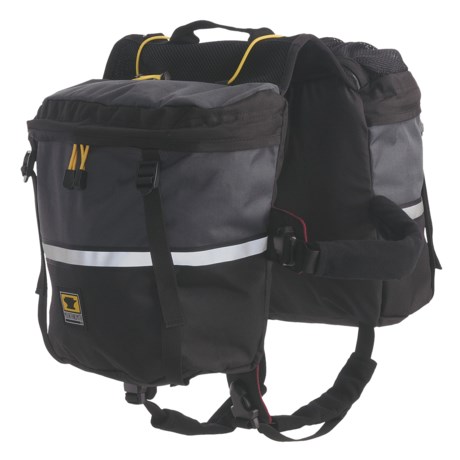 Great pack-highly recommend-works well-medium works for my cattle dog
Verified Buyer
Reviewed by Anonymous from Colorado on Wednesday, April 30, 2014
This is my third Mountainsmith Dog Pack. That doesn't mean they aren't well made, which they are, it means I like them so much I want to buy them again. My first one was awesome, I backpacked quite a bit with my dog and she wore it well. Sadly, it lasted longer than my dear dog. I found a new dog in my life who loved this pack as well. Bad news, someone stole it from my can and I immediately knew I wanted another. I bought a new one and it has lasted about six years and it's been through a lot, all seasons and weather. The pack itself is still good it's just the straps that have worn the most having the most exposure.

PROs: compression straps, burly zippers, capacity, strong handle. My previous dog went into a muddy water hole and couldn't get out. I grabbed that handle and rescued her. I use the handle to boost her when I'm climbing or pull her up a rock. It's a great way to control her as well. The mesh top pocket is ok. The D-ring is awesome is seems very strong. The bungee on top is not that use full to me.

CONS: The velcro strap closure on the mesh top pocket doesn't have enough on it so that you can fill up the pocket and thus isn't secure. I keep the leash in it attached to the d-ring and it's about good enough for that. I has no sternum strap running from the collar to the chest strap like other packs. This makes it easier to shed the pack, which some people thing is a good thing for the safety of your dog. My dogs have lost the pack on rare occasion, mainly from snagging it on a branch or jumping down something very steep. I don't think that's a serious con, but it is a difference between this and other packs.

My 43 pound healer dog can carry her meals for four or five days, her sleeping pad, down and rain coat, water, treats and leash. That's about 7-8 pounds which is a lot for her, but she's been trained with it and I carry it for at times to give her a break when it's that loaded, Sometimes I just attach it to my pack to give her a break and it's easy to do with the dog packs chest straps and the d-ring.