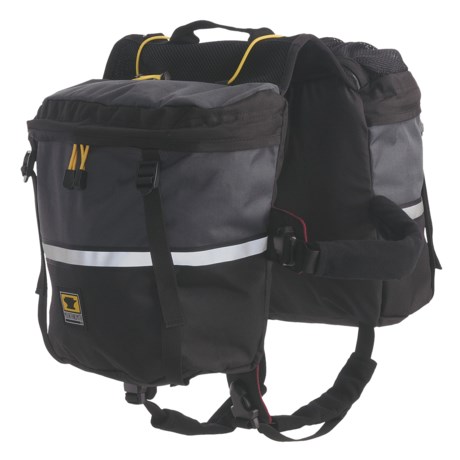 Our husky makes a great hiker with this affordable pack!
Verified Buyer
Reviewed by Sarah from Minneapolis, MN on Monday, August 18, 2014
After researching other brands and makes that hovered around the $80-120 price point, we came across this MountainSmith one. We tried a ruffwear pack on our dog, but didn't like the way it sat on his back. This Mountainsmith makes it look like our dog is wearing saddle bags and they sit perfectly on his upper back without rubbing his shoulders or sliding back; easy to adjust and get comfortable. You can also tighten up the slack on the saddle bags for less bulk. There's a nice handle for assists in scrambling (used a lot this weekend while climbing) and a convenient leash attachment. It also has a few more pockets than other options--such as a top mesh bag for easy acces to (empty) poop bags and treats.
Take a few walks at home to get your dog used to it before hiking, or carrying heavier loads. (Our dog sat down the first time we put it on with a "so you expect me to move now" expression but got used to it pretty quickly on the trail.)

We've gone for a few hikes now and it fits water bottles on either side, food and toys. It will be really nice for backpacking as well.

We got the MEDIUM. Our siberian is 62 pounds. Fits perfectly with room for adjustment either way.