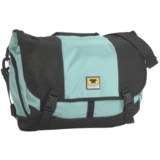 Closeouts. Keep your valuable gear protected and organized on your daily grind with Mountainsmith's large messenger bag. Made of recycled PET, it's got multiple pockets and is spacious enough for your books, files and laptop or tablet computer.
Average Rating based on
13
reviews
4.307692
0
5
Reviewed by Gift Giver from Florida on Thursday, October 24, 2013

I bought this as a gift, so I have not used it. I was very pleased with the color (red), the size and the quality. Overall I would rate this product as excellent.

Reviewed by Student at large from North Carolina on Thursday, October 10, 2013

This is a great messenger bag, just a few minor issues that are probably personal preferences more than anything. I don't like that the interior pockets are a flap rather than attached, and an exterior pocket on the flap would be nice for the times when you don't want to have to open the bag. Other than these issues it seems well constructed and durable and serves most of the needs that I have for this bag. If you like a good everyday messenger bag this is a god one.

Reviewed by Catherine F from CT on Thursday, September 26, 2013

This is my second bag of its kind. The first was stolen with my computer and I've replaced it with the Mountainsmith. At first, it seemed less substantial than the one it replaced but I've since grown to love it. I have another Moutainsmith bag and I've found them to be rugged, very well made and well thought out. This bag has lots of pockets --both inside and outside.

I recommend this bag and it fits my 15inch MacBook Pro beautifully!

Reviewed by Catalina from Minnesota on Monday, September 23, 2013

This bag has gone beyond my expectations. Today I hauled a 15" MacBook Pro, all the cords, my personal belongings that usually go in a purse: wallet, phone, sunglasses, reading glasses, coin purse, and other essentials. Additionally I was able to fit a rain jacket, turtleneck sweater, t-shirt, and workout gear. I was nervous that the weight of the laptop would tear the carrying strap right off. No way! This bag is well made, with many little pockets, zipped compartments, and the main storage area is quite large. I like the fact that the Velcro on the flap of the bag has lots of area in which to catch upon. This is my first messenger style bag. I have always carried backpacks. I like the ease of access of the front pockets, the amount of storage room, the fact that I can carry either my MacBook or my iPad and keyboard with no worries about the construction features of the bag. I recommend this product and this manufacturer for quality workmanship, materials, and ease of use.

Reviewed by frankie from Boston on Sunday, September 22, 2013

I looked at other messenger bags, like Timbuk2, but found this bag to be a great option for the price. I could buy 2 of these, for the price of other bags. I agree with other reviewers here that the strap does need to be adjusted to make it "messenger length", and the laptop portion is a little tight for larger laptops, but the bag is so well made and holds a ton of stuff. I use it for work everyday, and have used it as a backup gym bag, and even took it to the beach. Love it.

Reviewed by angstrom27 from Northern MI on Monday, August 5, 2013

Great overall bag with regard to style, quality, and compartments. The HUGE bummer is that when the shoulder strap is adjusted all the way down, its still too loose to be useful as a "messenger bag". I am 5'11"/165lbs for reference.

Reviewed by Sara K. from Tucson on Tuesday, July 30, 2013

just what we needed for my son, light material, plenty of small compartments, but not too many to get lost in zippers and pockets has plenty of "cargo" space for books and computer.

Reviewed by kplanpet from ohio on Sunday, July 7, 2013

This is a decent bag so far. However, the description clearly states it fits a laptop up to 15". It DOESN'T. My laptop is 14.5" and will not fit into the padded compartment. It fits into the larger unpadded front compartment so I haven't decided if I want to eat the $6 return shipping. Buyers should be aware that the description is wrong!!

Reviewed by Spencer from Virginia on Thursday, June 13, 2013

I was very pleased to find this on Sierra Trading Post after Mountainsmith stopped making them. I really like that it's from recycled materials. Hold the laptop, power cord, etc. with lots of extra room for books, a jacket, etc. The only improvement I'd suggest is some sort of pocket in the flap.

Reviewed by Commuter-Kate from Indiana on Monday, May 6, 2013

This bag is exactly what I had been searching for all over the web. It's lightweight (~ 1lbs), sturdy/waterproof material, has tons of pockets everywhere, and can fit my 15" MacBookPro like a glove. It would NOT fit any lappy larger than 15". I ordered the Frost color, and just as a heads-up, the inside is BRIGHT yellow (which I find very fun, but could be unprofessional for others). There are two side zip pockets for quick keys/phone, two inside zip front-pockets that store my electronic cords, a large inside catch-all zip pocket, and another shorter organizer zip-pocket. My favorite pocket is the back middle pocket, it run the height of the bag and is an open flap where I hide my wallet and it can't fall out. The laptop area is padded with a hook-loop strap. The handle is a great feature. There's also an "around the waist" strap that you can use to commute. The only thing I would complain about is that the shoulder strap can't be shortened enough for me (5'7" female) to have to tight across my body to bike-commute, I had to feed the strap through the connecting part and then rig it to be shorter, which wasn't hard, but less than ideal. It's large enough for laptop, lunch, and a set of running shoes. It isn't large enough for a ton of stuff, like an weekend bag. As a commuter, I would highly recommend it over a Timbuktu or other common messenger bags from my experience. Exceptional product for the price!