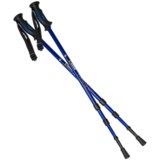 Closeouts. Reach the pinnacle of your adventure with this pair of Mountainsmith trekking poles, offering adjustable length and a built-in anti-shock mechanism that can be switched on for accents and off for stability during descents.
Average Rating based on
538
reviews
4.189591
0
5
Verified Buyer

Reviewed by The gift giver from Massachusetts on Thursday, January 19, 2017

Bought these as a gift for a friend whose beginning to have some aging difficulties. He loves his daily walks but was beginning to feel unstable and has had a few tumbles. He's using these all the time and is successfully back to his joy of daily walks with a little balance assistance from the Mountainsmith Trekking Poles. Perhaps this isn't the intended use of these poles, but he looks fit and athletic with these in hand and is so happy to be walking outside daily.

Verified Buyer

Reviewed by Jimmy from Atlanta on Wednesday, January 18, 2017

After breaking my expensive but lightweight trekking poles I've replaced them with this set - priced right, very sturdy, a bit heavy but worth the weight. My first pair broke both in the cork handle and the joint. This polymer handle should be more durable and based on my experience with a walking stick the joints should be very durable. The only thing more durable is bamboo but then you are stuck with a long pole that cannot collapse when not in use.

Reviewed by Auntie Paula from New Mexico on Sunday, January 8, 2017

I bought a pair of these at least 7 years ago (can't find the original order). I use them one at a time, and I've been pleased and amazed at how well they've held up. I volunteer for several archeology projects that require hiking across rough terrain (steep hillsides, uneven rocky surfaces, boulders, etc.), and, as I'm a little old lady with iffish ankles, even in good hiking boots, I need a pole for stability. These poles have performed like champions: They're strong, easy to adjust, and have good grips. Even though they're well scratched up by now, I expect to continue using them for many more years. The only flaw is that the rubber tips tend to pull off rather easily if they get caught on something, so I've learned to carry a spare (they're readily available from stores like REI). All in all, these are a very good deal for the price.

Verified Buyer

Reviewed by Mrscakes from Florida on Monday, January 2, 2017

Trying to get more exercise in 2017. These walking sticks with make me feel well balanced when I walk. Beautiful vibrant blue with tips for walking on asphalt!

Reviewed by Ironbrewer from Washington on Monday, December 19, 2016

Used these poles twice snowshoeing. Both baskets broke apart. Adjustment works well, everything else ok.

Reviewed by Uncivlized in the PNW from Seattle, WA on Thursday, December 8, 2016

For me trekking poles are not a crucial item like a backpack or sleeping bag. Their purpose and function is very basic, so I'm not willing to spend lots of money just to save a few grams. Unless you need something ultralight and highly-compact, these poles work very well. They're highly adjustable and reasonably durable.

In the five years I've had them the only issue I've ever had is a slightly bent lower shaft of one pole. I got it stuck in a rock crevice and started to slip. When I braced myself awkwardly it bent slightly. It still functions, but won't retract entirely, making it a little difficult to pack. I ordered another pair and now have a spare pole if there's another problem.

Verified Buyer

Reviewed by Maxs from Rockland, MA. and Shirley Mills, ME. on Saturday, December 3, 2016

I love my trekking poles and very easy to adjust the length and anti-shock can be changed very easy for stability going down hill. I love them very much!

Verified Buyer

Reviewed by Casual Hiker from North Carolina on Tuesday, November 15, 2016

I went on a three day hike that included a lot of climbing and descending. I relied heavily on these poles. One of the hiking baskets broke under the heavy use but Mountainsmith is sending me a new set. I am a big guy, 270 lbs. and a 40 lb pack and these poles did great.

Verified Buyer

Reviewed by Steve in Georgia from Athens, GA on Tuesday, November 8, 2016

I need an extra leg since my accident, and these do fine. Grips are well shaped, but not super comfy.

Verified Buyer

Reviewed by Frozen Nothhland from Minneapolis & Grand Portage MN on Thursday, October 13, 2016

I bought these poles to help me on vacation. They were perfect! I had injured my right knee in May.
After consulting with my Ortho Surgeon he confirmed that it was bone on bone due to Osteo Arthritis.
I knew I would want to be walking a lot, and had a good friend tell me how much the trekking poles that he bought
had helped him before knee surgery. I bought the poles to insure I could handle rougher terrain, and keep going.
These were perfect! I can not guarantee that everyone will enjoy the benefits that I got from these, however I would highly recommend a pair of these or other trekking poles, to help anyone walk longer, stronger, and easier if you have any knee problems. These made my long 3-5 mile hikes on rough terrain possible. Really helped on the down hills when I was having the most pain. Get yourself a pair. They will help you get through the long rough trails.