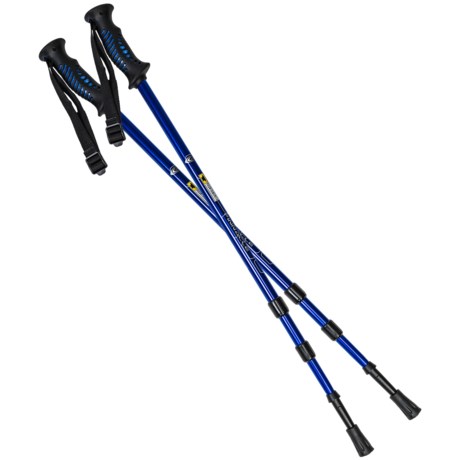 Both poles together weigh 1Lb 5oz. with out the snow baskets or rubber tips. With the tips or baskets on the pair comes to about 1 Lb 9oz.
Note: In freezing weather the snow baskets will become brittle and break.These are great trekking poles for about any conditions.
Alpine

If you've read me review, you'll know that I only have one pole left. Having just weighed it, I got just about 310 grams, or, 11 oz. I removed the straps, (when I fall, I try and get those buggers as far away from me without losing them as I can,) which probably adds another 30 grams or so. All tolled: 340 grams for one, 680 for two, or; 12 oz for one, 1 lb 8 oz for two.

I just put the two poles together on a scale and weighed them at 1 lb. 6 oz. with the baskets.