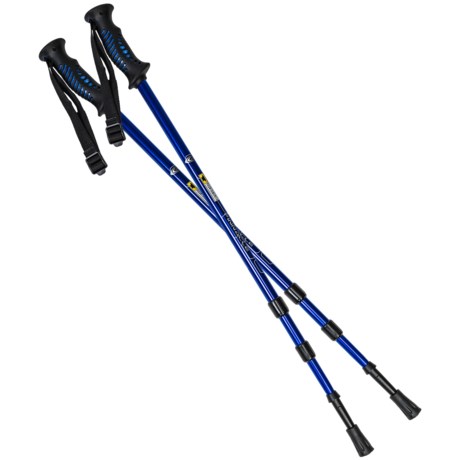 You twist the sections one way to open then the other way to lock.

Extend the poles to the length you desire and "lock in" that length by twisting the pole until secure. When you want to put the poles back to the compact, traveling size- just twist the opposite way, reduce size, and twist again to secure.

They adjust by twisting. There are small arrows on the poles marked open and close. Twist in the open direction to adjust then close to lock. These are best adjusted pre-hike. They can lock in very tight if twisted with a lot of pressure. My husband helped adjust mine and they were locked down pretty tight. I found it hard to readjust them when it was time to come down the mountain. This seems to be their major flaw.

These poles are made in sections-pull the sections down, lowest first then the middle ones one at a time and twist, holding the top part as you twist the bottom untill they're stable-there are gradation marks on the sections so you can set them both at the same point. When you twist turn away from yourself.

not for sure what your specific issue is; Will they not lock or once twisted to lock position, will not unlock? I had trouble with one, but other was easy; see my comments on adjustment. Once I got them where I was happy and locked them, seems that is a "lock" as I could not collaspe them. Good luck!