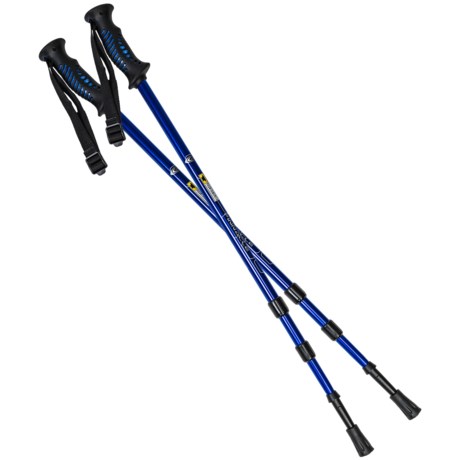 They do the job, however...
Reviewed by Adam from Brooklyn, NY on Tuesday, March 5, 2013
I've owned these poles for a few months now, and have taken them out on several excursions. By and large, these are a pair of entry-level trekking poles that are worth every penny. That said, I was never quite comfy with the grips. I kept having to reposition my hands to avoid rubbing. I don't like the position of the strap, either, and as such, they're in a box somewhere waiting for a purpose. If I fall, I try to throw my poles down trail. No use having another something to puncture my flesh as I tumble.

The anti-shock mechanism does its job well enough. Keep in mind, folks, it's not supposed to be a shock absorber. Rather, it absorbs SOME of the shock of carbon tip meeting rock. You really shouldn't notice much difference between on and off, but it should provide some protection from the reverberation through the pole. Your rubber tips offer about the same protection, if you're willing to replace them often.

Most recently I took them to Harriman State Park, near Bear Mountain in upstate NY. The trails were still largely covered in ice and snowpack. The poles performed fine, but I did feel a bit sketchy in parts, especially downhill. I like being able to feel, in a pinch, that I can rely on a trekking pole to take my full weight for a bit. I just don't feel that confident with these. So, for a sketchier trail with a lot of altitude, I'll stick to my Leki's. But for a nice meander with some hills, perfect.

Note: These poles come only with the dirt baskets. When I contacted Mountainsmith about snow baskets, I got sent a pair for free. YMMV. Besides, they're not that expensive. Oh, and they take the 'pin' style baskets. Apparently they either were, at some point, using the screw-on baskets. I used the snow baskets on this trip.

The anti-shock mechanism is easy enough to use. When you extend and then tighten the locking mechanism between the upper two segments of the pole, you should feel a kind of thump in the locking mechanism along the way. That activates the mechanism. It shouldn't be tight enough, yet. Continue to tighten to lock the pole in place. Now, if you turn it with only some force as if to loosen it, you'll feel that 'thump' again. The anti-shock mechanism is deactivated. It's suggested that the anti-shock mech is for ascents or trails with little elevation. I disagree. Hiking the Catskills, where so many trails seem like steep, rocky creek beds, I feel the anti-shock mechanism helps keep the tip from skittering across bare rock when descending. HYOH.

All-in-all, a good pair of entry-level trekking poles at a price you come to expect from STP.
Similar items and more information in the following areas: