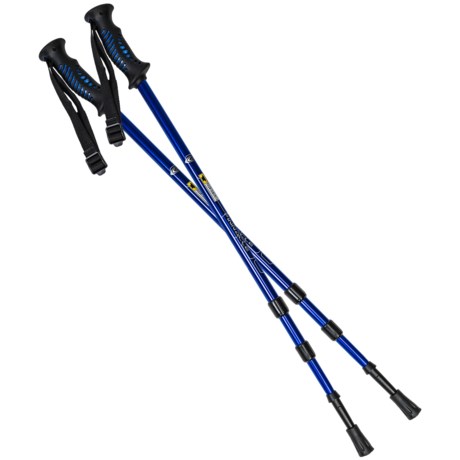 An excellent deal for quality poles
Reviewed by TJ from California on Sunday, October 20, 2013
There are two things I won't shirk on when it comes to gear and that's boots and packs. But there are other items that I think the trade off for function and price makes it smart to 'bargain' shop. These sticks fit that description.

This is my second pair after my first got lodged between a couple of rocks as I took a tumble and snapped. Not the poles fault. These perform like champs and I won't hit a trail without them.

Are they the lightest? No. But come on, is the tiniest bit of extra weight worth digging a lot deeper in to your pocket? Yeah...they have plastic grips but I personally have found them to be just as good as cork grips. I will say that if you have really big hands they can seem a little small but that's going to be an issue with most any pole. Really nothing to mention.

I don't break my poles down or even adjust them for ascents / descents and will only need to readjust them on rare occasions. The tips are solid and really stick to rock but one has worn down to the nub after roughly 90 trail days. But at the price, replacements aren't a big deal and it's not even something I realized until I happened to take a look at them recently.

All in all these have been a great addition to my gear and the PERFECT choice for someone new to hiking with poles.
Similar items and more information in the following areas: