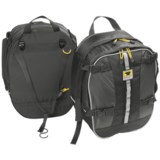 Closeouts. With dual compartments, reflective daisy chains and four compression straps, Mountainsmith's Switchback bike panniers offer low-profile and weather-resistant bike storage for gear, layers and other essentials.
Average Rating based on
11
reviews
3.909090
0
5
Verified Buyer

Reviewed by Matt from Orlando FL on Thursday, May 28, 2015

These are the perfect size for commuting - 1 bag holds a change of clothes, shoes, toiletries, a couple small towels and lunch.

The bottom connection hook doesn't work very well and is too large for my rack (Bontrager tubular), I solved it by putting a small hook under the rack attachment screw and putting the grommet hole over the hook to attach. That works great. Also cut about 7 inches off the side straps and melted the ends with a lighter to keep them from unravelling.

With those tweaks I'm completely happy with these bags.

Verified Buyer

Reviewed by johnwyo from Wyoming on Sunday, October 26, 2014

Just what I wanted for getting back and fourth to work. Plenty of room but small enough. The hooks at the bottom are a hassle and continue to fall off. Finally lost one and just hooked the grommet to the bottom of the Blackburn rack which works fine.

Reviewed by routtrider from west slope Colorado on Thursday, May 8, 2014

The attachment strap is so long I put its grommet onto the bolt at the bottom of the rack then fasten it with a wingnut for quick removal.
I tie the long cinch straps together to prevent them getting into the spokes.
I'm glad my other pair of panniers aren't divided.

Reviewed by Rosamond from Truckee, CA on Tuesday, February 18, 2014

These little bags will hold enough to do some light touring. But they didn't bother to design them with a heel clearance angle on the forward face of the bags, like real panniers have. Consequently, if you have moderate to big sized feet, or long crank arms, you'll have to really lengthen out your rear rack, and place the bags as far back as you possibly can. Not much thought went into designing these. But they're reasonably light, and can hold enough for a lightweight touring setup ( 1 lb sleeping bag, bivy, a few clothes, an 800ml pot, and an alcohol stove ).

Reviewed by Pappa Joe from Kentucky on Wednesday, August 21, 2013

The Mountainsmith panniers are a nice set for the price. Well made, above average in design. If the volume listed will work for you these are the ones to buy. You could spend more and get a somewhat better pannier. These are durable, easy to mount and remove and carry all I need for short self supported touring. Would buy again and very well may do so. Very satisfied custome. As always the order process and quick delivery are exceptional.

Reviewed by Tom from Pittsburgh, PA on Monday, August 5, 2013

Just back from a six-day, 330 mi. trip from DC to Pittsburgh on the C&O Canal Towpath and Great Allegheny Passage. Used these as front panniers on my Specialized Tri-Cross Elite Disc. First, the lower attachment method with the goofy hook is worthless. I replaced the hook with a loop of 1/4" bungee cord and a mini-biner which held tight the entire trip. Great space in each of two sections of each bag. Found myself looking for even a small outside pocket for gels, snacks, drink powder, etc. No biggie, though. The length of the compression straps seems to be too much until you need to strap the night's trash onto the front of the panniers to pack out (there were four of us and I was the garbage truck each morning) and then they're just right. Equally effective and well-spaced to strap on camp shoes. They're not waterproof (not that they claimed to be) but they're not really water resistant, either. They're good enough quality to warrant a couple applications of Seam Sealer and Recoat. That'll help with light rain but not the torrential stuff we rode through on two days just because water will enter through the zippers. Not going to get picky about that for the sale price! Nice material, sturdy enough to handle a few curb crunches and scrapes without showing any real wear. As they empty out, they're easy to tighten down to a much lower profile. Be careful of the long straps, though. Lost half of one to the front axle when I forgot to loop it into a zipper pull. I'm ordering two more pair for my son's bikes.

Reviewed by flowerdog from California on Monday, July 29, 2013

I really liked these, they are big while still narrow enough to allow me to avoid hitting the back of my shoes with my small folding bike. I ended up sending them back though, as they seem more suiting to touring as opposed to just quick jaunts around the city. They were well made and each bag had two nice compartments.

The s-hook attachment was too long for my small wheels, I could jerry-rig them but I decided I preferred a stiffer bag with a clip hook attachment. Also, the compression straps were really long, they made me nervous and the only way I could make them short enough was to loop them around the back way and clip them into their opposite side straps. This made it a project to take them on and off.

Reviewed by Thunder from Pennsylvania on Tuesday, July 23, 2013

These roomy packs work very well on my modest bike (26 inch diameter wheels): strong fabric, long zippers allow convenient access to interior, easy to put on and secure, easy to carry to work. With my bike and rear rack, I had to find shorter "S" hooks in order to secure the bottom of these bags. The bottom of these panniers rested ~2 inches above my wheel hub. Compression straps are nice, but maybe a bit long, especially with a light load. I use several rubber bands to keep the strap ends from flying in the wind.

After two weeks carrying clothes, notebooks and work papers, I am very happy with this purchase.

Reviewed by Irishman 245 from Gunnison, Colorado on Friday, July 12, 2013

These are great. Very similar to having two small day packs for your bike. Two full-height, bright-yellow lined, double-zipped sections. Each can hold a couple 2-liter bottles and some clothes in the main compartment and rain gear or papers in the outer section that also has a small hanging pocket for keys and such on the top. Daisy chains and good compression systems let you strap further things on. Nice, low-key stealth grey, although there is a surprisingly decent reflective footprint from the trim and daisy chain if hit by car lights at night. Old school attachment works good once you figure out how to stretch it around the pannier bar back to the bungee loop, but don't really like the steel s-hooks although that can be easily remedied using mini-biners or steel snaphooks etc. There is a horizontal daisy chain on the wheelside bottom that could help in mounting on a non-pannier specific rack if you get creative with a bungee. Overall, looks more outdoorsy than touristy, like your bike has backpacks, which it does...

Reviewed by Elizabeth in Flagstaff from Northern AZ on Monday, April 29, 2013

While I suspect these won't hold out the monsoonal rains we get, I'm not planning on touring in those (yet) either. Purchased as a set of first time touring panniers for myself, and I'm not disappointed. Certainly a good buy $$ wise, compared to the others out there. They aren't quick release, but I consider that a plus since I plan on leaving them on the bike - and I don't want someone else walking off with them while I'm filling my water bottle. I will be using them also for sending my gear by mule train down the trail into Grand Canyon. All in all... a good bargain for usable portage.