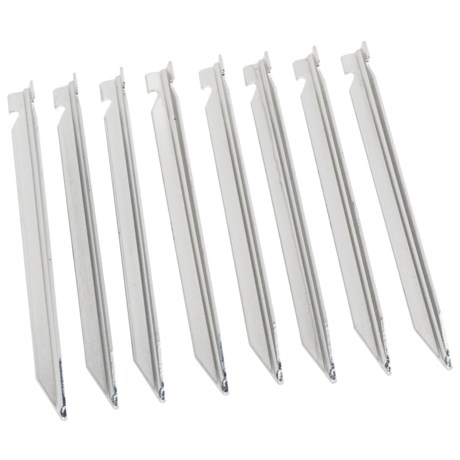 Avoid for high use/hard soils or where you are reliant on a stake.
Reviewed by Beesy from Ohio on Monday, March 23, 2015
My Mountainsmith Morrison 3 came with these as stock stakes so my review is based on use from acquiring them as stock.

Upon getting my Morrison 3 I picked up 4 additional MSR groundhogs (2 regular length and 2 mini) so I could fully stake tent/fly with an extra stake or two. I used these in conjunction with the groundhogs for all 25ish nights this review is based on. The Morrison stakes lasted about a week in Yellowstone before several of them bent or broke. They work well in softer soil. Anything hard pan and they fail fairly quick. I still have 7 of the 10 originals but 2 have the top portion folded over on the bottom. The top sheared clean off 3 rendering them non-useable. I have straightened the shaft on nearly all of them. Forget about pounding them into hard pan with a rock/hammer as they bend quicker than Neo's spoon (except they don't come back to form so easily!). The groundhogs were used in all the same conditions and show nearly no signs of wear except some anodizing missing on the tips and the tops. Several times the Mountainsmith stakes failed I was able to successfully drive a groundhog in without issue. On average they are about 2 grams heavier than a groundhog mini which is one inch shorter and about 3 grams lighter than a regular groundhog that is one inch longer.

Pros:
Inexpensive
Fairly light

Cons:
Not durable
Inconsistent weight/build (9.5-13 gram range over a set)
Bend/break easily

Other thoughts:
Spend a few bucks and rock some groundhogs for a more worry free adventure.
Most helpful positive reviews
Similar items and more information in the following areas: