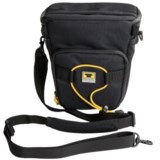 Closeouts. Comfortably protect and transport your digital SLR in Mountainsmith's Zoom camera case. The padded main compartment accommodates kit DSLRs and adds organizer pockets and a detachable rain cover.
Average Rating based on
10
reviews
4.500000
0
5
Verified Buyer

Reviewed by Linnea from SLC, UTAH on Friday, December 18, 2015

I was pleasantly surprised by this product. My DSLR camera and flash fit in nicely (although I have to disconnect the flash). I like the rain cover, too. I've had a Sundog camera case for 20 years and it is my favorite. This one is a good second.

Verified Buyer

Reviewed by frank trout from Cal. on Thursday, December 17, 2015

Bought this case for my new nikon camera it fits well with lens, paced well has shoulder and waist strap, comes with a rain cover but don't know how it will work with the straps on the case

Verified Buyer

Reviewed by Texas Gma from Texas on Wednesday, December 16, 2015

Perfect for the small SLR zoom cameras so popular now. This case has it all! The quality is exceptional, the included rain cover a real bonus. It was MORE than the description offered. Loved the green/red tagged pockets for new SD card or batteries and used/full ones. I would highly recommend this case as a gift for someone else or yourself.

Verified Buyer

Reviewed by Jim from pdx on Friday, November 27, 2015

Mountainsmith is synonymous with Quality

Verified Buyer

Reviewed by Angelfire from Georgia on Wednesday, November 4, 2015

This camera case is made of high quality materials and is very sturdy. I particularly like the strap on top that allows you to pick it up without having to fuss with the shoulder strap. It also comes with a webbing belt so you can strap it around your waist and have the camera easily accessible while hiking. I bought two of these for our cameras, but unfortunately my Nikon D810 will not fit inside. I forgot to consider the viewfinder hump when I was measuring the camera prior to ordering. Smaller DSLRs will fit fine. There is a nice little storage pouch inside the lid. I would recommend cutting off the plastic piece on the zipper pull so it would not inadvertently be pressed into the screen when you close the lid.

Verified Buyer

Reviewed by Tim from St Paul from Minnesota on Saturday, October 24, 2015

Bought one of these a few weeks ago - knowing it should fit my Pentax K20D & 18-55 kit lens. Once it arrived I wasn't disappointed. As a added bonus, it's just big enough to hold the body with my 55-300 kit lens as well - so this purchase is a 2nd bag to keep at the cabin.
The zipper is a bit stiff - but that's only because of the weather-sealing.

Reviewed by Tim from St Paul from St. Paul, Mn on Friday, October 16, 2015

I have a Pentax K5, and it fits with both the FA31 or the 18-55 kit lens attached. Anything longer wouldn't work - but for bodies/lenses of that size they fit just fine. As another reviewer mentioned, the zippers are a little "stiff" - but that's because they're water/dust proof. A great bag when I just want to carry the body & one small lens.
I like it so much, I just ordered another to leave at the cabin - so I have a "day bag" for one body & lens.


Verified Buyer

Reviewed by Pine Cone from Western Washington on Monday, September 21, 2015

Back in the 1980's I traveled a lot with a similar case for my old Olympus OM camera and lenses. Recently got a mirrorless Sony Alpha a6000 with a 55-210mm zoom lens that didn't really fit any of the cases I tried for it. I know from experience that I like to be able to leave the longer zoom lens on the camera when it is in the case. That way you don't miss shots because you don't have to store the camera with no lens or a shorter lens. This case works easily with my 55-210mm lens and would work with a lens that was even longer.

This case fits the camera and larger zoom lens with room left over for a second lens, either another short zoom (18-55mm) or a 20mm or 50mm prime lens. The adjustable divider is a nice feature but what I really like is the built in rain cover for the case. The front pocket has plenty of room for extra batteries, filters, cables, and memory cards.

Verified Buyer

Reviewed by Rob from Oakland, CA on Monday, May 5, 2014

I am biased towards Mountainsmith camera luggage; I used their stuff mountaineering and I found they usually appreciated the needs of outdoor recreationists more than some other camera luggage folks.

This is no exception. The zipper on top is a bit hard to pull, but it seals against dust and moisture. The case comes with it's own raincover for when things really get wet. I has a basic waist strap; very handy for making sure the case doesn't swing off your side when you're bending over taking macro shots. It has lots of sturdy pockets and attachment points, and like all Mountainsmith stuff I've owned it's very rugged and I expect it to hold up quite a while.

I use it with an Olympus OM-D E-M10 with a 14-42mm zoom; that camera is about 4.5"x4.5"x4". It fits with plenty of room; there's a movable divider inside, which I moved a bit to the side and then folder over the top (there's a built-in crease to do this). The camera goes in lens down, and part rests on that fold. Beneath the fold I have room for macro tubes and some filters. I can also get the camera in with my 300mm zoom. It's a bit tougher to carry the zoom off the camera, AND the camera with the 42mm, but it can be done.

I thought at first the shoulder strap might be too thin, but my camera is more lightweight than a DSLR (heh) so that's not a problem, even when I start hanging some junk off it.

Verified Buyer

Reviewed by Anonymous from ny on Friday, May 2, 2014


-- back it went.


Interior dimensions would have helped here in the product listing -- they're out there, people!!