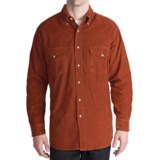 2nds. Crafted of timeless, versatile cotton corduroy, National Outfitters' corduroy shirt is ready to transition from work to play.
Average Rating based on
76
reviews
2.960526
0
5
Verified Buyer

Reviewed by DKLA from Long Beach, CA on Tuesday, May 6, 2014

This was not the shirt that I thought I ordered.
This shirt was soft and nice and very conventional

Reviewed by jp from california on Wednesday, March 12, 2014

Inspector 4 should have caught the obvious defect on this shirt. One sleeve button was missing all together, and two fell off the first day. Almost every button needs to be re-sewn soon. Somebody knew this, because the buttons were originally sewn with brown thread, but one button was nicely stitched on with glaring white thread. The shirt is great comfortable. We got a different one and it was fine. Thanks, Jim Partridge

Reviewed by Lisa from Tennessee on Thursday, February 27, 2014

Nice shirt. Heavier weight. Great fit!

Reviewed by Pez from Seattle on Tuesday, February 25, 2014

This shirt arrived wrinkled like it had been on the floor of a dorm room for a month. I'm afraid when I wash it the wrinkles may get worse. It's very light weight and not all that nice. I bought it for my husband to do yard work in and that's about all it would be good for.

Reviewed by Anonymous from Columbus. GA on Friday, February 21, 2014

I don't know a size was right or wrong because nobody didn't want to put on. It was ugly, way off from what they show on the preview picture.
I bought 3 shirts for young man but even my grandpa didn't like it.
I paid $26, the store recovered money only $13. Sierra is liar. The store makes money on the shipping...
I'll never be buying anything there!

Reviewed by jaughtman from Alabama on Thursday, February 20, 2014

I have a 41" chest and short arms so I ordered the Medium - way too small. I returned it for a Large - OK in the chest, but arms a little long on me. It is a nice heavy casual shirt, the only thing I can nitpick is mine had a small faded spot on it - almost like a small bleach spot, but for $6 I am not returning it.

Reviewed by Chet from Tucson on Thursday, February 6, 2014

I ordered a size medium, the size I wear in all the shirts I own, and it turned out to be so small it doesn't even wrap around my torso all the way or even come close to buttoning. Returning it.

Reviewed by Jah Ken from California on Friday, January 17, 2014

An okay shirt for the price.

Reviewed by Teacher Dick from Massachusetts on Friday, January 17, 2014

Although a well-made and attractive shirt, it was "mis-sized"! Listed as an XL, it was, at best an L (closer to an M)! The shoulders and chest were very narrow, and I could barely get my arms through the sleeves. Disappointing, but if you are a male model of the latest "Twiggy" body image fashion, it would be a great buy.

Reviewed by Ballplayer from New York on Friday, January 10, 2014

This is a good comfortable shirt and great for the price. I ordered one and it was fine. It fit well. Since I liked the shirt so much I ordered another one. The second shirt had shorter sleeves and did not fit me. I sent it back and asked for a replacement. So far, I have not heard from Sierra Trading Post. I believe that i should be getting a replacement shirt soon. I gave Sierra Trading Post my sleeve length so that I could get the right size.

Reviewed by seel21 from new york state on Monday, January 6, 2014

bought 4 x-large, more like large. yellow shirt was paper thin. maroone shirt had a button repaired very badly. would not recommend

Reviewed by David from California on Tuesday, December 31, 2013

ordered large, label says large, size is medium, shows pocket in picture, no pocket on shirt when it came

Reviewed by BIG MAMA from SOUTH ALABAMA on Monday, December 30, 2013

LOVED THEM..ORDERED ONE IN EVERY COLOR. JUST WISH THERE WAS A REDDER RED!

Reviewed by ohsnowfeather from Ohio on Saturday, December 28, 2013

I ordered 4 of these shirts, and so far have to send back one of them due to the length being too short. I ordered a mens large and the length seems to be that of a boys large, either that or the item is simply sewn wrong. I gave these all as gifts and hoping that the other three shirts don't have to be sent back also.

Reviewed by Ranger Griff from Afghanistan on Friday, December 27, 2013

This is a great shirt for the price! Very comfortable and looks great!

Reviewed by Sky Hiker from strumsky@yahoo.com on Thursday, December 26, 2013

Lighter material than I expected, and the cuffs seemed for tiny wrists. Maybe that's one of the reasons these are 2nds, and of course won't matter once I roll the cuffs up. The placement of buttons seemed high, and so needed to use the 6th button way down at the bottom (usually a spare button, but this one had thoughtfully been provided with a convenient hole) (yes, that's given the benefit of my doubt).

Other than that, adequately constructed. And a great value!!

Reviewed by jd.rus89 from Pennsylvania on Friday, December 20, 2013

good shirts

Reviewed by Tom Brennan from Truckee, CA on Friday, December 20, 2013

Way to short and over all small

Reviewed by smitty from ms on Thursday, December 19, 2013

Love these shirts

Reviewed by Been there from Alabama on Wednesday, December 18, 2013

Skimpy size. Nonpuniform color.

Reviewed by Leroy from WV on Tuesday, December 10, 2013

I ordered the shirts men's corduroy. What I received was 1 shirt buttoned for women; another with holes in the sleeves in addition to the ones for the buttons. My comment for anyone buying beware of the product(s) received.

Reviewed by Anonymous from FL on Tuesday, December 10, 2013

Recently, I bought 2 of these in different sizes, but identical colors. Theoretically, they should've been identical, except for the sizes. The XL was a little small for that size, *very* dark blue (unlike the blue shirt pictured), thin fabric, with one pocket which was torn. The 2XL is HUGE, extremely lightweight corduroy, & the blue, again, is much, much darker than the faded "denim" blue pictured. Neither shirt was anything like the style in the picture :-\ Even @ the inexpensive price, they're not worth the effort when you have *so* little idea what you're getting! I paid 30% more than STP is charging now - but feel they should be reduced again, as this is more of a *grab-bag* shirt.

Reviewed by letpeaceprevail from Northern Idaho on Friday, December 6, 2013

These were such a fantastic price, I decided to order them for most of the men in our Pacific Northwest family. We got entirely lucky on one, but there were extreme color variations (e.g. green ranged from forest green to taupe), variations in style (which I found interesting), and size ~ And that is where the problems arose. The large was smaller than the medium, and the XL's all had very short sleeves. And unfortunately, a couple were just downright "defective." I kept two out of eight shirts, though I had to adjust my gift list. So, I would plan on this as a last minute Christmas gift, but if you get a good one, you'll feel like you were really lucky!

Reviewed by Raven from Seattle on Friday, December 6, 2013

I didn't know that seconds mean the shirt can be embroidered with a logo. The collar was also discolored. I hope it comes out in the wash. Shirt was nice, but not corduroy--more of a vertical twill, not fuzzy like corduroy. I like it except for the logo.

Reviewed by Olegis from Michigan on Monday, December 2, 2013

ridiculously cheap, both quality and price-wise! I bought it for 10 bucks and was hoping for at least some kind of wear purpose. Unfortunately did not happen as the sleeves were waaaaayy too short, like on those 3/4 baseball tees, seriously, how the hell it happened??!! More, I bought a green color, and it came as blue-green color, way off from what they show on the preview picture. Plus, corduroy is of the worst quality, doesn't feel soft at all. Avoid this shirt, even if it costs like $5. nothing like the pics provided, weirdly sewn, stupidly short sleeves.

Reviewed by vic from ca on Sunday, December 1, 2013

good fit, good stiching, washed good

Reviewed by Big Den from Brooklyn on Thursday, November 28, 2013

True to fit, very nice and comfortable.

I wish I had bought an extra green one.

Reviewed by sock guy from washington on Thursday, November 28, 2013

i bought 3 shirts as large size. they came marked large but were all different sizes and each were different ranging from having 2 pockets to having none. the shirts themselves are comfortable and since they are for work the size difference does not matter much. i will just roll up the sleeves on one and button the others!!

Reviewed by Raggedy Ann from Texas on Wednesday, November 27, 2013

This is my second corduroy shirt and neither one looks like the picture. I just got the orange one and it has PATCHES on the elbows. The corduroy is not very thick. I will get some wear out of it.

Reviewed by AKM from Virginia on Wednesday, November 27, 2013

I ordered two shirts, Gray & Purple and they arrived on time. However, they're not as I expected. The gray color looks more like light green and the collar was not buttoned down as shown in the sample display. The purple shirt sleeve opening is short and it is tight to fold. Otherwise they fit well.