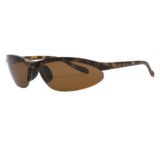 Closeouts. Native Eyewear Dash XR polarized sunglasses protect your eyes from harmful UV rays and glare with their interchangeable Crystal Carbonate lenses and vented Rhyno-Tuff® Air Frame.
Average Rating based on
13
reviews
4.307692
0
5
Reviewed by Windy from Portland Oregon on Wednesday, July 17, 2013

This is my 4th pair of Native Dash sunglasses--4th because I lose them! Argh! I love these glasses because they have a slim profile, and fit my small head very well, I have rarely found a pair of glasses that fits me, and these are great for mountain bike riding, driving, and every day wear. They aren't quite dark enough for water sports, but hey, you can't have everything. It has been really hard to find them, unfortunately, and I think I bought the last 3 pairs...

Reviewed by Bay Area bargain shopper from San Franscisco on Saturday, June 22, 2013

I needed a pair of sunglasses for trip to HI so I tried these. Great lenses, but it takes getting used to the brown tint. I like the interchangeable lenses as the lighter tint works well with overcast and the darker for the bright sunlight especially at the beaches.

Reviewed by Yovo Photo from USA on Tuesday, May 7, 2013

Great light frames and several clear lenses to choose from. I use these for general purpose, but also have used them for trout fishing, where the polarized lenses worked wonderfully to see through the glare.

Reviewed by Kate from Idaho on Sunday, April 14, 2013

Took these glasses on a three day bike ride and loved them. Great coverage for my small face. Two interchangeble lens were great (would have loved a orange color lens; clear and polarized included). No fog when working hard.

Reviewed by Dan the Man from Colorado on Tuesday, March 5, 2013

I saw the same glasses at REI for about twice the price! They have a great fit and are light weight! Lenses are easy to change out.

Reviewed by Mtnhound from Seattle, WA on Thursday, February 14, 2013

I love these shades. I bought my first pair of this model from STP about six or seven years ago. Wore them out until all the lenses were scratched to oblivion after years of doing everything in them. I guide and teach outdoor education, and I wear these for everything work and play.

Lots of changes in these shades over the last 6-7 years, but many of them are good:

Old model had:
--soft case
--4 pairs of lenses (!) (brown, orange, yellow, clear)
--2 pairs of side arms which interchanged, too. (one had a built-in strap)

New model has:
--hard case AND soft ski-goggle-style stuff sack
--2 pairs of lenses (brown and "sport flex": light-yellow-ish/clear-ish transluscent color)
--1 pair side arms, fixed.

I love everything about the new pair (especially that the didn't change the great fit and lens area coverage!), except I miss having a truly clear lens option for night skiing, night cycling, etc. For everything else, the "sport flex" lens is awesome. Really sharpens the contrast and light here in the flat-light PNW for sports, driving, or just improving my mood on a gray winter day. :)

Verified Buyer

Reviewed by Sean from Cincinnati, OH on Thursday, January 17, 2013

These Native Dash XR sunglasses are very nice, light weight, sporty sunglasses. The two sets of lenses allow for use in a variety of conditions. There is no loss of image clarity with these sunglasses. They do feel like they fit quite tightly, and I don't have a very large head.

Verified Buyer

Reviewed by Earth Mother from Colorado Springs, CO on Wednesday, January 2, 2013

These sunglasses are great for casual outdoor play and driving around town even on a somewhat cloudy day when there's still some glare from snow. I like the smaller lense since I'm a smaller person. These sunglasses are good in winter when you are not looking for the dark lense.

Reviewed by pafmarwak from OR on Tuesday, December 25, 2012

I had these sitting in a cup holder in the car and noticed that the lenses were scuffed up. It may have been because of heat from the sun but when I opened the bow it snapped off. I returned the glasses to native. They replace them with a black frame and brown lens pair, which was not what I originally had. I had to pay a S&H fee but they did honor the warranty. Since then the new pair also has a scratch on one of the lenses and I have no clue how it may have happened as I have been careful to keep them in the soft case when not wearing them. I will look for a different brand as I need glasses that will hold up to jogging and running on trails.

Verified Buyer

Reviewed by Mark in Mt. Kisco from Mt. Kisco NY on Monday, December 17, 2012

Have been a Ray Ban wearer for years and recently lost two pair. Saw my brother wearing Native Sunglasses and gave them a try. Every bit as good if not better that Ray Bans and at about half the price with STP great deals!