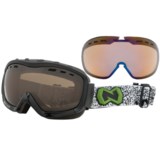 Closeouts. Don't kick yourself because you can't see where you're going. Pull on Native Eyewear's Kicker snowsport goggles and enjoy the glare-reducing clarity of polarized lenses and fog-free vision thanks to outstanding frame and lens ventilation.
Average Rating based on
17
reviews
4.176470
0
5
Reviewed by BMW from Columbus Ohio on Friday, February 28, 2014

The Positives: 1st: Large Double Spherical Frame/Lens goggle lovers will like the "Kicker Model". 2nd: Comes with second lens (one for sunny days and one for cloudy days). 3ed: Comes with helmet expansion strap that's easy to snap on and off. 4th: No fogging issues nor excessive nose pressure issues during my test day skiing. I have a medium/large head with large nostrils and the fit was excellent on me with no unusual nose pressure. 5th: A huge positive is the hard carrying/storage case which looks like a $20.00 value itself. The soft clean cloth bag is also first class.

The Negatives: 1st: If you buy them inspect them very carefully. I've purchased two pair of these and with the STP discount I'm happy with the "Kicker Model". But the first pair shipped to me must have been used a little or someone had tried to change the lens and didn't get installed correctly. It took me some time to realize it wasn't correct but once I did I was able to reinstall the lens correctly. 2nd: the by far biggest negative: Changing the lens isn't easy and it's risky! To much pressure and you risk breaking or cracking the frame or lens. II spent 45 minutes the first time trying to figure-out how to do it including reading the instructions and viewing a photo on the NATIVE website. In both cases it sure looked simple until you have to do it. Ignore the sticker that comes on the goggle that says lift here, that's not how it works. No way is anyone going to change this on the fly while skiing on the mountain. 3nd: Natives dual spherical manufacturing process leaves a tinny hole covered with a tinny white dot which first your eye wants to stare at while wearing. It looks odd but I got use to it and after a few runs my eye no longer focused on it. Finally having bought two pair I can tell you there was a minor inconsistency which would call into question Native's quality control on their high end goggles. I'd spent an hour researching this goggle before buying and the reviews talked about and manufactures photo's showed a more expensive goggle mess "High-permeability mesh snow filter prevent snow from entering the venting system". The first pair came with it but the second pair came with the cheaper standard mess found on all lower cost models.

Reviewed by CycloFemme from TN on Thursday, February 13, 2014

Great goggle for a great price. I like polarized lenses and fog free option. I wear glasses and polarized lenses are one of my main considerations when looking for goggles. Nice touch and all in all great product!

Reviewed by Need Goggles to Fit my Face, Timmy from North Idaho on Monday, January 27, 2014

I've Tried 6 different goggles in the last 3 years (Including a $200+ pair of Smith I/O) Didn't like or keep any of them until I tried these Native Kicker goggles. I liked them so much I not only have my own, but bought several more pairs to sell to friends. I have what I consider to be a Large adult face and these fit me better and are more comfortable than any other goggles I have tried on. The Polarized spherical Lenses Reduce glare, and cut through fog really well. The interchangeable lenses (one bright light and one low light) are awesome. Really nice protective Box too! Over all I am very impressed

Reviewed by Customer Care from oakland, ca on Monday, January 27, 2014

Inexplicably, the thick rubber logo 'N' badges sewn onto the strap prevent the strap from being adequately tightened. Unless you are the elephant man (and there's nothing wrong with that), or plan to wear these over a motorcycle helmet, steer clear.

Reviewed by Chiefhotwater from Colorado Ski Central on Monday, January 20, 2014

These goggles are sweet! Fog resistant and scratch resistant. Includes a real nice goggle box too.

Reviewed by Fitz from Harbor Springs,Michigan on Thursday, January 16, 2014

Best goggles I have ever had.

Reviewed by Way Too Tall from Washington on Monday, January 13, 2014

This is a superior goggle; that it comes with the interchangeable lenses is a pure bonus. I've followed the instructions for swapping out lenses & the process is simple and effective. I'm more than happy with my choice!

Reviewed by catskills wanderer from New York on Thursday, January 2, 2014

Got these the other day. Definitly high quality, foam seems like it'll last longer than others, air holes in foam seem constructed in a way that would stop fogging. Very sturdy, lenses seem well set & constructed of high grade plastic, not atr all flimsy
HOWEVER>>>>
I had read a previous review about how these caused pain due to a tightness in the foam around the nose. I guess I just disregarded it. But when I tried these on - they squeezed my nose causing a sinus pain which started becoming a headach. I tried adjusting the googles, moving them lower on my face so that there would be less pressure, but then they don't fit right. There's no way to wear these without acute pain that you won't get used to. If you have a very small nose then I guess you can consider these, but otherwise....


Reviewed by jomaxal from Michigan on Sunday, December 1, 2013

My son loves them!! Great with the interchangable lens.

Reviewed by AM from Washington on Wednesday, August 21, 2013

Nice pari of goggles. I really like the ability to change lenses. Most of my skiing is night skiing and the clear lense is great.