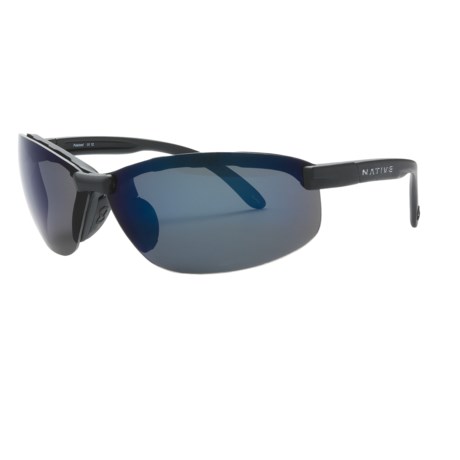 Great wrap around dark sunglasses for large face and head.
Reviewed by RecontraBacan from Salem, Oregon on Friday, October 4, 2013
I review both the brown/amber version as well as the blue reflex. The brown/ambers are great "wrap around" style sunglasses for outdoor sports, skiing, umpiring or any other outdoor activity where glare reduction and contrast enhancement are desired. The brown/amber lenses reduce sunlight as much as the blue reflex lenses, but they don't reduce the contrast and actually make the contrast "pop out" at you. The only downside is that being brown/amber, true color retention is not high. I have these in both the blue reflex which is very dark, but which is great while driving or skiing on bright sunny days, as the true color retention of the blue reflex lenses is awesome (the world looks like a National Geographic photograph through the blue reflex lenses). With the brown/amber lenses, blues and greens aren't so blue and green, but shadows and contrast virtually pop out at you. I use those predominantly to umpire baseball games on sunny days, and they make tracking an 80+ mph pitch in the bright sun easy peazy. I love the color retention of the blue reflex, but don't wear them umpiring, because they are usually too dark because they have no contrast enhancement. The sport-flex replacement lenses are great, have good color retention, work great in overcast and even cloudy skies, and actually enhance contrast under the baseball field lights better than wearing nothing. The sport reflex lenses are also great for night skiing. The frames also wrap around (no stray light comes in from the sides), fit my huge head and face (size 8 head), and stay put when I'm running up the 3rd base line--and usually even after taking a foul to the mask which causes my mask to spin off. The sunglasses usually stay put. I've also used the brown/ambers for skiing on bright overcast days and even in the afternoon when there's shade and the terrain is difficult to see. Switching out lenses is quick and easy, and the lenses stay securely in place. I love both the amber and blue reflex versions of these glasses (and have actually purchased multiple pairs as they've been discontinued). Again, only drawback to amber/brown is the loss of true blue and green (but the contrast "pops"), and the only downside to the blue reflex is that they are very dark and don't enhance contrast (but the colors of the world look great). Best sunglasses I've ever owned.
Most helpful negative reviews
Similar items and more information in the following areas: