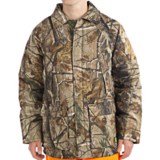 2nds. An excellent value in an insulated hunting jacket, Natural Habitat's camo parka has a snap-off hood, quilted lining and a Realtree® AP camo printed pattern for quiet, warm concealment.
Average Rating based on
24
reviews
4.750000
0
5
Reviewed by Finny from upstate NY on Saturday, January 25, 2014

I like the jacket well made, and would buy it again.the only flaw I found was no bottom draw string.Iam 5'11" 200lbs size Xl is not a snug fit size L would fit snugger it is not the type coat for extra layers.It's warm by it self.STP price and speedy shipping is second to nun. I also got the blaze Org. very happy

Reviewed by JLWalls from Tennessee on Monday, January 20, 2014

This is an excellent outer layer jacket. Plenty of pockets and quiet fabric.
Insulation is perfect as an outer layer.
I would recommend this to any one that needs a warm hunting jacket.

Reviewed by Koda from Buffalo Ny on Monday, January 20, 2014

Great affordable jacket. Good quality for little money. Thought for the price that I'd be getting a light, low quality product but it is very nice.

Reviewed by Anonymous from California on Monday, January 6, 2014

Warm and comfortable. Great buy.

Reviewed by DEE from Georgia on Wednesday, January 1, 2014

I didn't know what to expect when I ordered this coat because I have never bought a coat for $20. I was amazed at the quality and fit. This is one of my favorite camo coats. If you are considering this coat order it now you want be disappointed. I am amazed at some of the deals that Sierra Trading Post has to offer and this is one of them.

Reviewed by Badboy1948 from Ohio on Wednesday, January 1, 2014

I ordered one for myself and liked it so much I bought another one for my son. He also says that it will keep you warm and a little layering could make you sweat unless the temperature is really low. I have used mine in temps of 10-20 degrees and had no problem keeping warm. I would purchase other one anytime.

Reviewed by Upnorth from MN on Tuesday, December 31, 2013

Good sizing and length.

Reviewed by Badboy1948 from Ohio on Saturday, December 28, 2013

Don't let the word "2nds" get in the way of a great product. This was my second purchase of this parka and I love it. One was for me and the other was for my son. He also says this is one warm and comfortable parka. I have been using mine to bow hunt for deer with temps in the low to mid 20 degree range with wind, and it kept me in the stand. I'm still trying to find the reason for "2nds" tag.

Reviewed by Badboy1948 from Ohio on Tuesday, December 24, 2013

This parka was everything I needed and more. It was listed as a 2nd, but I have yet to see why. I ordered a couple more as gifts for Christmas and was more than pleased with price and quality.

Reviewed by Carlee's Grandpa from Carlisle, PA on Monday, December 9, 2013

When I ordered this, I was looking for a mid-weight coat, sort of between a jacket and a winter coat. For the price, I thought it must be just that, so I ordered one. When it came, I was totally surprised at the quality and warmth of this coat, especially given it's low cost for a 'parka'. It is well made, of good material and construction, fine camo, and warm enough by itself for all but very cold weather. I've bought a number of Natural Habitat products from STP, mostly because they were made in Canada (thus likely good quality), and I've not been disappointed in any way. This coat is not made in Canada, but it is quality. I think it's one of the best bargains I ever made. Buy one and you'll be glad you did.