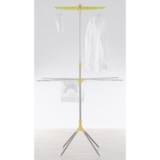 Closeouts. The next best thing to having your own personal laundress, the neatfreak! Smart Pole vertical drying system takes the stress out of "hang dry."
Average Rating based on
11
reviews
4.454545
0
5
Reviewed by HiDesertMom from New Mexico on Tuesday, November 26, 2013

LIKE IT! Folds up when not in use so I can store it in the corner. Lower arms have circumferential clotheslines which hold about a small load of laundry. Only complaint I have is that the lower arms are too low that some longer garments would touch the floor when hung.

Reviewed by ladygardener from VA on Thursday, November 14, 2013

I love this vertical drying piece. Husband assembled & set up with ease. I am especially happy being able to hang my shirts/blouses & whatever with ease. I can lay laundry flat if I want to or take advantage of the ease of hanging laundry like a regular drying rack. I rate this a 4 because of these reasons, the star that's missing is because of the strings. They're more like a clothes line than a regular drying rack causing more of the laundry to have a crease, though the wires are covered with plastic (?). An inexpensive change ( price was right) and does so much more than a regular drying rack.

Reviewed by dms from Colorado on Monday, November 11, 2013

At first I wasn't sure what to think. I put it together (in two seconds) and it just looked a little big. I have a 1000 sq. ft. condo though, mind you. Anyway, I tried it out and quickly fell in love. It's super efficient and can hold up to 55# of laundry on it, easily. I have @ 40-50 pieces hanging on it, in total, right now. I love that it can fold up and be tucked away somewhere fairly discreet, when you're done. Quality is great. Very happy with this purchase. It suits my needs beautifully.

Reviewed by Di from pine on Monday, October 28, 2013

Super value for the cost. easy to assemble and use. Folds to fit in a small closet. Love this solution.

Reviewed by Nicole from Colorado SP from Colorado on Sunday, October 27, 2013

This drying system was very easy to assemble and great for drying a variety of types of clothes. We love how it folds up for storage and the bright colors when extended. It is so fun looking that my five year old and I named it "George the Alien" and he gets excited every time we do laundry!

Reviewed by twoplanker from nh on Tuesday, October 22, 2013

I have used this clothes drying accessory and so far it is all that i could expect. From hanging delicates to jeans, it is a good tool for laundry day.

Reviewed by Squirrley Shirley from South Carolina on Monday, October 21, 2013

I love this drying system! I wasn't expecting it to be as big as it was, but it is perfect! Has room to dry many pieces and hang clothes as they come out of the dryer. Very convenient and affordable! Handy item to have!

Reviewed by SJean from Iowa on Friday, October 18, 2013

This is easy to move around and great for drying shirts. The main dislike I have for this is that the wires are too close together, since I use this for all clothing, including jeans and other heavier materials.

Reviewed by Clair from Indiana on Tuesday, October 15, 2013

This has lots of room and flexibility, too. When fully extended, it's tall enough for long items (fold the clothesline part up out of the way), and the "clothesline" part sticks out pretty far, so it does take up space in the room. But it's easy to fold up and to move. I store mine in a closet when not in use, but it has to collapse down all the way each time. So far it has never fallen over when in use.

Reviewed by Hiking mama from Colorado on Thursday, August 29, 2013

I set this up when needed in my sunroom. There is ample area for my line-dry items. I only wish the plastic weren't so brightly colored because it 'shouts' when folded up in the corner.