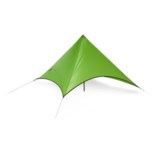 Closeouts. Nemo's Hunker 2P shelter is a minimalist, extremely packable shelter that offers protection from surprise storms. It can be set up as a lean-to or pyramid shelter using a tree and a trekking pole.
Average Rating based on
7
reviews
3.142857
0
5
Reviewed by Steve from CT on Sunday, October 12, 2014

This shelter seems to be well built and of good quality. I purchased this with the expectation that I would use it in the event of an unplanned overnight stay or getting caught in a bad storm for a few hours. While I believe you could easily ride out a storm with this shelter, which is apparently one of it's main purposes, It would not work well for emergency overnight stays though. The dimensions, even though they may be accurate, are very deceiving. You will not lay under this thing without your legs being exposed to the weather. I also found it difficult to set up at an angle that allowed you to look out from one side and keep the rest of it taught (as depicted in the picture). Overall, for the price of this item, I think there are better options.

Verified Buyer

Reviewed by Dr. Dave from Saratoga Springs, NY on Monday, July 14, 2014

I'm a fan of Nemo tents, so was excited to see this ultralightweight shelter at an amazing Sierra Trading Post price. Unfortunately, Nemo should come clean and call this the Hunker 1, because it simply is never going to prove even "minimally" functional for 2 (unless they are unusually small and carrying no gear. Still, as a secondary gear shelter for 2 backpackers with a small tent, or a trailside shelter for one who wants to wait out a passing shower, it should be just fine. The construction is typical Nemo quality, although I haven't used it in the rain yet to test its waterproofness. Had I paid a penny more than my deep-discounted price, I would send it back. At this price, (about $45) it just barely makes it into my tent library.

Reviewed by Chris from NCW on Friday, May 9, 2014

One of the reviews alludes to this as being similar to a large golf umbrella. I would agree with that assessment, but with a much more difficult deployment mechanism than an umbrella. It's well built, but that's not saying much because the constuction is extemely simple. It's too small, way too expensive, and the setup is cumbersome. I would not reccommend this to anybody for any reason.

Reviewed by Bill from Indiana on Friday, December 27, 2013

This tarp is well made and well though out. I'm just not sure what purpose it serves due to its limited size. Obviously its not made to sleep under, but I'm not sure that its really big enough for 2 people to even sit under in a rain storm. It's kind of like a large golf umbrella. Would probably be good to store equipment under, a sort of portable vestibule. Giving it 3 stars for the design and quality though.

Reviewed by Paco the Walker from California on Friday, December 20, 2013

Pretty simple emergency shelter for day hiking in the mountains. I carry along a handful of titanium stakes and some extra tie-out cord and am ready for an unplanned bivy or just sitting out of the wind/rain to have lunch. Not bad for a pound in weight (including my stakes)

Reviewed by Polyoly from Colorado on Tuesday, December 17, 2013

This unit is definitely up to the high standards of Nemo (I've tested or own several of their products). Very well made of top notch materials. The sizing, however, is pretty cramped for any but small folk. With the center pole placement, there's little chance that you could use this as a functional bivy hunker. You CAN set it up with one angled pole, or two poles askew, or adapting your second trek pole to serve as an impromptu "tree" to expand covered footprint, though none of those options provide much relief from the design limitations. Most users (especially larger people) would be better off with a more traditional contingency tarp which uses two trekking poles for support. If you really need to use it as a sudden severe storm shelter, you have to be a Cirque Du Soleil class contortionist to get into the unit set low to the surface (there's really no way to climb in and secure the tarp from the interior). Hope that helps. Cheers.

Reviewed by Sam in Santa Cruz from California on Tuesday, October 8, 2013

Ridiculously lightweight. Would be a great shelter to have to be ready for a heavy rain. Well built. I bought it to use as a tent but it is just not quite big enough to fully protect a 6' guy straight out laying down under a big rain. Great tool to have though to be comfortable in the woods during a storm.