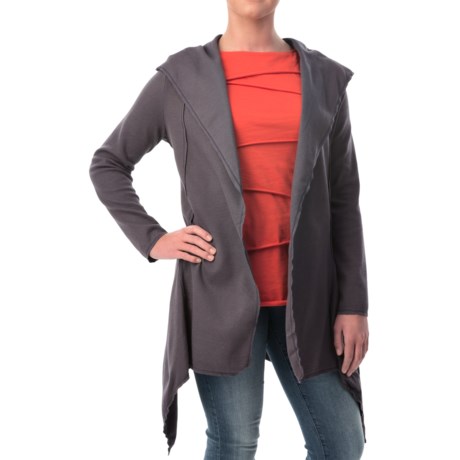 Cute and fun, VERY casual, light, loose fitting layer, not quite the same style as shown...
Verified Buyer
Reviewed by Gloria from Southern California on Friday, November 10, 2017
Not really a sweater in my opinion, this is more like a fairly standard tee shirt material, so it is nice for that extra layer in cool weather, but probably not enough when it is really chilly. I ordered one before the price dropped (darn!) and there weren't any reviews yet; it isn't quite the same as pictured--it has a row of large buttons that fasten with loops along one side rather than down the middle. Another reviewer has mentioned liking it better unfastened, and I agree that it seems much more flattering that way (and for me, I like the large flashy buttons more when they are more of a fun accessory & not the center of attention). I can see why some might not like the very casual appearance of this cardigan--it has that raw unfinished look along the hem and edges and where it is pieced together. I quite like it, although it is probably skewed toward someone younger and trendier than myself, and it isn't something that can be worn everywhere. I thought I had accidentally received the wrong item (or a newer or older version of the pictured item) but I liked it enough to order it again in a couple of other colors--hoping to receive the one shown, with no buttons, but okay with the fact that it might be more of the same...so I now have a muted green ('reclaimed earth' I think it was called, the one I received first) and now cocoa and charcoal grey. There actually is not much difference between the last two colors, so for one of them I probably should have chosen black or maybe even tried one of the brighter colors instead.
There are two different button styles, both are the same diameter, but one style is a bit thicker than the other--a fine grey feathered design on a white background alternating with a larger gold/tan floral design against a cream background. The waffle fabric is soft and very comfortable and easy to wear; it does drape nicely. I would say it is generously sized, I have no trouble fitting a long sleeved tee shirt or bloused underneath, maybe even a light sweater underneath. The overall length is quite long--pretty much the same as it appears on the model. I am 5'4" and when the buttons are not fastened, the panels reach almost to the side of my knees in a kind of waterfall effect. When the buttons are fastened (there is a small inside button to help keep the front aligned, it creates more of a shark bite effect, full coverage to the upper leg and then falling away with the longest tips centered right over my knees and not nearly as much length at the sides. The back is considerably shorter, and does provide complete rear coverage. Often sleeves are much too long for me, but that is not the case here. Overall, I am happy with the quality of the fabric and construction, and living in California, where I need light layers much more often than heavy sweaters and jackets I think I will wear this often. One of these cardigans is destined to stay at work so I will always have something to toss on when the AC is too low (which is most of the time) but don't have to worry about it getting ruined, since my job can get a bit messy and I pretty much wear jeans and tee shirts with sweatshirts most of the time--things I can just toss in the washer. It is early in the morning while I am writing this in my chilly, drafty house, and I'm wearing one of them right now--just the right amount of coziness. Great price now that this is on sale (not worth anywhere near the original retail price, however). I did take off one star because of the buttons--it really does change the entire look & I am sure that they might be a deal breaker for some people. If I had received the same item as pictured, I would say this garment is worth four stars.


Most helpful positive reviews
Most helpful negative reviews
Similar items and more information in the following areas: