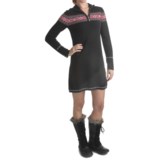 Closeouts. Tailored of ultrafine merino wool to flatter any figure while providing the best comfort nature can offer, Neve's Camilla dress also boasts a neck zip and classic Nordic pattern.
Average Rating based on
6
reviews
4.000000
0
5
Reviewed by teacup from California on Thursday, February 12, 2015

I am 5' 5" , 112lbs, small bones. I do best in HOT weather :-)). These heavier weight dresses have been a lifesaver for me during the unexpected colder weather we have been having here in Dec and Jan even in Feb the mornings heavy with dew and chilly. They are perfect due to their heavier weight; better than turning up the heater. I read all the reviews about these being too short. So I purchased the Charcoal in size XL and figured I could wash in hot water to shrink a bit. Also, I like clothing to fit loosely or it cuts off my circulation so then I get really cold. They looked great with the longer length, which ends up being about 2 inches above the knee. All I have to do is fold back the long sleeves although often I keep them long too so my hands stay warm while my fingers are free. I wear these comfortable, warm dresses with merino wool black leggings and a 100% cotton T-shirt + briefs. The first one looked so good on me that my husband said you better get more. So I bought the Grape and the Black with the red trim too. This is a heavier weight fabric so it is great for around town anything, night or day. There is no see through *ever* like some other brands merino clothing. If it is too windy outside I have a black, boiled wool, sleeveless 100% wool hoodie with pockets to wear with these dresses. Sometimes I add a merino wool scarf although the high zip neck is usually enough.

Reviewed by Beth from Portland OR on Saturday, February 16, 2013

OK. We're going to have to start a forum to laugh about the Neve dresses. (I just wrote a review for a different Neve dress, that Cassandra from Vancouver also reviewed.)

I agree that this one is too short even to wear with leggings. And it wasn't form-fitting enough for me to come up with other inventive ways to wear it.
Last year, I bought a similar Neve item - same zip neck, long sleeves, band across the collarbones - and wear it A LOT. I bought a skirt that matched, and it rocks with tights and boots.
This "dress" just didn't make the cut. I can see that it would be a very nice roomy tunic, but that's not what I was looking for.

Reviewed by Karena from Colorado on Thursday, February 7, 2013

I had to laugh at Cassandra's review -- I agree with everything she said, BUT I am 5'2", so this is a dress that actually fits me! It is mid-thigh on me, and looks fine with tights/leggings and boots. (I am old too, and don't do tight clothes or short dresses.) After buying several Neve sweaters, I still marvel at the soft merino wool they use. I NEVER used to buy wool sweaters because they were so itchy, but I have several Neve.

Reviewed by Cassandra from Vancouver, BC on Friday, February 1, 2013

Neve has great fabric but flawed dress design, as far as I am concerned. This one is too short to be even remotely credible as a dress (especially on me), and the neckline is unflattering whether flipped up or down, zipped or unzipped. That said, I'm keeping it as a long sweater. I have several of the Neve dress that STP carried last year (also too short) and wear them over pants for a tunic look, which is what I will do with this one (even over leggings, it will be a bit vulgar). This one is a slightly lighter knit than last year's dress, which may actually be a good thing as it has long sleeves and I am in the age of having hot flashes! I'll also wear with with a scarf or a cardigan, or under a coat for running errands, and the neckline won't be an issue. Or in the garden - will be a treat for working outside. Seriously.

I am 5'10" and about 160 pounds, and the large fits well with a bit of room at the waist. The XL in Neve is a bit too wide for me, but as I did buy that size in last year's dress, I found I could hand wash the dress and stretch it when wet, and the extra width would transform into length. Still not quite enough, but every bit helps and it's amazing how much the fit can be altered.

All in all, a weird dress that I would recommend to a friend who was looking for a sweater!

Verified Buyer

Reviewed by blue chicken from delaware on Wednesday, January 30, 2013

Very nice looking dress, but pretty short. If you have long legs, beware

Reviewed by Trulyb from Asheville, NC on Wednesday, January 23, 2013

This dress was a splurge but one well worth it. The quality of the construction and soft, stretchy, now-itchy merino wool, good color selections (I got the purple base color), all add up to a lovely dress I expect to enjoy for years to come. Like other fine wool pieces, it does require dry cleaning or hand washing and drying flat, but again, I think it's worth it. The M is a nice snug fit, though in some other dresses I nee the large to be comfortable. The thick knit construction covers some figure flwas despite the tight fit.