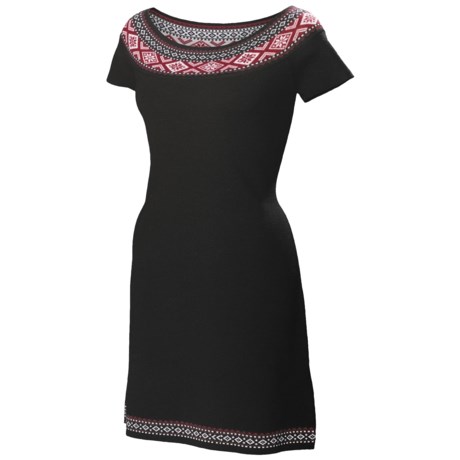 It's a boatneck, alright...
Verified Buyer
Reviewed by Cassandra from Vancouver, BC on Monday, February 4, 2013
Neve just can't get dresses quite right. It's a shame because the fabric is so wonderful that you just WANT to be dressed in it from head to toe all the time; it's like wearing a cozy blanket. Since the designs are so odd, you buy it for the fabric and then you make adjustments in order to wear it.

As far as I can tell, all Neve dresses are too short - they are not dresses but either tunics or long sweaters, even for short people (and I'm tall). Mind you, if you buy too big you can stretch them in length when you wash them, but that has unpredictable results.

Neve also can't do necklines. Either they're ugly, or they're just "huh?" I mean, you buy a wool dress to be warm. This neckline is both wide and low at the back so warmth is out of the question unless you wear a shawl. Again the fabric is so nice that I do that - shawl or scarf. I will admit the whole thing is handy for hot flashes. But if you have hot flashes, you're definitely too old to wear a dress this short.

This dress is very similar to the Neve dress that STP was selling last year, of which I bought 5 - yes, 5! I wear them over pants, and enjoy them so much I wear one almost every day for part of the winter - with a cardigan, arm warmers, and/or a scarf. I've also worn them with a Red Ram (Callida or Medima would also work) long sleeve underlayer shirt.

This dress is slightly thinner fabric than last year's model, but still a substantial enough fabric that lumps are a bit smoothed. There is a bit more of a sleeve but they are tighter, and the boat neck is wider. I welcome the "more sleeve" part but because the sleeve is so tight, it's not possible to pull the neckline in a bit. So it's wide. Like a boat. The Queen Mary maybe.

And the funny thing is, the whole thing is quite flattering. Nice line through the waist and the impractical neckline is flattering. So, go figure.

I am 5'10" and 165ish pounds, broad in the shoulders, and a large fits perfectly.
Most helpful negative reviews
Similar items and more information in the following areas: