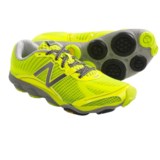 Closeouts. The beginner's minimalist shoe, New Balance's Minimus 1010 running shoes feature a 4mm drop, a touch of cushion and road-gripping outsole with stabilizing Vibram® pods.
Average Rating based on
8
reviews
2.625000
0
5
Verified Buyer

Reviewed by RJVal from New York City on Monday, May 4, 2015

Light shoe with great stability. I like over my Merrell's.

Verified Buyer

Reviewed by Tommy from Michigan on Monday, April 6, 2015

These are great shoes! First pair of NB I've owned. They are lightweight and very comfortable! Would recommend to everyone.

Reviewed by snarg from montana on Wednesday, November 12, 2014

the pads being in strange places make these shoes uncomfortable to use on the pavement. When I use them off roads they fill up with sand in between the mesh and the foam. They are nice and light and breathable - but it comes at a price.

Reviewed by Jon from Michigan on Tuesday, October 28, 2014

I have purchased several pairs of new balance minamus shoes over the past few years and these are the worst. I bought two pairs of these and the pads in the front of both have torn after less than a weeks use.

Reviewed by Jon from Michigan on Thursday, October 16, 2014

I had the same thing happen as a previous person who wrote a review. On the first day I wore my new shoes, I was in the middle of a workout when I noticed that one of the black pads on the front of the shoes was falling off. I couldn't continue with my workout as is, so i decided to rip the pad off. The shoe works fine otherwise.

Reviewed by Midwest rambler from Missouri on Wednesday, October 1, 2014

I've been a die-hard New Balance fan since 2004 but these shoes have forced me to question it. I think New balance got it right with their original "Minimus" shoe but then in attempts to cut weight of an already ridiculously lightweight shoe they came up with this train wreck.

the placements of the rubber pads in "high wear" areas are not very good and for a road shoe it feels "luggy".

The entire heel of the shoe is a type of thick (yet airy foam) but unfortunately it started shifting within a couple of weeks of wearing the shoe... and that is with me untying and loosening the shoe up every time. Not simply trying to force it on.

The tongue of the shoe is not attached on the sides like some of their other style of shoes and this one does not stay centered at all and regularly throughout the day it shifts and bunches up along the side of my foot. This is literally the only pair of shoes that I have worn in a long time that this regularly happens with.

Also, the rubber pads on the bottoms separated from the foam sole very quickly (within 8 weeks) and that was with simple day-to-day wear.

Aside from that, I don't know how else to describe the shoe other than that it has a terrible fit. I have the 1010 Trail and they are a smooth, comfy shoe, and I have the minimus shoes and they are all smooth and comfy, yet this one just fits poorly through the heel and the midfoot.

In summation, I feel like New Balance must have been sabotaged from the inside because it seems to me that this shoe was designed to suck. I feel like it was poorly designed, poorly constructed and if a person wore these for a month, they would begin experiencing problems.



Verified Buyer

Reviewed by Christy from Texas on Monday, June 9, 2014

Good comfortable fit. Wore them all day the first day without any problems.

Reviewed by Roger multisport from Norway on Friday, May 30, 2014

Had this shoe on for a indoor workout, noticed after 30 min that somthing was not right with the sole on the left shoe. Continued for another 10 min, then I did a visual inspection of the shoe- The black pads part of the sole had come loose on four diffrent places. The other shoe was fine, probalry a manufaturing issue but still was expecting better quality from New Balance. Will try to RMA.