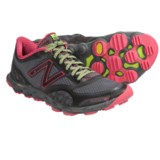 Closeouts. Ultralight and highly flexible, New Balance's Minimus 1010 trail running shoes take your trail experiences to maximum overdrive. These minimalistic, neutral shoes feature a grippy Vibram® outsole, a REVlite cushioning and a protective Rock Stop® rock plate, yet still give enhanced ground feel and control.
Average Rating based on
39
reviews
4.076923
0
5
Verified Buyer

Reviewed by DogMomma from Cape Cod on Wednesday, June 4, 2014

Nice trail walking shoe. Comfortable right out of the box

Reviewed by aligaterr from Virginia on Wednesday, March 12, 2014

Sizing: I thought I could get away with a 9.5 in these shoes but my toes on one foot kept rubbing against the edge of the toebox. A 10 is a perfect fit. I usually wear a 9.5 or 10 depending on the brand of shoe. I should have known better as I usually have to get a 10 in athletic shoes.

The soles are very grippy and are great for running, especially on slippy surfaces. I like that they have a bit more cushioning than some other more minimal shoes. For crossfit they fit the bill with a balance for doing indoor movements combined with running.

I like the look of them. I usually double knot the shoelaces as they tend to come undone - not right away, but definitely after some workout.


Reviewed by aligaterr from Virginia on Wednesday, February 26, 2014

I originally bought these in a 9.5 but after wearing them a couple of times realized my toe was hitting the end of the toebox and it was ANNOYING, so I got a pair of 10's. I love these. I use them for crossfit. They are great minimal shoes for the things I do in crossfit and very comfortable for me for running. I used to use a 1 or 2 mm less minimal shoe but I like these better for running as they give just the slight added cushioning that I need. I'm not an Inov8 fan as they are too narrow, but these fit the bill perfectly.


Reviewed by Jen the CrossFitter from Idaho on Monday, January 6, 2014

I was looking for a versatile shoe that I would mostly use for crossfit. Turns out, that's all I have used them for going 4-5 days/week for about an hour each day. The workouts include a lot of running, FYI. After only 2 months one of the "bubbles" on the sole tore off so it catches on things now, which can be pretty scary while doing box jumps! I'm currently looking for a new minimus shoe for crossfit, and yes, I am still wearing these with a little glue on the sole because I still love 'em.

Reviewed by Melomom from Georgia on Wednesday, November 20, 2013

I am relatively new to wearing a minimalist shoe but these have made me a convert. The shoes are extremely light and comfortable, and while it took a few days to get used to the style (versus my traditional running shoes), they now feel great and I haven't experienced any foot or leg pain. Plus I love the bright colors!


Reviewed by cateb from connecticut on Wednesday, November 6, 2013

I never had a NB shoe that wasn't true to size, but these were too small by 1/2 size. I know they're meant to be form-fitting, but I still don't want my toes touching the end. Also they have so little support that my feet roll inward toward my arches with them, even though I don't normally have unbalanced feet. They're going back.

Reviewed by aligaterr from Virginia on Wednesday, November 6, 2013

I was looking for a shoe to start running in but wanted something with a little more sole than my NB minimus that I use for crossfit. These fit the bill. They are really comfortable, but with just enough more "shoe" than my other minimus. I ordered a 9.5 and usually wear a 9.5 or 10 and these are a perfect fit.

Reviewed by Las Vegas Sal from Las Vegas on Tuesday, November 5, 2013

I love these shoes! I have never tried a Minimalist shoe before, and I don't think I will ever go back to the traditional style anymore! They are so light and comfortable, it felt like I was barefoot. I have back and hip issues and I had very little pain if any while wearing these shoes! I usually suffer! The New Balance style is much nicer than the other makes, so I am hoping they will have other colors to buy in the future!

Reviewed by Sadie Lady from Minnesota on Tuesday, October 15, 2013

Terrible quality fabric and construction. I bought these shoes for my 6th grader for the beginning of the school year. She didn't actually start wearing them until sept 3rd and now it's not even been two months and she's got a huge rip on both sides of the inner shoe area just a bit above the arch and more toward the toe tip. I was so bummed when I realized they were already ripping!

Cute shoe and I was actually thinking of ordering myself a pair until I realized that they are not of good quality.

Reviewed by frankie from Montana on Monday, September 30, 2013

I purchased these trail running shoes primarily to use in the gym and they've worked out really well for everything I do (elliptical trainer, treadmill, weights). I'm not sure I'd select a minimalist shoe type like this for the kind of rocky/rooty/unfinished trails we have in Montana, but that's just my personal preference. These are great looking shoes, very lightweight and comfortable out of the box, great in hot weather. I highly recommend!