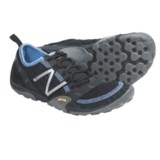 Closeouts. Designed to be worn without socks, New Balance's MT10 Minimus trail running shoes provide a superlight, super-low profile that keeps you fully grounded without compromising traction, cushion and form.
Average Rating based on
28
reviews
4.392857
0
5
Verified Buyer

Reviewed by DavesDee from California coast on Sunday, July 27, 2014

As the name suggests, the Minimus is like wearing nothing. BTW, I am not a runner.

I walk approximately 4 to 5 miles a day on uneven surfaces and trails, as a required part of my job. (I walk dogs almost every day.)

The soles are fairly thin, you will feel pebbles, etc. I have hammertoes and these shoes reduce the discomfort I feel in the top end of my toes and foot. The body of the shoe is mesh.


This is my third purchase; size does tend to run small by about a half.

Thank you.


Reviewed by PuddleSpasherPDX from Oregon on Thursday, March 6, 2014

I have a pair of barefoot Merrells and love them so when I saw these I thought they'd be a great addition to my wardrobe, they are indeed! I wear these shoes for Jazzercise and really like them. I usually wear them with light socks as I prefer just a little more moisture wicking and padding. I also got a chance to wear them hiking on vacation this winter and they were great for hiking volcanic terrain as you can feel the ground under you, without being uncomfortable. I usually wear a 9 - 9 1/2 and the 9 works well for me in these shoes. While a little snug at first, they do stretch and form to your foot as you wear them. – A great shoe!

Reviewed by ok from va on Thursday, December 26, 2013

these are great looking shoes. they are comfortable and there's room for an arch support for long hikes or walks. I'm looking forward to wearing them at work too. they will be great for travel because of their light weight

Reviewed by Mini Minimus from Knoxville, TN on Sunday, July 28, 2013

I bought a pair of these a few months ago for walking and jogging home and on the road w/o socks. I always had used regular running shoes, but they seemed very confining, cumbersome, and heavy, and socks were required. I loved the these at first wearing. I bring them everywhere. I love the way my foot strikes the ground in them, and as yoga person, them enable me to use my toes more in both walking and jogging. I love feeling the ground under my feet. I am a women's 6 in regular shoes and usually wear a 6.5 in NB. I ordered the 6.5 and kept it, but it is almost too small.

Reviewed by Mary Beth from NM on Saturday, July 6, 2013

Even though I ordered a wide, the strap across the widest part of the food was too tight. This was my first pair of minimalists so I was disappointed that the design was so restrictive.

Reviewed by me from midwest on Friday, June 21, 2013

These are extremely comfortable shoes and offer good support. I am on my feet all day long and these are perfect! They seemed a bit snug at first but now fit quite comfortably. I would most likely purchase another pair in the future. The only negative thing I have found is the tread seems to wear very quickly, as I have had these shoes for a few weeks and the tread has worn off to a smooth texture so they do not grip as well. One would think they would make a sturdier tread since these were designed for trailing running. If I had used them for that I fear there would be no tread left at all with in a month!

Reviewed by Foysrus from Morganton, NC on Sunday, June 2, 2013

These shoes were recommended by a friend. They are great shoes!!!

Reviewed by Michelle from Baltimore on Tuesday, May 28, 2013

I bought these shoes to introduce my feet to minimalist shoes, although I am not currently a runner. I bought them primarily for casual wear. They do have an interesting look, but they aren't bizarre enough to call attention to themselves, so from an aesthetic perspective they suit me just fine. The toe box is quite wide, as New Balance shoes are apt to be, so I have plenty of room to spread my toes out for balance. I have worn them with very thin socks and with no socks, and they're very light and comfortable. They do take some getting used to, as there is virtually no support, but after having worn them for 3-5 hours at a time about five times in the course of a couple of weeks, I'm adjusted now and quite like them. They run true to size, perhaps a hair small (half size at most).

Reviewed by CubsFan13 from Nebraska on Sunday, May 19, 2013

I bought the shoes primarily for walking. I have found them very comfortable and haven't had any trouble adjusting to them. I also discovered they're great workout shoes at the gym especially if you do a lot of balance exercises. My only complaint is that they don't seem very well made and think I'll be having to purchase another pair in a few months.

Reviewed by Love to Run from Chicago on Friday, May 3, 2013

These are great trail running shoes for rough terrain. The transition to concrete or road isn't as smooth but the flexibility and grip of the shoe shaved seconds off my time.