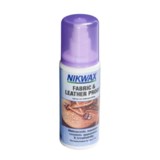 Closeouts. Nikwax' Fabric and Leather spray-on waterproofing helps protect, maintain and improve the performance of all your synthetic and leather footwear.
Average Rating based on
16
reviews
4.687500
0
5
Verified Buyer

Reviewed by Ed in IT from Dublin on Monday, January 11, 2016

I used this for my family's boots and gloves before ski/snowboarding. It seals leather and fabric. One bottle lasts for a long time. I bought a second an after 2 seasons. It's great!

Verified Buyer

Reviewed by veganVenus from New Jersey on Thursday, October 8, 2015

This really works for waterproofing canvas and fabric shoes. It has no odor, dries quickly, and works well.

Verified Buyer

Reviewed by Hans from New London, CT on Wednesday, April 29, 2015

I treated the hiking boots of everyone in my family and it paid off. Everyone's feet stayed dry in all kinds of conditions. My son even walked right through a stream with the water running over the boots ( I know, not a good decision) and his feet stayed dry. Use it and keep your feet dry.

Verified Buyer

Reviewed by RebW from Kentucky on Sunday, March 15, 2015

It is just a liquid spray which doesn't seem to coat the leather as much as soak the leather. And, I noticed that it left spots when the leather became wet.

Verified Buyer

Reviewed by doc from Canon City, co on Wednesday, February 4, 2015

I have used this product to renew my rain coat, my waterproofing on my backpacking boots, and my hiking gloves. Obviously it last longer on items that are not used as often or heavily, (i.e., gloves and rain coat). I use it on my hiking boots twice a year just as a maintenance program and this has extended the life of my expensive backpacking and day hiking boots by over a year so far. I hike an average of 20-30 miles a week and my boots take a real beating in the rocky terrain of Colorado. This product helps keep my feet dry when used correctly. I would recommend it anyone, even if you have Gore-Tex lines boots. I have found that even they will leak around the seams and joints eventually.

Verified Buyer

Reviewed by Rob Davis from Chicago on Saturday, January 24, 2015

Works great with eVent & gore-Tex footwear. Spray on is much better to equally apply. I don't find the odor to be off putting just be sure to let air dry prior to first use.

Verified Buyer

Reviewed by veganVenus from New Jersey on Wednesday, January 14, 2015

I love that this is less toxic than other similar products and works very well. I have used it on combination fabric and gore-tex shoes as well as canvas sneakers. It works well on both!

Verified Buyer

Reviewed by The Traveling Dad from Ohio on Friday, December 12, 2014

I grabbed some of this Nikwax Fabric and Leatherproof Spray-On Waterproofing to bolster my hiking and work boots' waterproofing capacity as the winter months loom. The instructions are simple - clean off the boots, spray the wet boots, let them dry...and go play. And your feet stay dry.

Hopefully, this (and a pair of gaiters) will turn my hikers into snowshoeing boots. That's the goal...now we just wait for the snow and see if the theory works in reality.

Verified Buyer

Reviewed by east coast cali from California/NYC on Monday, November 17, 2014

I haven't had the chance to tramp through the snow in these yet, so the jury's still out on that. But, giving this spray five stars for not altering the appearance or texture of the black synthetic leather boots I applied it to. They're still soft and flexible. As long as you dab up any drops or heavy pools that happen as you apply the spray, your boots should be just fine.

Reviewed by Frugile Buyer from Minnesota on Monday, March 10, 2014

This items is a must if you want your boots to last for any length of time and look good at the same time. My daugthers have at least six pair of leather fashion boots and winter boots. With light cleaning and regular applications of the Nikwax Fabric Waterproofing, they still look great.