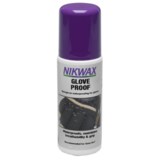 Closeouts. Treat your gloves with Nikwax glove proof and enjoy the benefits of non-toxic waterproof protection without sacrificing breathability and grip.
Average Rating based on
21
reviews
4.523809
0
5
Verified Buyer

Reviewed by Matt C from New Jersey on Tuesday, January 3, 2017

Hard to put on a glove or mitten and didn't notice any improvement in the waterproofing. Stick with the sprays.

Verified Buyer

Reviewed by leoskypilot from Ca on Wednesday, December 14, 2016

Nikwax makes good products and being on sale is great

Verified Buyer

Reviewed by Hiking for Christ from Oregon on Saturday, November 19, 2016

The five-star rating is for how well the product does its job, and for what it is supposed to do it makes true on its promise. After spending time applying the waterproofing and letting it dry for two full days, I put on the gloves and put my hands under running water and the water beaded off like one would expect. That is the amazing reason for the five-star rating!

You should know, however, that it takes patience and tenacity to cover the gloves as the instructions say. But if you are willing to spend the time then you will be happy with your investment. After purchasing very nice Gore-Tex gloves ($109) I was a little frustrated to find that by the end of the day on the mountain my gloves were almost soaked through and my hands were freezing. But after spending quality time applying this waterproofing I am certain that the days of my wet and cold hands on the mountain are behind me.

Verified Buyer

Reviewed by SkiSteve from Colorado on Monday, October 17, 2016

I ski frequently and wet gloves are a problem. When I use glove proof heavily on the entire exterior surface of my gloves, the insides stay dry, even on the palm. I reapply every 20 days of use, or before any airline ski trip (worried about TSA folks thinking its flammable - it's not).

Verified Buyer

Reviewed by Laughter from Missouri on Saturday, June 18, 2016

Using this on deerskin gloves, seems to work well, not enough exposure to wet yet to know how longer-term exposure will work

Verified Buyer

Reviewed by The Commander from Virginia on Friday, February 6, 2015

Works great on most any glove. Use it for my ski gloves and mittens and it has preformed well

Reviewed by Steve from Denver, CO on Sunday, January 4, 2015

I bought gloves for my kids and ran them under the water to test if they would repel water and they soaked it in like a sponge. So, I purchased this glove treatment and ran the gloves under water and the water beaded up and ran off the gloves. It is fantastic! Still have to test skiing, but if running water is repelled, I am counting on snow not being a problem.

I attached a pic of the water beaded up on the glove.

Reviewed by Dirn63 from arlington, TX on Sunday, March 2, 2014

Just returned from ski trip in Park City, Utah. Snowed and rained at same time couple of days. The snow was very heavy and wet, but my gloves stayed dry inside. Great product, as are all Nikwax products I use.

Reviewed by Dave from Midwest on Friday, July 19, 2013

Great for waterproofing gloves. May work as a seam sealer for other gear in a pinch.

Reviewed by Kairos from MIllmnt, PA on Wednesday, June 12, 2013

I (easily) applied this waterproof product on my gloves and it is wonderful. I plan to use it on other outdoor-in-the-mud things!