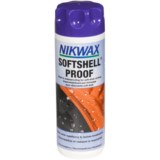 Closeouts. Wake up your favorite soft shell jackets and vests with a trip through the washing machine using Nikwax' wash-in soft shell proof waterproofing. Easy to use formula adds water repellency and restores breathability to soft shell garments.
Questions about this product? Get answers from community and staff experts.
Question
(10 Questions)
Answer
(10 Answers)
"Can this product be used in a front-loading high-efficiency washing machine?"

We have an LG H-E front loader following the Nikwax use directions the product has worked very well for us. Prior to our front loader it worked equally well in our top loader. We also use/used liquid clothes detergent in both washer types when we do normal clothes washing so it would stand to reason Nikwax would work in a front loader as well as a top loader. You also may want to use regular Nikwax garment wash first then use the soft shell proof waterproofing

> That said you may want to contact your washer manufacturer prior to using it to ensure your washer can utilize Nikwax without harm to washer or clothing.

This should work in most washing machines.

"Can you apply this product by applying with a spray bottle and let dry or is it necessary to wash the garment in a washer? Will there be any residual material left in the washer or any coating on the washer drum when using this product?"

This item is not designed to be sprayed on.

"Would this product work to properly waterproof a windbreaker with a 100% cotton shell and 100% polyester lining? "

This should work for any soft shell.

"Would this work on a polyester fabric?"

Yes, most soft shells are polyester or nylon.

"What NIKWAX product do you recommend for a pair of Columbia Zip Off Pants that are 100% Nylon? Heading into the wilderness for a week long canoe trip this spring and will be expecting some rain."

I think the, Nikwax Wash-In Soft Shell Proof Waterproofing Item #71082, would fit your needs. Also you may want to consider bringing a bottle of Nikwax Fabric and Leatherproof Spray-On Waterproofing Item #1831P along for the trip.

"Would this product be an appropriate one to add water proofing to a Carhartt jacket (100% cotton)? Or is there something more appropriate? Carhartt jackets have a slight water resistance to them but it's just not cutting it. After a few minutes of light rain or snow it just soaks right in."

"what is 10floz in metric. ie ml"

!0 fl oz converts to 300ml.

"I have a 'fashion' type raincoat, unlined, lightweight, crisp nylon. Is this product appropriate for it?"

I would not recommend the "soft shell" wash for a "hard shell" garment like a rain coat. I would recommend NikWak T.X Direct for hard shell jackets. I hope this helps.

"What is the difference between Item #71082 Nikwax Wash-In Soft Shell Proof Waterproofing and Item #71037 Nikwax Wash-In TX. Direct Waterproofing? They both add or strengthen waterproofing ability of the washed garment? Thanks."

Item 71028 Nikwax Wash-In Soft Shell Proof Waterproofing is recommended for All soft-shell fabrics and clothing (for garments with wicking liners use Nikwax Softshell Proof Spray-On)|Gore Windstopper, Windbloc, Schoeller and Polartec soft-shell fabrics according to the NikWax web site.||The 71037 Nikwax Wash-In TX. Direct Waterproofing is recommended for Clothing with drop liners |Microporous coatings |Gore-Tex |Sympatex |eVENT |Tripple-Point Ceramic |Microfibre fabrics |Breathable laminates |http://www.nikwax.com/en-gb/products/productdetail.php?productid=3

"Does this product contain UV inhibitors? IS it safe to use on huntin clothes?"

This product does not contain UV inhibitors, but it should be safe for use on any washable outerwear. They also sell a spray-on version of this item for clothing you do not wish to wash.