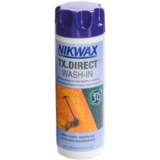 Closeouts. If your wet weather gear is starting to lose its prowess, it's time to treat it with Nikwax wash-in TX direct waterproofing. Just one washing with the treatment added will revive your garments' breathability and add water repellency.
Questions about this product? Get answers from community and staff experts.
Question
(10 Questions)
Answer
(13 Answers)
"What is the expiration date. "

If there is one, it would be on the label. I used my whole bottle in one season. We he lots of ski wear. Love this product.

There was not an expiration date on the bottle that I could find.

"The product is offered in blue or green color. Does this mean that they are for that color of a garment? Or is this to differentiate product. Can I use these on any color of clothing? "

The blue one (actually it's purple ) is wash - in waterproofing for any type of wet weather fabrics (such as Gortex...)
Whereas the green one is a wash-in cleaner for down filled items (it helps to restore insulation & water repellency.)

Yes. You can use this product on ANY COLOR of clothing. I put many colors in the washer @ the same time with color catchers, being mindful of darks with darks of course. This is the best product I've ever used. And I've tried them all. It is for cleaning water proof type clothing w/o breaking down waterproofing properties. It resets it is the best way I can describe it. Dryer is essential too. Color of cap defines different product. I am very fond of TX Direct. Have also used Polar Wash & Tech Wash. Read the product descriptions carefully. Each has a different application. All are not for waterproofing. Hope that helps!

Just labeling, as far as I can figure out. I think TX is blue, Nikwax for washing is green. That's as much as I can recall without running down to my washing machine! I love these products.

"Can this be used to re-waterproof the fly for my Kelty tent? If not, what NikWax would you recommend?"

I would not recommend this. You would want Nikwax Tent and gear Solar Proof Spray-on waterproofing and UV blocker for all weatherproof textiles including tents, awnings, marquees, rucksacks, panniers and camera bags. Item #5214U.

"Can this be used just in a sink or wash tube, without the washing machine. If so, where do I find the directions."

You would just follow the instructions like you were going to put it into a washer.

"Would this product be good for horse turnout blankets?"

If the turnout blanket is made of a synthetic fabric such as nylon or polyester it could work since this is the fabrics used with most waterproof outerwear.

"wondering what is the difference between this product and the nikwax washin waterproofing tech wash?"

*Tech Wash removes residue left by detergents so that waterproofing agents such as Nikwax® TX Direct will work more effectively||*Tech Wash cleans and revitalizes breathability and water repellency||*TX.Direct wash-in waterproofing restores the water-repellent finish

"Will this work for a simple nylon windbreaker which was not rain-proof or coated to begin with?"

It wont make your windbreaker completely waterproof, but it will help make it more water-resistant.

"Roughly how much is this 10oz. amount good for? For approx. 1 ski jacket or 1 pair of ski pants? Or enough for more than just 1 application to 1 item?"

The 10oz (1 bottle) is good for a maximum of 3 garments

"can this be used on an OldNavy rain slicker that is no longer waterproof?"

Absolutely! Be sure and follow the instructions and you should be fine.

"can i us this in he washing machines"

Yes, you can use this wash-in waterproofing treatment in a washing machine.