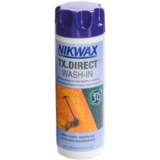 Closeouts. If your wet weather gear is starting to lose its prowess, it's time to treat it with Nikwax wash-in TX direct waterproofing. Just one washing with the treatment added will revive your garments' breathability and add water repellency.
Average Rating based on
60
reviews
4.350000
0
5
Verified Buyer

Reviewed by greydog from Spokane on Friday, April 29, 2016

Easy to use, have done many shells

Verified Buyer

Reviewed by Ryan from Draper, Utah on Wednesday, March 30, 2016

One bottle of the TX Direct is supposed to be good for three garments. So I washed two tired shell jackets (one Marmot Precip and one Solstice Microshed) and a pair of tired shell pants (Cloudveil) in it. While quite happy with the cleaning ability (both jackets had their fair share of dirt and vegetation stains, all of which went away with the washing), I'm underwhelmed by the water repellent revivability. I haven't tried the Precip jacket yet, but both the Solstice shell and Cloudveil pants no longer beaded any water up on their surface, wetting out almost immediately in even light precipitation. They still managed to keep most water from getting all the way through, but they'd get dense and heavy and breathe poorly very fast. After the washing, the beading and breathability is only slightly improved, and I don't have a lot of confidence that it will last very long. If your waterproof breathable garments are in need of a good cleaning and a minor refreshing, this is a great product. But if you're expecting it to make them close to new again, I think you'll be disappointed.

Verified Buyer

Reviewed by Jeremy (adventurer) from Afghanistan on Monday, November 16, 2015

I used this product on and OR and Cabella's Jacket after they had both started absorbing water. After the treatment they were repelling water like the day I bought them! Excellent product!

Verified Buyer

Reviewed by Trobby from Florida on Thursday, April 16, 2015

I used this product to restore the water repellency of my 20 year old Goretex coat. It did just that and doesn't appear to have affected the Goretex breathability. I tested it by standing in the shower for about 5 minutes. Not a great test but it'll do until I get caught in the rain. Easy to use and much nicer than using a spray. The wash ensures full coverage.

Verified Buyer

Reviewed by Oldman from Bloomington, IN on Wednesday, April 15, 2015

Used along with Tech Wash to clean and waterproof 3 rain jackets. I have only worn one jacket in light rain since but you could see the water beading off.

Verified Buyer

Reviewed by Pocono Snoslider from Pocono Mts. in PA on Wednesday, April 8, 2015

Great product. Easy to use. Works great in keeping snow gear waterproof. Needs to be sold in BIGGER bottles. Works well with Tech Wash.

Verified Buyer

Reviewed by fish from Wilmington, NC on Friday, February 13, 2015

We have been using Nickwax for years and it works to renew water proofing materials like gore-tex. The discounted price from STP was a no brainer at least for us. Just follow the instructions. Buy with confidence from STP.
Catch and Release,
fish

Verified Buyer

Reviewed by Steamboat Skiier from Colorado on Tuesday, February 10, 2015

Water beads up again on ski jackets that had begun to absorb water.

Verified Buyer

Reviewed by Henk from Aguanga CA on Monday, January 12, 2015

I can only rate this product by how easy it was to use because I have not had a chance to use it out in the field yet, but after using it and feeling the outside of my jacket and the material. it does feel that it brought it back to when it was new.

Verified Buyer

Reviewed by Mama Nutcracker from NC on Wednesday, December 31, 2014

We have been using this product for years. Even on gore- tex products, when they need washing, this is my product. Wash it in & then put stuff i.e. jackets, ski/board pants in the dryer & it just strengthens or resets the waterproofing. Great stuff. Just follow directions to a tee. And I have an he washer. When I started using product, I did not. Works great in either one! Have used spray on types. Like this way better.Through Ski Race teams & owning a Snowsports Company, college son being a ski instructor with knees in snow, alot, I can tell u this product works!