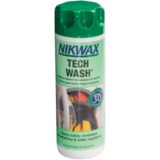 Closeouts. Use Nikwax' wash-in waterproofing Tech wash on your trusty waterproof gear and apparel to revitalize their breathability and increase water repellency. Just add to the wash, and you're set for another full season of performance!
Questions about this product? Get answers from community and staff experts.
Question
(10 Questions)
Answer
(15 Answers)
"Can I use nixwax on shoes?"

Depending on the kind of Nikwax, some are okay for shoes.

"What is the expiration date?"

There is not one the bottle.

There was not an expiration date on the bottle that I could find.

My most recent purchase (couple of months ago) has a BBE date of 10/18. Hope this helps!

None that I know... like most detergent.. I buy usually several bottles at once and I have never noticed a difference in the way it washes my clothes over time... Pretty amazing product.

"I would like to know if i can use this to waterproof cotton.i know nikwax has a special cotton proof on the market as well but i never see it for sale at sierra trading post so i was wondering if the tach wash will work too ."

it didn't work very well on water proof pants that were originally waterproof and lost some of their efficiency over the years, so i highly doubt it would work on regular cotton. sorry:( it only "revitalizes" but not if the fabric is long gone:)
thanks for asking

"Hello, I used Tech Wash to clean two shells. I didn't dry the shells; instead, I used the correct amount (3 oz/garment) and used a front loading washing machine and gently washed the 2 items. Then I transferred both shells to a front loading dryer and set the dryer on DELICATE and low temperature. The dryer was set for 25 minutes but stopped after only about 6-7 minutes. Both shells were still wet so I hung them on hangers overnight. In the morning they were both dry so I wore the Marmot Goretex shell in a snowstorm and later discovered that it was NOT even slightly water repellent; rather, it was soaking wet after working in the snowstorm for about one hour. Any suggestion will be very appreciated."

That is really disappointing! I have not used my jacket in harsh weather so I cannot really say anything about it, yet. I will say that I followed the directions on the container.

i don't know if this makes a difference, but i did not put my things in the dryer. i hung them to dry.
k

There's a lot to consider, age of jacket, detergent used to wash with etc. Generally there are multiple layers that make your jacket waterproof. The first is the outer layer that is designed to repel water by acting somewhat like peach fuzz, when you first put a peach in or under running water you'll notice that the water just runs off, the same thing is what's happening with your jacket. What happens with time is that the fuzzy part of that layer gets dirty and gummed up with stuff that instead of allowing the water to run off absorbs the water and holds it. After you wash the jacket ideally it clears the fuzz of all that dirt but sometimes the detergent takes its place and that is what Tech Wash is meant for, to clear out the detergents. Depending on your jacket the fuzz could be cleared out but still matted down instead of standing up repelling water. So, depending on your jacket you may be able to steam iron it, yes, steam iron it. Your jacket may show this on the inside label or on the care instructions on the manufacturer's website. What the steam iron does is perk the fuzz back up to a standing position and making it repel water again. !!! IF YOU IRON YOUR JACKET KEEP THE IRON MOVING AND DO NOT ALLOW IT TO SIT IN ONE PLACE!!! Failing to keep the iron moving will result in a melted jacket! Now, if you're still not satisfied with with the results you can watch with TX Direct, this is purely a waterproofing treatment and I highly recommend it. Good luck!

Utilizzare Nikwax 'wash-in impermeabilizzazione lavaggio Tech sulla vostra attrezzatura impermeabile fidato e abbigliamento per rivitalizzare la loro traspirabilità e idrorepellenza aumento. Basta aggiungere al lavaggio, e siete a posto per un'altra stagione ricca di prestazioni!

"I see that this comes in different colors. Does this add a color to the garment? I had never heard of this before, but it came up as a suggestion for a ski jacket I'm planning to buy for my son. It is a white coat. "

It does not add color to the garment. We just use Asst (99) when there is no color selection for an item.

"Is this okay in a front loading washer?"

Yes, and I suggest you wash anything you own that's waterproof to be washed in a front-loader. Top-loaders use an agitator to move the clothes and water around. Sometimes, bigger articles of clothing can get twisted up in it and get torn or stretched. Waterproof clothes don't like being stretched.

"I wanna know the expire date of the promoting item "#71040Nikwax Wash-In Tech Wash - 10 fl.oz.""

We have two expiration dates on our current stock. One is 12/14 and the other 4/15. Thanks for asking and have a good day.

""For Gore-tex..." Is it limited to G-Tex & other H2O/Breathable fabrics, or able to enhance any fabrics repellency, etc. ?|Is it also considered as "soap", to also clean well used garments with average "dirt" ?"

It is just recommend for Gore Tex. You can use it with other H2O/Breathable fabrics and it is not considered a soap.

"Is this the right product to use on a whitewater dry top to restore the waterproof quality?||Is there another product used to prep the garments for this waterproofing?|Can I get 2 tops waterproofed with one bottle?|Thanks|MIke"

This will work well to prep, clean and help restore your already waterproof dry top. If you want a little extra you can do a second wash or spray with NikWax TX direct.|One bottle can do 2-3 washings of 3-5 garments. It has the instructions on the bottle for the quantity to use with items being washed. Enjoy!