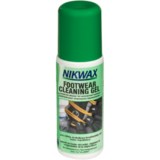 Closeouts. Don't replace your old, grungy kicks; give them new life with Nikwax footwear cleaning gel, specially formulated to clean and revitalize all types of footwear.
Average Rating based on
27
reviews
4.333333
0
5
Verified Buyer

Reviewed by MDar from Florida on Tuesday, April 19, 2016

Got this in addition to the Nikwax waterproofing stuff. Haven't tested my boots in weather yet, but I'm amazed by how clean and new they look. Product was easy to use with clear instructions. It's water-based which Is great. The only complaint is the sponge on the bottle broke, but not a big deal if you have another one around.

Verified Buyer

Reviewed by DCCRanch from North Texas on Monday, March 14, 2016

This is a great product - just like the rest of the line. Beware.....it will fade out some leather colors. I cleaned up some very nasty leather Rockport sandals of my husbands and the leather faded about 3-4 shades. The shoe was nice and clean so I went back with a very good cream shoe polish and they look great!

Verified Buyer

Reviewed by kkxx from OP on Friday, February 5, 2016

Commodity good, very good use

Verified Buyer

Reviewed by AJ97 from Baltimore on Monday, October 12, 2015

cleans and revitalizes your boots...
give it a try ....

Verified Buyer

Reviewed by rc from Florida on Saturday, June 6, 2015

I've used Nikwax products for years and found this one works great, too.

Verified Buyer

Reviewed by PKA from MS on Sunday, March 29, 2015

Good product: easy to use and good results.

Verified Buyer

Reviewed by bad golfer from oregon on Friday, February 13, 2015

cleaned six pairs of shoes and they all look nearly new.

Verified Buyer

Reviewed by OCULUS from Rensselaer, NY on Monday, October 27, 2014

Haven't tried this yet, but am a long-time fan of Nikwax wool wash, thanks to STP's great buyers. I'm confident it will do a good job of cleaning and deodorizing.

Verified Buyer

Reviewed by ClothesRMe from New York State on Thursday, May 8, 2014

I am giving this a four star rating, mostly because I tend not to give out fives easily. That said, I have had some difficult stains to remove on my suede/nubuck shoes and tried a lot of frankly, harsh cleaners, which only worked at all because I was persistent. The Nikwax cleaner is so much easier to use, gentler, and safer for your lungs. Most cleaners are petroleum based and in aerosol form for which you need a mask and lots of ventilation to use, not to mention, the lingering odor. I have not encountered any shoe places that stock Nikwax. I am thrilled that Nikwax makes a product that basically "soaps" the shoes clean. Can it get rid of old set in stains? That depends on what the stain is, but my shoes (4 pair) now look closer to their original condition. Don't stop making these products! And thanks to STP for offering them at a great price.

Reviewed by Missblast from NYC on Sunday, October 20, 2013

My husband and I used this product on two pairs of shoes, and despite following instructions which included applying the product a second time, both pairs of shoes did not take on anything approximating 'revitalization' or 'newer looking shoes'. Caveat emptor.