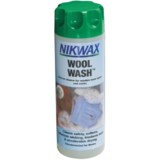 Closeouts. An excellent choice for merino wool, wool socks and wool base layers, Nikwax' Wool Wash safely cleans, softens, freshens and enhances moisture-wicking abilities of woolen apparel and accessories.
Average Rating based on
46
reviews
4.500000
0
5
Verified Buyer

Reviewed by dimako from Upstate NY on Wednesday, January 4, 2017

works well with any wool. does not ruin an item.

Verified Buyer

Reviewed by leoskypilot from Ca on Wednesday, December 14, 2016

Nikwax makes good products and being on sale is great

Verified Buyer

Reviewed by DirtWalker from California on Monday, November 21, 2016

But for the price I couldn't pass up on it. I usually just use horse shampoo and conditioner but it would be nice to test this out. Wool is pretty picky so I'm sure a product designed just for it will be a joy to use.

Reviewed by Jacobo Peterman from NYC on Tuesday, October 4, 2016

Love wool but it can be finicky to clean without shrinking or damaging the fabric. This is good to use as opposed to the usual detergent. Kind of expensive and you're only going to get 1-2 washes out of this. About the size of a sofa can. Still better to take care of expensive woolens than risk damage.

Verified Buyer

Reviewed by runsalot from co on Wednesday, August 31, 2016

Love the way it makes the garment soft without giving them that 'sticky' feeling. It does not make the clothes smell perfumed.

Verified Buyer

Reviewed by Josh from New Jersey on Tuesday, May 3, 2016

If you have wool socks or baselayers this is a must. I wore a wool baselayer in May over an entire hiking weekend. I smelled horrible. My shirt. Still smelled like this wash.

Verified Buyer

Reviewed by Josh from New Jersey on Wednesday, February 24, 2016

If you have wool base layers or socks. This product is a must. Wool is naturally anti-microbial, this product helps refresh that ability. I have been using it for years, and adore this product.

Verified Buyer

Reviewed by Toasty in Ohio from Ohio on Monday, May 25, 2015

We love icebreaker gear so we have a lot of wool clothing, from underwear to jackets to cycling jerseys and bibs. This protects and softens these items. It does have a unique smell that we kinda like, and it works. We use it all the time.

Reviewed by Neophyte Runner from Minnesota on Tuesday, April 21, 2015

Nikwax has a very chemically smell. Even though Woolite smells like a wet dog (that's the lanolin), I prefer it to this product hands down.

Verified Buyer

Reviewed by Smartwool's No.1 Fan from AR on Monday, March 23, 2015

Wow, really puffed up all my Smartwool gear, which had only ever been washed in detergent. Should be even warmer now that the fibers can trap more air, and last longer b/c no doubt a wool wash is a gentler product..

Verified Buyer

Reviewed by 300h from North Dakota on Monday, February 9, 2015

The stuff works great, it really softens up the even the most scratchy wool.

Verified Buyer

Reviewed by Spendthrift Stan from new mexico on Saturday, January 31, 2015

i wanted to try this to see if it would help to soften my wool socks that have gotten scratchy. it did a good job-so i guess i'll do it each year.

Verified Buyer

Reviewed by rain or shine from michigan on Tuesday, January 27, 2015

kind of as strange fragrance. I use less than suggested. using the recommended amount causes over-sudsing, a sure sign of over-user. start with 1/2 r3ecommended amount and go from there. very delicate cycle only!!!

Verified Buyer

Reviewed by Msquared from Sunriver, Oregon on Saturday, January 10, 2015

My experience with this product is very positive (and no bad scent like some have noticed). I have several wool base layer pieces and wool socks which turn out so soft and clean with this. I think it works much better than regular detergent for those items. I also washed a merino wool-cashmere sweater with it that turned out beautifully. The pills are gone or at least minimized so that it looks like new. Very pleased.

Verified Buyer

Reviewed by Outdoorsy mama from Colorado on Thursday, January 1, 2015

I think that this is a good wash for wool performance layers but I don't love the smell. I wish they would improve the scent a little.

Verified Buyer

Reviewed by PJ from Texas on Wednesday, December 17, 2014

NikWax makes great products for cleaning and waterproofing clothing. I've used it for 15 years on all my outdoor clothing gear and wool sweaters.

Verified Buyer

Reviewed by PDX Chix from OREGON on Wednesday, December 3, 2014

This is the best insurance for your high quality wool performance wear and fashion wear! Sierra Trading Co has the best price on this wonderful product and quick shipping. Sign up for email and get even better deals.

Verified Buyer

Reviewed by musicteacher9 from NC on Sunday, November 30, 2014

I found that it's had week reviews on Amazon and also that there was another wool wash that had excellent reviews...same price

Verified Buyer

Reviewed by Mike from Pittsburgh on Monday, November 17, 2014

I purchased this along with merino wool base layer underwear. As soon as I took the cap off I could smell the product, the fragrance is strong. In most cases the smell would'nt matter but this will be used to wash base layers for archery hunting. Archery hunting garments will have to be washed well in advanced of the season to be given plenty of time to air out outside. Hopefully the product will enhance the merino wools moisture wicking properties as described. The rating is based on smell not performance, thats yet to be determined

Verified Buyer

Reviewed by BULLROAR from WI. on Monday, October 20, 2014

GREAT PRODUCT! USED BEFORE

Reviewed by Ronald from Balimore, MD USA on Wednesday, March 26, 2014

This product works great washing sweaters, socks, base layers , hats - all of my wool. I have used Wool Wash for years; Sierra Trading Post has the best prices.

Reviewed by Kenny A from Brooklyn, NY on Sunday, March 9, 2014

Careful cleaning results on my merino base layers. Like all Nik-Wax products, follow the instructions and you will be happy. Good stuff.

Reviewed by Shua from Oceanside,ca on Friday, March 7, 2014

So I bought a merino wool sweater on ebay, from the description it sounded like the guy owned it but when I received it the smell was most assuredly thrift store. So I grabbed my wool wash and washed it. When it came out it had the most awful smell, worse than wet dog. I was so bummed. I tried hand washing it with shampoo and running through a rinse cycle, that didn't work. So I had something with the smell of wool wash, wet hair from your sink drain, and pert plus. Finally I decided to do what I do with my towels, 1 cup vinegar in the first wash, 1 cup of baking soda in the second rinse cycle. Came out with the smell of water, yes water like if you smell a glass of tape water. Save your money and don't use this. I will not anymore.

Reviewed by AnnaLaurie from AZ on Tuesday, February 25, 2014

No way to fully evaluate, yet. But I like that the smell is light but fresh, and I hope that softens the 'wool' smell of some of my woolier wool.

Reviewed by The Merino Marauder from Brooklyn on Monday, February 24, 2014

If you own any merino, get some Nikwax.

Reviewed by greydog from Spokane, WA on Sunday, February 23, 2014

The bottle came inside a large (tied) plastic bag. Obviously the bag was used as the product seal had broken: 1/3 of the product had leaked out. Thanks to STP for the sealed bag as this is a stinky product.
It does a good job in the wash and does not leave residual odor.

Reviewed by rags mom from Arkansas on Thursday, February 20, 2014

Used on a wood shirt jac and all of my wool socks. Shirt jac was stiff until washed now is soft and comfortable to wear. All of my socks were softer. Ordered another bottle to wash all of my wool items before storing for summer.

Reviewed by eventer1 from Washington on Monday, February 17, 2014

I don't like to pay for dry cleaning nor do I like the chemicals involved. I work with horses in the Pacific NW where it is wet, muddy, and cold. My sweaters get filthy. I tried this on my alpaca socks and threw in an old sweater to see how well it would work. The sweater came out beautifully clean and super soft. When I first took it out of the washer, I noticed a faint smell somewhat like mothballs, but it went away completely when the sweater was dry. I then got brave and tried it on cashmere - same great result. My beloved alpaca socks are so soft and fluffy - just like when they were new. I am wondering if this is appropriate for sheepskin. If anyone has tried it, please let me know.

Reviewed by Jennifer from Colorado on Thursday, December 5, 2013

Old wool sweaters are soft and fresh and wool socks which have a lot of wear are like new

Reviewed by TM from TN on Wednesday, December 4, 2013

I love Nikwax products. I have been using them for a while and I love the way they make my wool clothes look and feel. I was so happy to find on STP. it has been about half what I have paid on other sites.